Donut 1: Objects in the Mirror
And we move onto Dallas Mavericks and Boston Celtics tonight (DB.com GameThread here) and we do so by hopefully learning some lessons from Monday at the Knicks. Starting with ...
Don't let the 93-77 final score fool you (see our "Built-Old'' game coverage here) ... the Mavericks didn't keep things that close. 
Ok, yes, they did lead by an anemic 39-36 margin, but things got pretty brutal after that.

The Knicks would outscore the Mavericks 31-12 in the third quarter, and it never got any closer than 11 points after that. It did, however, balloon up to 23 points late in the 4th. 
Donut 2: Superstar Status Check I
In my column Monday, I speculated about who our next star might be. Would it be Harrison Barnes? Seth Curry? Justin Anderson?
For the first half, it looked like Barnes might be the answer to that question. He was 7 of 13 in the first half, scored 16 points, and was almost half of the Mavericks overall offense.
Unfortunately for Barnes and the Mavs, his second half didn't go quite as well. He'd go only 1 of 4 in the second half. I'm not sure if I'm more frustrated that he only hit one shot in the second half, or that he only took four shots. HB's scored at least 20 in four straight. But ... I just know that if you're gonna replace Dirk, you can't do it with a disappearing act at NY.
Donut Three: Super Star Status Check II
So, how about Seth Curry? Not great. Seth was 4 of 12 for the game, but as is often the case with the Mavericks this season, he was trigger happy from three-point range (eventually outpacing everyone for a game high seven attempts. Predictable to this season: He only hit one of those attempts. 
That isn't to say he brought nothing to the table. He took care of the ball pretty well over 30 minutes, he racked up 3 assists, he had five rebounds, and had a really pretty shot when he found the inside of the arc.

In fairness to Seth: One of his missed three-pointers was a 69 foot attempt at the end of the 3rd quarter, and 3 of them came in the fourth when the Mavs were desperate for points. Take those desperation attempts and he's a respectable 4 of 8.
Still, don't start an All-Star campaign for him just yet.
Donut 4: That Three-Point Thing
The Mavericks shot 38.6% from the floor, but they shot only 17.9% from three point range. They were 5 of 28 from behind the arc. At one point, that included a streak of 16 straight misses by the increasingly stubborn Maverick shooters.
J.J. Barea's 3-point shot was so far gone on Monday that he air-balled an open three-point attempt in the second half. 
Donut 5: Stats Down Under
Don't be fooled by his rebounding totals: Andrew Bogut is playing bad basketball this season. 
In 21 minutes he had 4 fouls, 4 points, 1 block, 1 steal and 9 rebounds. One of his fouls was a really low-IQ offensive foul that negated a Dallas basket.
For the season he's got a 6.49 Player Efficiency Rating, he's averaging less than four points per game, he can't stay out of foul trouble, and his rebound totals don't do much to justify what he fails to bring to the court.
It's possible that he's simply the kind of player, like a Tyson Chandler, who thrives around elite players. There's a chance that he's simply suffering from the same stagnation and regression that's impacting the entire Dallas Mavericks team. Maybe his impact on defense goes well beyond his willingness to hug a guy after he lets him get an offensive rebound.
Right now, the metrics say he's playing well below average—and that backs up what I've been watching over the first few weeks. I'm sure some purists out there will tell me I'm blind—but, at the moment, I like this team better with Dirk at the 5 spot on defense OR on offense.
Donut 6: Super Star Status III
I hate to bring up Justin Anderson—a player who's energy I've praised in this very space, and who's chaotic manhandling of the basketball I've compared to a Buster Keaton film—but he was on my list.
Anderson had one of the most forgettable nights of any professional basketball player I've ever seen. Wait—no—scratch that: Justin Anderson had one of those nights that he'd better HOPE everyone forgets.
In only 23 minutes Anderson took eleven shots. Five of those shots came from behind the arc. Zero of those shots went in. He had seven rebounds. Four of those rebounds were offensive—yet, even with four offensive boards, Anderson couldn't find points on a put-back, or easy dunk.

Some of his shots were in-and-out, that's for sure. He had a remarkably unlucky day to get to 0 of 11. One of the roughest stretches came when Justin found himself with an easy shot, and was so aware of his struggles that he passed, not to the open man, but to a guy who was covered.

You can be a super star if you occasionally go 0 for 11. Ask guys like Kobe and Dirk—sometimes luck isn't with you. You probably can't be a superstar YET if going 0 for 11 makes you skittish. 
Donut 7: The Law of Averages
If anybody watching was comfortable with a 39-36 halftime lead, you're just not paying attention. It was far more likely that the Knicks were going to shoot better in the second half. It was also fairly likely that the Mavs would shoot about the same.
Dallas is 26th in scoring this season. They score 97.1 points per game while shooting about 42% from the floor. They had an admittedly tough first half, but still shot 41.9% on their way to 39 points.

On the other hand, the Mavericks give up 102.4 points per game. That doesn't seem so terrible—and in fact it has them at 12th in the NBA. The problem is, a lot of that relatively low total has to do with the Mavericks incredibly slow pace.

If you look at their opponent's field-goal percentage, the Mavs let their opponents shoot 46.7% from the floor. That ties them with Indiana for 27th in the NBA. 
Donut 8: Slow and Steady
I hate to admit it, but if the Mavericks want to win, they're gonna have to play ugly basketball. They can't hit threes. They struggle to finish at the basket. When they try to run, it often leads to sloppy play on the offensive end, and terrible defense going the other way.
The slow pace definitely deflates the points per game number, and hides some of the deficiencies of a team simply by lowering their usage—but the slow pace also allows the team to get back on defense and contest shots.

The 2-7 Mavericks are rarely good this season, but they're most respectable when they take solid shots inside the paint, and then get back on defense and give great effort. It sounds like the most obvious thing in the world—but the obvious nature doesn't explain air-balled threes early in the shot clock, well before the offense is set up, and well before players are ready to get back down court to defend.


The Mavs want to be a three-and-D team. Right now, because they keep forcing the first one, it's hard to tell whether or not they can manage the second one.
Donut 9: Free-Throw Differential
The Mavericks took 11 free throws against the Knicks. 4 of those came in the fourth quarter, when the game was pretty much decided.
The Mavericks take fewer free throws than any team in the NBA at 18.4 per game—which ought to put tonight's 11 free throws into perspective.
I probably don't have to remind the savvy basketball fan that players often get awarded free throws because they drive to the basket, and put pressure on the defense.
The Mavs' problems certainly aren't helped by their 31% three-point shooting—players rarely get free throws outside the arc—but even when they don't take threes, they are a predominantly jump shooting team. 
A long two seems as likely as a three in some cases—and neither of those things gets your opponents in foul trouble, neither of those help you slow the game down, and neither of those things get you sent to the line.
Donut 10: Carmelo Anthony: Super Star
The Mavericks did an amazing job on Anthony in the first half. They held him to 1 of 6 shooting, 2 boards, a steal and a block.
But, if your entire game plan hinges on: "The only way we win is if Carmelo Antony only makes two shots," you're in for a long day.

Anthony is playing at an elite level this season, despite his team's record. His 22.4 points and 5.7 rebounds is good enough for a 20.44 PER. He's shooting almost 47% from the floor.


It was incredibly unlikely that Melo was going to have a bad second half against a team that is 28th in opponent FG%. In fact, it was a force-fed Melo that broke the game open in the third quarter. He finished with 24 points, 7 rebounds, 3 assists and an early trip to the bench.
Donut 11: A Little Sugar
I know that I can sometimes come off as a little bit negative. When I was still doing stand-up, one of the things local comedy mainstay Dean Lewis loved to remind us was: You have to have a perspective, and it has to be emotional.
That is to say, we're usually most relatable when we're grumbling about something. And yes, I censored myself here, because Fish is a nicer guy than I am.
The reality is, sometimes—especially in a team's twilight—there is a lot to gripe about. But, there's also a lot to be hopeful about right now.
J.J. Barea continues to be a real life NBA basketball player. I don't care how old he gets, I don't care how tall he is—the man knows how to find open guys, he knows how to hit big shots, and he knows how to drive to the freaking basket. If this team doesn't turn it around, he's going to be an asset for someone. We'll talk about whether that's an asset that we've flipped to rebuild in another couple of months. For now, try to enjoy watching the man fearlessly enjoy his work.
https://twitter.com/EarlKSneed/status/798598778299088897
Dirk and Williams (shown working on Tuesday in Boston) are coming back. We don't know how long they'll be back in the lineup when they get back—and both recent and past history says one of them will miss a few more games here and there—but when those two guys are healthy, every aspect of this team gets better.

They both know how to drive to the basket (yes, even Dirk, as we saw in the opening week of the season), they both know how to hit big baskets, and they both know how to make their teammates better. When they get back, we might also see Bogut's PER start to climb a little bit again—even if it's only because he spends a bit more time against second units, while Dirk carves out a piece of that 5 spot.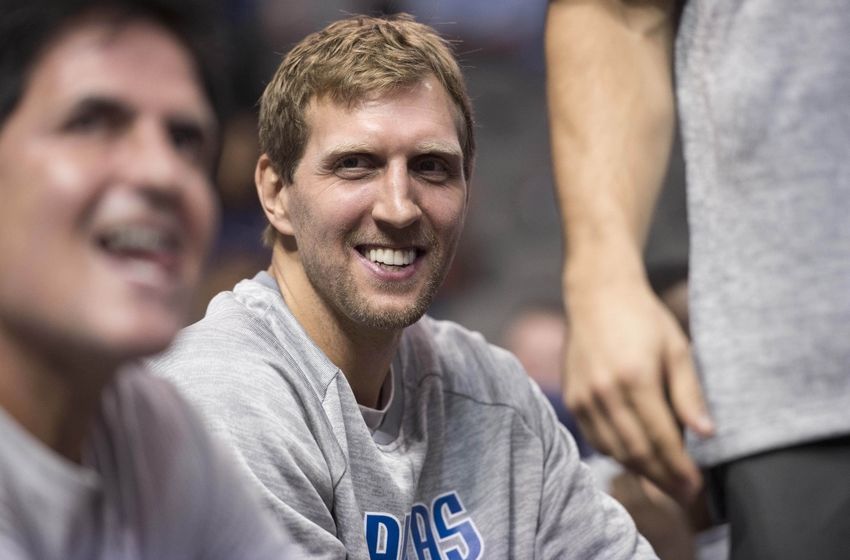 Devin Harris is also coming back—maybe—eventually—someone keeps telling me. I don't know what that does for the team right now, but it probably doesn't make it worse.
Donut 12: A Little Medicine
But, aside from the noble desire to watch Dirk play meaningful basketball -- (he's missed four straight with the Achilles but will try to go tonight in Boston) there may not be great incentive to win this season. Golden State is a monster. Harden seems like a new man playing without Howard in Houston. The Cavs have only one loss this season. There is very little chance that the most competitive version of this Mavs team is going to get much further than a polite postcard out of the first round.

So, as I wrote Monday: maybe our next super star isn't Barnes, or Anderson, or Curry. Or maybe it is, but we remember the harsh lesson that one superstar can, only once in a great while, carry the entire weight of a franchise on his back.

Dirk nearly did it in 2006—but he needed the best version of Jason Terry we'd ever seen, and HOF'er Jason Kidd just to polish off the last piece of his legacy.


So, maybe, with the Number Something pick next year—the Mavs finally add a star draftee to play alongside whichever player emerges as the alpha dog in 2016-2017. Maybe he gets coached up by the superstar brain of Rick Carlisle. Maybe he gets to enjoy a little bit of wisdom from Dirk in his final year or two (think the Admiral in San Antonio).
And maybe—just maybe—the new guy will hit more of his threes.