Donut 1: Closer Than it Looks
Dallas loses another road game. This time to the Boston Celtics by a final score of 90-83. (See our game coverage here.)
Unlike the Monday night "Close Mirror'' game, this Wednesday night game was actually closer than the final score suggests. The Mavs had this game tied up at 76 apiece after being down 12 in the first half.
Avery Bradley also got some free points on a drive behind the basket, despite stepping out of bounds well before he shot the ball—and Bogut bailed out Boston with a foul on Thomas that led to three free throws. Take those to late anomalies out, and it's a two-point game—or maybe even a Mavs victory.
"Close'' is easier to watch, but it's still not enough—especially if this team really hopes to make the playoffs. It doesn't get easier to pick up wins and climb out of the cellar in the NBA. It gets tougher. It's getting tougher every night.
Donut 2: The Highlight Reel
Donut 3: Perspective and Heartbreak
A lot of the media reported that Dirk was heartbroken by the Mavs loss to the Knicks. Even after all these years in the U.S., people are having trouble hearing and understanding the Big German. That's not what he said.
Don't get me wrong; I'm sure that every loss stings a little bit, but a grizzled NBA vet, a future Hall-of-Famer, a guy who knows the feeling of a Finals win AND a finals loss—he probably doesn't waste his heartbreak on a regular-season loss in the third week of the season.
What Dirk said is that it was heartbreaking to miss a chance to play in Madison Square Garden, because it's a special place and it's the second time he's missed a game in New York City.
In other words, he's thinking about the same things Fish talked about last week: The end is closer than the beginning, and playing in places like New York is one of those iconic things players savor.
Losing always sucks—but heartbreak is reserved for bigger things. Legacy things.
Donut 4: Welcome Back D-Will!
Against Boston, the Mavs were still without Dirk—but they did get back Deron Williams—for about 10 minutes.
The bench welcomed him back almost as quickly as it lost him. After a very unspectacular 10 minutes that saw him go 0 of 3, and pick up a foul as his only stats, Williams was back on the list of injured Mavericks. 
Given his rough showing in the brief time he did play, it's easy to wonder if maybe he was never 100 percent for this contest in the first place, but felt obligated to give it a try to help his struggling teammates.
Donut 5: The Great White Hype
Chandler Parsons, (the greatest white American player in the NBA (!) comes back to Dallas on Friday as a Grizz for the first time since his departure in free agency.
I waxed poetic (and otherwise) here about whether or not Parsons was headed out of town more because of his durability than because of his talent. I don't know that I'd ever place him above Kevin Love in the Great White Hype category—but I imagine even his own placement atop that list was tongue-in-cheek.
Frankly—whether it's lazy of me or not—I didn't even go look for a list of white players, because it's not a debate that interests me—but what I can tell you is that Chandler has been well below his career numbers since returning (slowly) from the injury that ended his Mavs career.
Parsons is shooting 36 percent over his first four games back (22.3 minutes per game) with a stat line of 7.5 points, 3.5 boards and 1 assist per game. Those numbers are certainly not a reflection of his talent—but neither are they a reflection of the great American anything.
We'll see if he turns it around as he settles in with his new teammates and feels more recovered from his surgery. For now, he's no Kevin Love.

He's also no Harrison Barnes.
Donut 6: Superstar Status Check
Harrison Barnes has five games this season in which he's scored 25 points or better. On Boston, he looked like a player who's learning everything he can from Dirk Nowitzki.
He didn't just put up 28 points—he put up a lot of those points by staring right into the eyes of his defender, raking up through their arms, and burying contested shots.

https://twitter.com/dallasmavs/status/799078213255315461
At one point in the final quarter it looked like the Mavs were going to let Barnes do exactly what Carmelo had done to the Mavs on Monday night. They got the ball to Barnes, Barnes got whatever he wanted.
He hit 12 of his 24 shots, and there's an argument that he could've taken more. For a while, he was also the only Maverick who could find the free-throw line.
I'd like to see him work a little harder for rebounds—but that's a team-wide failing at the moment. For now, Barnes was a guy who played solid defense, and got buckets. A couple more guys like that, and you've got yourself an NBA Basketball Team.
Donut 7: The Point Guard Situation
The Mavericks came into the season with—so it seemed—more guards than they knew what to do with. Williams, Matthews, Barea, Curry, Harris and Anderson. The problem is, after letting Ray Felton head to the Clippers, they were down to three point guards with a history of injuries.

Harris' struggles started early, and he's yet to see the court for the Mavs this year. Williams has played sparingly this year—and was barely available for the playoffs last year.
Barea ended last season nursing a groin injury—but seemed energetic and healthy as ever to start this season.
Tonight, all three of those guys were in street clothes before the final buzzer sounded. 
The most unsettling moment may have come with about 7:37 left in the fourth quarter. In a moment that might remind people of the injuries suffered by Kobe Bryant and Wes Matthews, Barea started to make a move, planted his foot, and then went limp to the floor, with the ball tumbling into the hands of the nearest defender.

The Mavs called it a calf strain—but Barea had to be helped off the floor and then flanked on both sides as he hopped into the locker room with his leg dangling.
I hope it's as minor as the early press release—but when I saw him hit the ground, I got a sick feeling in my stomach. Not for the Mavericks and their chances to win—but for J.J. Barea the man. I've watched Barea take a lot of punishment and never lay on the floor looking helpless. It was a weird look for a player built of tougher things than most of us.
Donut 8: Seth Curry—Here's Your Chance
Seth Curry knows how to play basketball. He learned the game from his dad and from his dynamo older brother. He's not as good as Steph—but he knows how to play basketball.
Against Boston he had the respectable stat-line of a guy who wants to earn playing time, and doesn't want to earn bench time. 3 of 7 shooting. Didn't take a lot of three-pointers, 4 assists, 4 rebounds, no dumb fouls, and he didn't turn the ball over very much in his 32 minutes.
But, when you play like a guy who doesn't want to get benched, you sometimes play a little too cautiously. Late in the game, he drove to the basket, didn't expect to find so much space, doubted his ability to finish at the rim, and brought the ball out again. 
He has to find the confidence—and maybe even temerity—to shoot the ball more often and more confidently. He's nibbled at the edges of that in garbage time—and he could get away with it, because he was fifth or sixth on the depth chart. Now, he's the closest thing the Mavs have to a point guard.

If we're going to have any positive updates to my "Seth Curry: Superstar Watch,'' it's going to happen over the next few games. It's his show right now—unless they've got some trick where Andrew Bogut is a secret point forward.

Time to start acting like the No. 1 for a few days.
Donut 9: Turns Out Wesley Matthews Can Shoot
Hey, credit where credit is due. Matthews played his game and proved that his game looks pretty good when the shots fall.
He took 13 threes against Boston, and he hit six of them, and that was the difference between this being a close game and a 20-point blowout.
Still, my favorite moments from Matthews came when he got physical on offense, especially on the block. It led to his only bucket from within the arc, and it led to a nice trip to the line—but beyond all that, it showed that he was following his leader.

Barnes let everyone know that it was time to attack and get feisty—and even Matthews followed suit.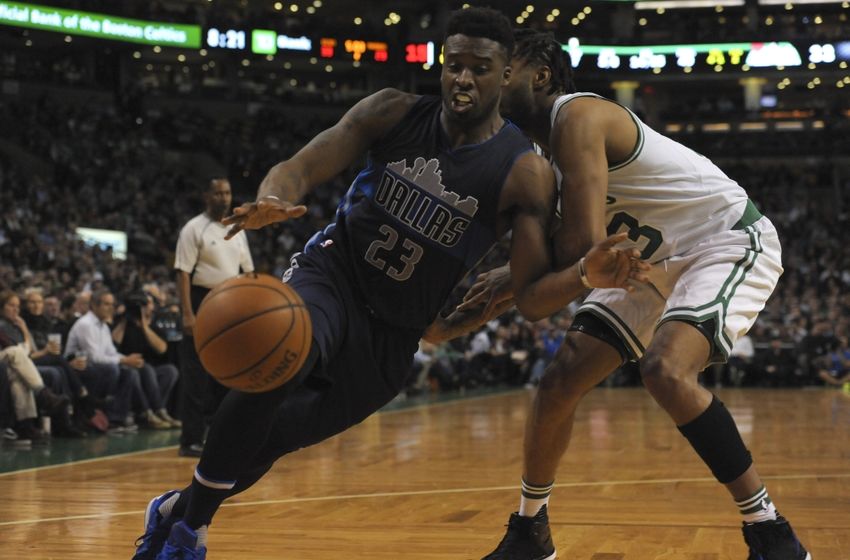 By the time he started hitting threes, he was already on my good side. The fact that he hit so many of them kept him there.
Donut 10: Andrew Bogut Again
Sometimes I doubt my eyes. I get a sense of what a player is, or what a player does, and I feel that I must be wrong, because everyone else keeps telling me that I'm supposed to see something else.
Last year I couldn't understand why Zaza was let go from his previous team when he was clearly such a fantastic player and teammate. Years ago, I couldn't understand why the NBA was so clueless about the defensive prowess of The Matrix until he got to Dallas. Before that, I couldn't figure out why so many people claimed Dirk lacked toughness, and could never lead a team to a title.
This year, I don't understand why everyone is so big on Andrew Bogut. The guy looked terrible for most of the Olympics—and his team didn't even bring home a bronze medal as he practically vanished. He's had some monster rebound games for the Mavs this year—but I spend a lot of my time noticing that he seems to be unaware of his spacing, his teammates, and the ball.
He's a big part of why the team gives up so many offensive rebounds—but that's not even my problem with him right now.
At one point tonight I wrote down, "How many dumb fouls will Bogut have tonight?" It was literally something I wrote down to look for. I wanted to see if my bias matched The Eye Test, so I promised to make note of it and—I'd hoped—prove myself wrong.
Instead I watched him commit two offensive fouls that turned the ball over. I watched him turn the ball over again on his own. Plus, we all saw him—for who knows what reason—foul Thomas from beyond the arc. That foul was bone headed all by itself, but it was also his sixth foul of the game.
There was one other sequence that stood out to me tonight: With the score at 49-55 in the third quarter, Seth curry drove to the basket. Seeing that two big guys were under the basket, he puts the ball right in the hands of a trailing Bogut. You'd assume Bogut was trailing to clean up the play—so he'd be ready. All he has to do is catch that pass, go up, and get points.
He isn't even looking for it. The ball bounces off of him. A few moments later Bogut ignores Boston as they take it right to the hoop and dunk. 
He'd later convert the same kind of play from J.J. Barea—but a vet shouldn't need to be told to always be ready for the ball. Maybe if he was, he wouldn't get out rebounded by so many 6' 2'' players.
Donut 11: The Most Justin Anderson Play of the Game
Justin Anderson is going to create an entire category of plays before his career is over, and I'm going to start awarding the Justin Anderson Play of the Game to anyone who manages to combine the most amazing athletic play of the game with the most inept play of the game.
Let DB.com work on this as a Mavs Premium piece in combo with thoughts on his fellow Mavs youngsters and a now-glimpse into the future ... whether we like the future or not.
Donut 12: The Final Word
I'm not saying everything about Dirk Nowitzki parallels everything about Tony Romo. But you see the similarities, right?
The aforementioned Dirk Donut might benefit from a little Tony Romo "Concession Speech'' quote regarding Dirk's heartbreak of missing out on playing at The Garden:
"Seasons are fleeting. Games become more precious. Chances for success diminish."