Justin Anderson is going to create an entire category of plays before his career is over, and I'm going to start awarding the "Justin Anderson Play of the Game'' to anyone who manages to combine the most amazing athletic play of the game with the most inept play of the game.
"The Justie''?
In Wednesday's loss at Boston, Anderson himself wins the award for a moment in the fourth quarter when he made a beautiful lunging steal on the inbounds pass, hustled down the floor ahead of everyone, went up for an uncontested layup—and missed.
Not sure how to top that one ... but I believe, and worry, that it can be done.
https://twitter.com/dallasmavs/status/799073471942758400
Anderson has promise. This 2-8 Dallas Mavericks team, crippled by the thing that crippled the old-aged -- um, crippling old age -- has promise. But the "cripple'' part is getting in the way. JJ Barea sustained calf injury in Boston. Looks like four to six weeks there. Deron Williams tried to go against the Celtics but folded after 10 minutes. Devin Harris hasn't been healthy enough to play all year.
"Calling All Point Guards!'' as our Locked On Mavs podcast calls it ...
So in comes Jonathan Gibson, the Mavs' summer sensation who got cut from camp, was going to go back overseas ... but instead remains state-side. He's 29, so he doesn't technically fit into the "youth movement'' idea, and he comes in at the expense of Quincy Acy, who is actually younger than Gibson, but ...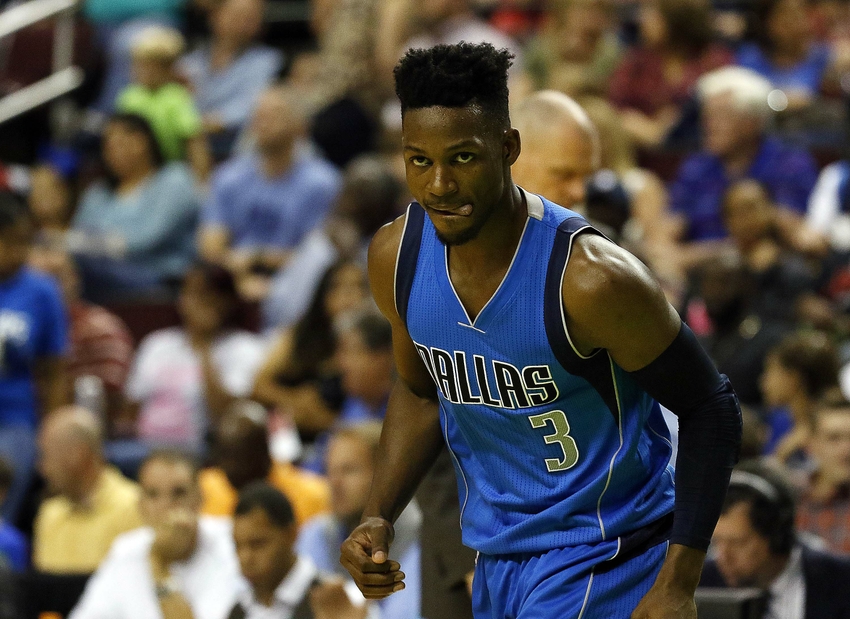 "The word is 'decimated','' a source tells DB.com's Mike Fisher.
The concern -- coach Rick Carlisle's concern for certain -- is how many of the "promising kids,'' now including Gibson, are going to contend for "The Justie'' on a given night?
I can make a case for Salah Mejri as one who can overcome.
Salah (like Gibson not young but just a second-year guy) has the best PER of any Maverick so far this season. In seven games he's posting 3.9 points and 3.4 rebounds  with nearly a block in about 10.6 minutes per game.
I know that PER isn't a great metric—but I also know that Mejri looks like he understands the game of basketball. Maybe not well enough to start for a contender—but well enough to start for a Mavs team that could use all the youth and hope they can get.
He's got size, he can shoot the ball, he can rebound the ball and he's not afraid to play hard defense. Will that get him in foul trouble? Yes—but a fouled out Mejri is no different than a DNP Mejri—nor is it any different than a fouled-out Bogut, who to my eye is struggling in every possible way, as I write here in review of his work in Boston.
If nothing else, Salah seems like the kind of player you'd like to get a look at, so that you know whether he's someone to keep, or someone to move if you have to rebuild.
And, even if you manage to scrape back into contention this year—might a Mejri with more playing time bring more in a trade market than a Mejri with no minutes played?
This team isn't good enough, nor is it deep enough, to keep 7-2  big men on the bench all day.
It's also not good enough to keep a lid on Dwight Powell's PT, but ... What sort of player is Dwight Powell? He's the kind of guy who's just dying to win the Justin Anderson Play of the Game award.
Which is another way of saying: He plays so hard, with so much energy, and so much athleticism ... that it clearly diverts some of the power from his brain.
Powell was coaxed into a lot of long (and ugly) two-point shots in Boston. Powell struggled to finish at the rim a few times. He also went for a few lazy "tip the rebound out" moves instead of going strong with both hands.
But, here's the thing: He also brought down some rebounds that nobody else could've. He went up high for the ball a number of times—and usually early. In other words, he was aware of where the ball would be, and went up and got it. He didn't wait for it the way Bogut tends to (or the way Barea did on one embarrassing possession that led to Boston second chance points). He went after it. Probably because he learned his lesson from the times he didn't go strong, and adjusted his game.
https://twitter.com/dallasmavs/status/799060043496833034
This is the kind of thing that can only happen with young players if you let them play. If you have raw young talent like Anderson, Mejri, Powell, Curry (the only PG-capable guy on the roster before Gibson) and Gibson —you will always have raw talent. It's what happened with Roddy B. Keep them on the shelf long enough and they lose the stuff that makes them special. They become older, less athletic, and you've given them no chance to develop the savvy and skill that keeps players around when they've lost a step.
The old guys are dropping like flies right now. Harris, Dirk, Williams, Barea—all nursing injuries big and small, as the Grizzlies roll into town on Friday with Chandler Parsons prepped to hear some 7:30 p.m boos.
That list of wounded Mavs is  not ideal, but it might mean everything for guys like Gibson, Powell, Anderson, Mejri, Finney-Smith and Seth Curry. They have a chance to learn. They have a chance to get better. And, they all have the engines to be capable NBA players, who get beyond the "Justie'' downs to experience more "Justie'' ups.
https://twitter.com/dallasmavs/status/799052775455920129
Those engines, those "motors'' that these guys have, don't mean anything if the tires are up on blocks.
You want a little hope from DallasBasketball.com? We're predicting, and we're hoping, that we're about to see what the future looks like ... whether we like it or not.