November 21st wasn't just the night of the Dallas Mavericks-Spurs tip in San Antonio—it was also Voltaire's birthday. It seems that, especially right now, it doesn't hurt to honor one of history's greatest advocates for freedom by loosely applying his quotes to basketball. Happy Birthday, Voltaire—I'm sure you were talking about the nature of sports hate when you famously said, "Such then is the human condition, that to wish greatness for one's country is to wish harm to one's neighbors."

In this case, our neighbors are in-state rivals and long-time "big brothers" the Spurs. Let's get to the Mavs Donuts.

Donut 1: "?Life is a shipwreck, but we must not forget to sing in the lifeboats." 

The final score says 96-91 (our game coverage is here), but make no mistake: This was a one-point deficit that mushroomed in the final 30 seconds, because the Mavs were twice forced to foul the Spurs to try and get the ball back.

The Mavs were missing several players (see Donut 2), but the Spurs rested LaMarcus Aldridge and Tony Parker—which helped even things up a little.

Still, the real reason this game was closer than some of their recent efforts: Curry, Matthews and Barnes all hit shots, which hasn't happened enough for the Mavs this year. The reason they lost: Nobody else could hit shots—and guys like Matthews and Barnes went dry at the worst possible time.

This was a game that ended in the same frustration as 10 other games have this season, and the Mavs fall to 2-11—but there were some bright spots—which should have us singing about the future, even if the ship is on the way down.

Donut 2: "We should be considerate to the living; to the dead we owe only the truth."

Before the opening tip, fans were greeted with a sobering sight: Five Mavs players lost to injury.

The Mavs were, once again, without Harris (who hasn't played this year), Dirk, Williams, Barea, and now Bogut.

In case you're keeping track: Three of those players are starters and one of those players is the team's sixth man. Four of the top six players heading into opening day are out for indeterminate amounts of time.

Respect to the young guys who keep playing hard—they're keeping their heads up, and playing energetic basketball. It's hard to decide whether to root for victories, or look ahead to draft picks—but the more quality assets the Mavs keep on the floor this year, the more quality assets they have to rebuild (in house, or through trades).

Due respect to the injured—but this includes Bogut, who loses trade value every time he reminds people that he's fragile, but gets sensitive when people suggest that he's fragile.

Donut 3: "All mortals are equal; it is not their birth, But virtue itself that makes the difference."

A more hopeful graphic showed up on the screen during that first quarter, too: Last night marked the first time in Mavs history, in which the Mavericks started four undrafted free agents.

Yes, a lot of those injuries above helped create this very strange convergence—but Matthews, Finney-Smith, Mejri and Curry didn't just suit up and slog around the court. They, for the most part, made meaningful contributions vs. the Spurs.

Curry and Matthews provided a bulk of the Mavs scoring, and Mejri was a defensive anchor throughout the contest.
Donut 4: "Doubt is an uncomfortable condition, but certainty is a ridiculous one."

Justin Anderson and Seth Curry are going in opposite directions on The Doubt Spectrum.

Curry was 9 of 16 from the floor against the Spurs for a team-high 23 points—and he was at his best when he kept them guessing. He was 5 of 6 from three to start the game—which encouraged some pretty deep bites on his pump fakes in the second half.

Anderson, on the other hand, remains confident on the defensive end of the floor—but seems to be nursing the bruises from his scoreless evening last week. He had one moment of irrational confidence at the end of the first quarter (when he probably should have given the ball up to Gibson for an easy lay-in during a 2-on-1 Mavs break. Instead, he turned the ball over in a very "Justin' way.

Later, in the second quarter, he had what we'll call a moment of irrational doubt. Anderson found himself almost in the paint, seemed to panic, backed the ball out to the arc, and then traveled. Justin Anderson from three weeks ago might have missed from the inside, but he'd have tried to get to the basket.

A miss inside is frustrating, but it can at least give you something to work with. Any shot can be rebounded, can fall in with some luck, or even get a phantom foul called in your favor. A timid back-out that leads to a travel—it's always gonna be what it is.

And it's never good.

Donut 5:  "Man ought to be content, it is said; but with what?"

The Spurs won their 11th game of the season, keeping them in third place in the Western Conference. They won that game without two of their starters (Aldridge and Parker—out for rest). After getting outscored by the Mavs 28-24 in the 1st quarter, they outscored the Mavs in the 2nd, 3rd and 4th quarters—ultimately winning by five points.

You'd think Coach Popovich would be happy with a win on a night when his team was suiting up a weaker lineup. You'd be wrong.

Popovich, after the game, said that his team showed a "lack of humility and a lack of respect for their opponent."
https://twitter.com/brohrbach/status/801100573529538560

So much for contentment.

Donut 6: "Quite a heavy weight, a name too quickly famous."

Dorian Finney-Smith, Jonathan Gibson and Nicolas Brussino are rookies.

Justin Anderson and Salah Mejri are in their second years in the NBA.

Seth Curry is in his third year in the NBA and Barnes is in his fourth.

Wesley Matthews—the seven year vet—was the longest tenured player by nearly double.

That's 21 total NBA seasons. Need some perspective on that? Dirk has 18 seasons all by himself.

So, yeah—this is a pretty inexperienced NBA team the Mavs are rolling out there right now. I have to keep that in mind—and I imagine you do, too—when I see Justin Anderson, Seth Curry, or any other guy make mistakes with the basketball.

They're supposed to make some mistakes—they've barely done this before.
 
Donut 7: "I have never made but one prayer to God, a very short one: Oh Lord, make my enemies ridiculous. And God granted it."

The Justin Anderson Play of the Game goes to someone new today. I have to come up with a better (read: shorter) name for that—but maybe not the "Justie" (sorry, Fish).

In the second quarter, Mills stripped the ball, went coast-to-coast, soared through the air, and clanged a dunk attempt off the rim.

I guess he heard I give out awards for stuff like that.
Donut 8: "Ice-cream is exquisite. What a pity it isn't illegal." 
Ok, fine…this probably wasn't Voltaire—but if we're talking about things that don't exist, we have to start with the Dallas Mavericks' three-point threat.

In case you couldn't nest yourself in the sarcasm—they don't have a three-point threat.

The Mavs shot 29.6% from three. They took 27 shots and missed 19 of them.

Here's a more sobering stat: Seth Curry was 5 of 10 from three. Wes Matthews was 3 of 7 from three.

Every other Mav: 0 for 19.

I wish I could count the shots Dwight Powell takes from three inches inside the arc, but sadly, the best I can do is throw shade at him in this sentence.

So, how about we replace the (likely fake) ice cream quote with this one: "It is difficult to free fools from the chains they revere."

Donut 9: "Every man is guilty of all the good he did not do." 
Matthews and Harrison Barnes, overall, played fantastic games, but both of them came up short in the last six minutes vs. the Spurs. Wes contributed 3 turnovers over a five possession stretch, and missed two key free throws.
Barnes, meanwhile had the ball in his hands with a chance to take the lead inside of a minute, and hit front iron.
I remember a lot of great moments in the game from both guys—but the box score says they lost by five. The box score, unfortunately, is always right.
Donut 10: "Love truth, but pardon error." 

I don't think Andrew Bogut is a player with a bad attitude. I happen to think he's got a decent sense of humor, and even his complaints at the Olympics this year were probably tongue-in-cheek.

Likewise, I think he wants to go out and play his best basketball—but that his efforts are sometimes wasted on a bad team.

But, none of those pardoning realizations changes this fact: Last night, Salah Mejri proved that he can do as much (and in some ways more) as Bogut can do on a basketball court right now.

Mejri had 8 points on 4 of 5 shooting, and probably would've had another four points if not for weirdly placed passes by Curry and Matthews (both that led to turnovers).

Mejri brought down 11 rebounds, picked up 4 steals, and did some of his best work protecting five fouls.

Yes, part of what could turn him into an every day starter in the NBA is learning how to avoid those early fouls (especially those always brutal, always frustrating moving screens that lead to offensive turnovers)—but Mejri is bigger than Bogut, more athletic, more durable, has better hands, and he can reliably shoot from more spots on the floor.

Right now, we know what Bogut is—at his worst, and his best—Bogut is the player you'd expect.

We don't know what Mejri can be yet—but last night suggests that he's just a few quirks away from being a defensive force for the Mavs—and to repeat my refrain: It's good to find out whether or not he's a player to keep, or a player with the value to trade.

Donut 11: "It is dangerous to be right in matters where established men are wrong."
I love Harper and Followill, but their ready-to-grab commentary at the end of the game felt like it was sourced hours before, just in case the Mavs lost the game.
They gave us some really interesting stats about the number of NBA minutes the Spurs players had vs. the number of NBA minutes the young Mavs players have. Their point? A young team isn't going to play with the same savvy and BBIQ as a team with old vets.
That's a fair point—except for this: In a game that really came down to one possession (forget the four freebies the Mavs handed out in the last 35 seconds), one guy kept coming up empty for the Mavs in the 4th quarter. 
As I mentioned above—Matthews had three turnovers (in five possessions) and 2 missed free throws in winning time. This was a game that looked like it was decided by five, but was really a one point contest. The only Mav out there that looked lost was the Mav with the most NBA minutes.
Donut 12: "I don't know where I am going, but I am on my way." 
Are the Mavs headed for the lottery?
Are they resting and tanking by virtue of circumstance?
Fish has a pretty fantastic "The Race For the Bottom'' piece that asks some of those questions right here at Dallas Basketball—but with a 2-11 record, I think we can all start making guesses about this team's destination.
What we don't know yet, is how many of the wheels, hubcaps, and ejection seats are gonna fall off of this team on the way to wherever that destination might be.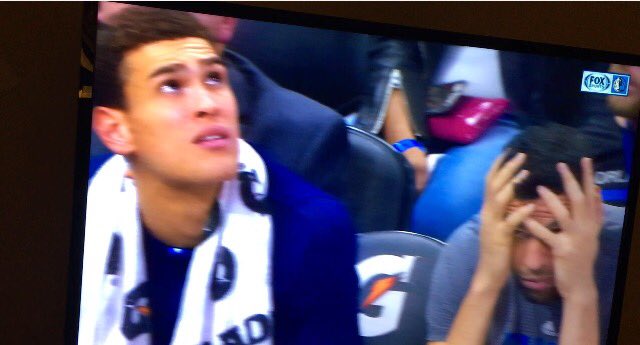 Are these young guys part of the future as Mavs? Are they part of the future as trade pieces?

We're on our way—we're just, like Voltaire, singing in the life rafts.