For the Dallas Mavericks, this season has been rough, to say the least. This season has started in a way which is good for nothing except the worst record in the NBA, Dallas is the early favorite to be holding the most ping-pong balls when the Draft Lottery comes around next May. Needless to say, this roster is in desperate need of an infusion of both talent and youth as Mark Cuban and Rick Carlisle want to revive the hopes of this franchise. 
The Mavs have a lot of needs right now, but perhaps the most obvious and glaring one of those needs is at the point guard position. 
At the beginning of the season, the three point guards they had on the roster were all over the age of 30. Devin Harris hasn't played a game yet this season, while Deron Williams health is always a concern, and J.J. Barea was just lost for an extended period of time due to a calf injury. To say that point guard is a position of need heading into next season is akin to saying that the Cleveland Browns need a quarterback. It's that bad right now.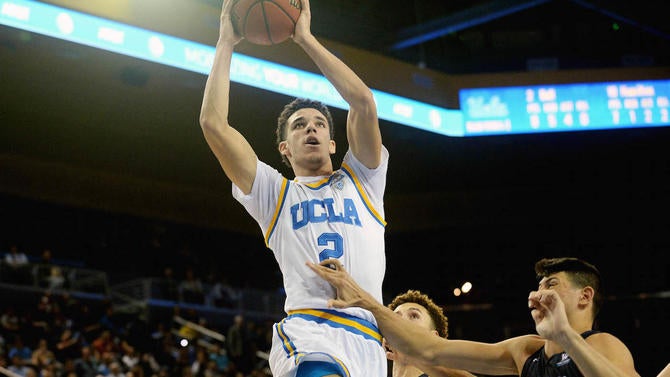 So who will the Mavs look to come next June's NBA Draft? Assuming the Mavs' "organic tanking" continues along its current "Race For The Bottom'' trajectory, and the lottery goes their way, it's very possible that the Mavs could be looking at the No. 1 overall pick.
A candidate for that pick will be UCLA point guard Lonzo Ball. The Mavs desperately need an alpha dog, and a floor general to take this team into the future, and alongside Harrison Barnes, Ball could be exactly that. 
At 6-6 and 190 pounds, this guy is potentially the complete package at point guard. He possesses elite playmaking ability, court vision, and passing ability. He makes smart, quick decisions, especially on the fast break. He is also a terrific ballhandler with the ability to navigate through defenders, but also moves well without the ball in his hands. Those skills, combined with his shooting ability from the outside, make him truly difficult matchup for defenders. 
From an athletic standpoint, Ball is one of the best in the class as well, possessing the ability to soar to the basket. He's got the speed, strength and quickness to matchup with multiple positions on defense as well. He is also a tremendous rebounder for his position. 
Ball does have, shall we say… ugly shooting mechanics, and he needs to learn to slow things down a bit, as he played a wide-open, loose style of offense in high school. But spending a year under Steve Alford's tutelage should go a long way in correcting those issues. 
As a senior in high school, Ball was named the Naismith High School Player of the Year, the Morgan Wootten Player of the Year, California's Gatorade State Player of the Year, USA Today Player of the Year, and Max Preps 2016 Player of the Year. He was also a McDonalds All-American. 
Through the first four games of his freshman campaign at UCLA, Ball averages 16.3 points, nine assists, and 6.3 rebounds. Not to bad for a guy who was sitting in a high school English class this time last year. 

To say that Ball is the most talented player in this class wouldn't be a big stretch. He possesses all the tools to be a wildly successful player at the NBA player, and experts in the media and around the league have been comparing him to a young Jason Kidd. If you were a Mavs fan that's a pretty exciting prospect. There is one non-Kidd-like part of his game that we don't like, however. While Kidd was also an "ugly shooter,'' in a way, he was a workhorse on defense. Ball, for whatever reason, is not that. That's why we say he's "potentially'' got it all; there is no physical reason for him to be anything but solid on D ... but he's not there yet, at all.
In summary, we're not locking Dallas into "picking for need'' here. Nor are the Mavs automatically going to get the No. 1 pick. But Ball, Dennis Smith,  De'Aaron Fox and Markelle Fultz -- the favorite player of many scouts -- are all point guards and Lotto guys. The idea of landing Ball or somebody like him might salve some of the wounds Dallas will endure this season.
null