I do not know A. Sherrod Blakely personally, but I know his work and his background: 20 years of experience, much of it as a newspaper beat guy covering the NBA.
I do not know every poster on DB.com Boards personally, but I know y'all's passion and y'all's backgrounds after almost 20 years of overseeing DallasBasketball.com.
You have earned the right to be blinded by the passion and therefore, dumbfounded by the Dallas Mavericks' awful start, bumbling about in the dark, searching aimlessly for answers.
A. Sherrod Blakely has not earned that same right. As an accredited journalist, he is (or should be) held to a different standard.
I know, I know. The standard is lowered and the Baylessisation is rampant and Journalism is Dead.
But there is simply no excuse and no explanation, short of headline porn, why Comcast Sportnet New England would, in a newspaper-style notes column, allow Mr. Blakely to write: 
"IS RICK CARLISLE ON THE HOT SEAT?''
In Blakely's piece, he backs down slightly from that outrageous headline, writing:
"Rick Carlisle's future as the Dallas Mavericks head coach is still on fairly solid ground, and I'm told that's not likely to change even as they endure what has been a historically bad start to the season. 
There's a long laundry list of factors that have contributed to the horrible start, but ultimately wins and losses, fair or not, are credited to the head coach. 
Arguably the biggest deterrent to cutting Carlisle loose is his contract. He signed a five-year deal worth $35 million last fall that takes effect at the beginning of the 2017-2018 season. 
It's hard to imagine the Mavericks would eat that kind of money ...''
No, no, no.
Carlisle is not on "fairly solid ground.'' He IS the solid ground, a pillar of The Triangle of Trust. The money in his contract isn't the reason he's staying; his excellence is.
I cannot believe I would have to convince an actual sportswriter of this ... but I do understand the campaign to help upset Mavs fans of the same. Here, I get some help from the smart folks on DB.com Boards, where folks most certainly offers infinitely more in terms of NBA analysis on this subject than Mr. Blakely.
In response to criticism of Carlisle, and speculation that the coach might actually be the problem, our guys here lets his links do his talking for him.
Somebody tries to argue that there might be "stats'' to support Carlisle's lack of competence ...
And DB.com Boards offers link after link after link after link after link after link after link after link with testimony from the sport's most respected voices calling Carlisle, in short, one of the two or three best coaches in the NBA. There are no "stats'' that prove this, really, except, as DB.com Boards notes, there have only been 32 coaches to win an NBA title and Rick is one of those, and that in 14 years of coaching, Rick has led his teams to playoffs 12 times.
I know some of us want heads to roll. "What Does Donnie Even Do Around Here?'' and "Cuban Sucks!'' are popular laments. But "Fire Carlisle''? No rational person even has this thought occur to him.
The Mavericks need to do many, many, many things better than they presently do them. Changing people is one way to chase that goal, in theory. Changing systems is another way. (Hint: The latter is more likely than the former.) But what this "Is Carlisle On The Hot Seat?'' story really needs is not just polls and opinions and rankings, but first-hand testimony from the principles.
I could just go ask Dirk Nowitzki the question posed by Blakely and like-minded critics of Carlisle: "Should Rick be fired?''
I could just go ask Mark Cuban the question posed by Blakely and like-minded critics of Carlisle: "Does Carlisle suck?''
I could just go ask Rick Carlisle the question posed by Blakely and like-minded critics of Carlisle: "Are you on the Hot Seat?''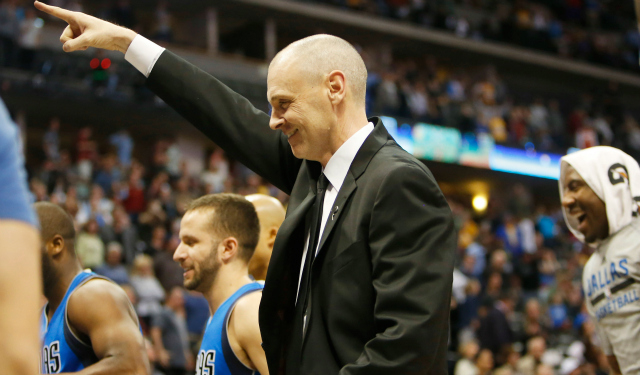 I could. But I won't. Why? Because unlike the misguided Blakely and unlike the angry MFFL, I'd be too justifiably ashamed to even be engaged in this ignorant conversation.