Dallas Mavericks ownership continues to make grand pronouncements regarding the heights that can still be achieved.
The Dallas Mavericks fan base continues to hope for the grandeur that might come by reaching the depths -- and the achievement that could come with the lottery.
And in between is coach Rick Carlisle, who said of Sunday's 91-81 home win over the New Orleans Pelicans: "It's good to win a game once in a while."
Dallas' dreadful eight-game losing streak -- the longest in the Cuban Era -- ended at the AAC crowd that found itself conflicted over the "leap'' to 3-13. Are there guarantees that come with losing? No, but the lottery looms. Is there a guarantee that comes with winning? Dallas, playing here without the sore-heeled Dirk Nowitzki, remains the worst team in the NBA, record-wise. And yet Mark Cuban continues to express the attitude displayed in a conversation with me a week ago, when he said, "We will try to win games -- always!''
(DALLASBASKETBALL.com BOGO IS ON!
Buy a new premium monthly membership and you'll get the 

next month FREE

Offer begins NOW and ends 11:59 p.m. Wednesday, Nov. 30.

Use the offer code 

CYBERMON 

to get the free month
Available only to new premium members.
Full access of premium content across every Scout.com
Full access to forums on the site of your choice
Don't delay! CLICK HERE and use the code CYBERMON for unlimited access to our best stories at an unbeatable price.)
There are, of course, ways to "try to win'' without actually doing it. Cuban, though, doubled-down on the "win'' talk with the media before Sunday's tip, actually mentioning the mathematics that technically leave his Mavs in playoff contention.
"There's a faction of fans that just say, 'Go backwards!' and 'Blow It Up!''  Cuban said. "And if you're going backwards and it's not looking good enough, like right now, they say you're horrible, you're idiots, you don't know what you're doing. ... Haters are going to hate. We think that you always compete, and if you're competing when the league is better like it is this year, if you don't do well you'll be in position to get a good pick."
This is being billed (again) as Cuban saying Dallas doesn't necessarily see the advantages of losing ... in a certain way, a way that I've billed "Organic Tanking.'' But even as he said, "This is not a Race-To-The-Bottom year,'' read it again: The owner is talking about trying to "do well'' while not necessarily actually "doing well.''
Do we all understand this?
Would Cuban ever go full-throttle tanking? Sure. If there were Shaqs and LeBrons and Duncans in this draft. But, he added, "I don't see any Shaqs or LeBron James' or Tim Duncans in this draft, so I don't think that's the right way to do it. If there were ... those guys in this draft, we'd be (purposely) winning (only) 12 games. So you just ignore the haters and let them bitch and go about your business."
So the Mavs will handle the benefits of losing via "play it by ear'' (Cuban's own words.) Meanwhile, Mark is hardly "ignoring'' the haters. He's addressing them at length here, even going so far as to mention this edition of the team in the same breath as the eventual 2011 champs.
Said Cuban: "I look at it this way: We're six games out of the playoffs with (66) to go. I went back and looked at a text Dirk sent me in 2011 where he said all kinds of not-so-complimentary things about our squad as we were going through a 2-9 stretch where we were shooting 32 percent without him."
No, Mark's not ignoring the haters. 
His basketball team on Sunday did so, however, with Wes Matthews (21 points to supplement Harrison Barnes' team-high 23) leading a late charge that began with the fourth quarter tied at 60-all, featured 58-percent shooting from the home team and a 31-21 final-period edge. In doing do they endured the greatness of Anthony Davis, who found himself guarded by an array of everybodies -- Barnes, Matthews, Andrew Bogut,  Harrison Barnes, Dwight Powell and Dorian Finney-Smith -- and still scored 36.
But fortunately for Dallas, outside of J'rue Holliday helping off the bench with 17, no other Pel was much of an offensive threat. 
Meanwhile, Bogut countered Davis' 13 boards with 14 of his own. And Justin Anderson and Powell were double-figure scorers for the Mavs, each guy drawing raves from Carlisle.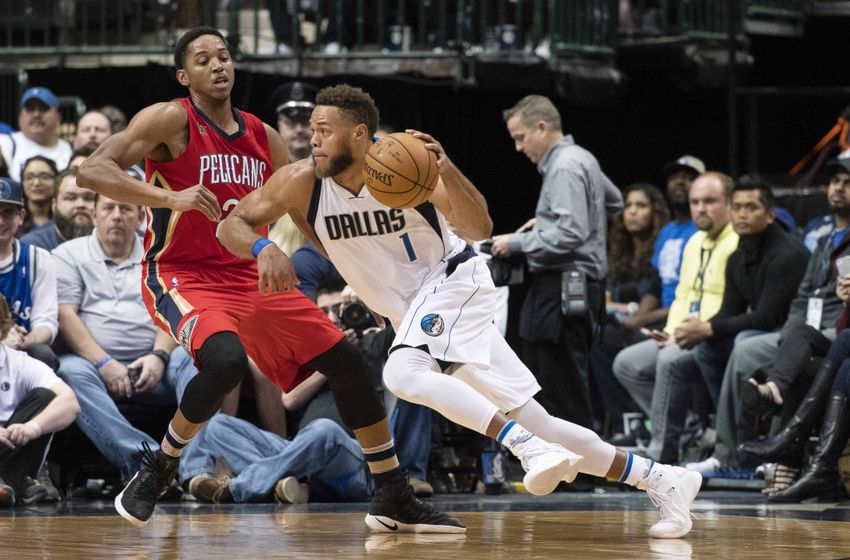 Rick on Anderson: "I thought Justin by far played his best game in two years with 23 minutes, big shots, always being in the right place and tough defense. That is exactly what we need from him. No more, no less. He put himself in a really strong position to play well. I am really happy for him. He has had his struggles, but he is figuring some things out.''
Rick on Dwight: "After a couple of early fouls, he adjusted, he kept his body in front of Davis and he played a really clean game in terms of staying out of foul trouble. He does a lot of great things. He is one of our best competitors and he wants to win so badly. He is a guy who loves being a part of team and loves being a part of winning so I am very happy for him.''
(See more Mavs-Pels Quoteboard here. And vote for "The Dirkie'' Player of the Game here.)
Dallas struggled against powerhouses last week, losing to the Spurs, the Clippers and the Cavs. The schedule will start to balance out a bit, with more opportunities at the AAC to get MFFLs behind the club ... win, lose, or try-to-win-and-still lose.
"One thing that I was proud of was that we didn't hang our heads,'' Matthews said. "We didn't get down on ourselves.''
That, even as maybe some of us are too down on them ... and at least one of us is too up.