For Dallas, Dirk is out "indefinitely.''
For Dallas, Ronjo and Wade are despised "indefinitely,'' too.
For Dallas Mavericks fan laboring to remain engaged with this NBA-worst 3-15 team, there are the small triumphs and there is the watching the blossoming of youth. But tonight, what there is for me are the visiting Chicago Bulls.
First to the absence of 13-time All-Star Dirk Nowitzki:
I think he's going to be out for a while," coach Rick Carlisle said this morning. "I think 'indefinitely' is an accurate word. … Taking daily questions about it gets exhausting for him. And if it's not going to happen real soon, then what's the point?''
Well, "the point'' is that MFFLs are aware that Nowitzki has sat out 13 of the Mavericks' first 18 games this season … and he's not only a sports icon, he's also this team's best player — still.
That is "the point'' of the level of interest in the status of The UberMan, and I would gently advise anyone who is "exhausted'' by having to provide updates regarding his status to remember that. Folks want to buy tickets to games armed with the knowledge of Dirk's availability. Folks are also in love with Nowitzki and want the best for him, this year and beyond.
That is the point. That is the point.
But tonight, there is the matter of two other "indefinitely'' guys.
Both Dwyane Wade and Rajon Rondo are Chicago Bulls, and their talents help power Chicago to its 11-7 record. Chicago native Wade led Chicago to a Friday win over LeBron James and the Cavs with 24 points, five rebounds, four assists and a couple steals. Rondo was big, too, with his triple-double of 15 points, 12 assists and 11 rebounds, plus three steals.
"I thought Rondo was great all night long," Chicago coach Fred Hoiberg said after Friday's win. "You could hear him yelling 'Run with me' to all the guys all game."
Rondo being billed as a leader? Yes, we are familiar with the concept.
Rondo was in Dallas two years ago, his pouting selfishness serving as a symbol of everything that is wrong with the post-2011-championship Mavs. 
Wade sitting out tonight? Because of how Dallas rests its vets, we are familiar with that concept, too. And indeed that's the Chicago plan tonight as the plan was for Wade to not make this trip as the Bulls in a four-games-in-five-nights situation.
Wade is a despicable character in Dallas lore, of course, due to him being transformed into a Momentary Michael by the refs in the 2006 Finals over Dallas, and then mocking Dirk before Nowitzki led the Mavs over Wade and LeBron in 2011.
Tonight, even without Wade, Chicago can lean on budding star Jimmy Butler, who against the Cavs was good for 26 points, eight rebounds, five assists, three steals and two blocks. The Mavs will counter with top player Harrison Barnes, with their trademark "fight'' — something that's been evident in this week's tough losses to the Spurs and Hornets — and maybe with an AAC fan base wishing to direct its ire at Rondo and company.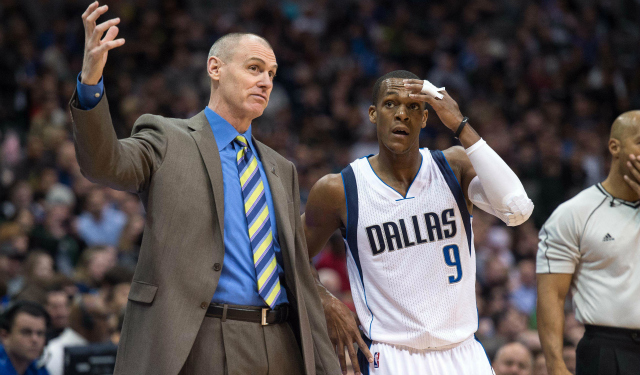 "One thing I like is if we get off to a slow start, our guys don't get discouraged," Carlisle said, looking forward to tonight's 7:30 tip (Bulls-Mavs GameThread and discussion here). "They keep battling. Guys are battling. We're hanging in, we're giving ourselves a chance.''
The "chances'' won't last indefinitely, not really; center Andrew Bogut has conceded, "We've honestly got about a month left to try to salvage the season'' in terms of playoff dreams.
But finding an opponent to dislike? If a team employs Wade and plays Rondo, that feeling can be "indefinite,'' too.