DONUT 1: Announcing Dirk's Announcement
I don't blame any of us, really I don't, for assuming that any announcement being tossed out by the Dallas Mavericks right now is actually a bad-news hand grenade being tossed out from behind a bunker. "Here comes an Odom grenade!'' "Here comes a Rondo grenade!'' "Here comes a DeAndre grenade!'' "Here comes a Chandsome grenade!''
After having been spoiled by 50x11 and by Everything Dirk Nowitzki (yes, you're spoiled!), we are now conditioned to react in an opposite way, a negative way, a manner that suggests an email announcement of a coming Mavs announcement should include with it, in the subject line, a simple suggestion:
"DUCK!''
DONUT 2: The Trickle
So it was on Saturday, the Mavs engaging in their best performance of the season, a blowout of Rajon Rondo's Bulls (game coverage here), when an announcement of an announcement trickled out.
https://twitter.com/EarlKSneed/status/805209233117605888
Under normal circumstances, that's innocuous enough, is it not? The most iconic figure in the history of a sports franchise is 38 years old and is in his 19th season and is saddled with an Achilles problem that mostly makes him a sideline observer of a 4-15 Mavs team that without him has a shot at being the crummiest team in the NBA.
So, of course he's going to speak. Right?
DONUT 3: Panic In The Streets
Yet after the trickle came a flood. I received frightened texts, emails and phone calls and received and saw tweets, all expressing deep worry over what Dirk revelation was forthcoming.
"Is Dirk mad?''
"Does Dirk want to be traded?''
"Is Dirk retiring?''
DONUT 4: 'It Gets Exhausting'
Earlier Saturday, coach Rick Carlisle announced that Nowitzki would be out "indefinitely'' with the same strained right Achilles that has troubled him since training camp and that has limited him to just five games played, and an average of 12.2 points and 6.4 rebounds in 26.2 minutes per contest.
But as Rick spoke, you realized the Achilles isn't the only think that is strained. As is often the case with Coach, who hates the idea of "providing daily injury updates,'' his patience with the inquiring minds seemed "strained,'' too.
From DB.com pre-game coverage on Saturday, the way I wrote it:
"I think he's going to be out for a while," coach Rick Carlisle said this morning. "I think 'indefinitely' is an accurate word. … Taking daily questions about it gets exhausting for him. And if it's not going to happen real soon, then what's the point?''
Well, "the point'' is that MFFLs are aware that Nowitzki has sat out 13 of the Mavericks' first 18 games this season … and he's not only a sports icon, he's also this team's best player — still.
That is "the point'' of the level of interest in the status of The UberMan, and I would gently advise anyone who is "exhausted'' by having to provide updates regarding his status to remember that. Folks want to buy tickets to games armed with the knowledge of Dirk's availability. Folks are also in love with Nowitzki and want the best for him, this year and beyond.
That is the point. That is the point.
Am I clear here? The Mavs stockholders have the right to know how their stocks are doing, to know what the corporation is doing with their investments and with its assets. So as much as Rick dislikes (or pretends to dislike) providing updates on The Most Important Mavs Investment Ever, he, or somebody, is absolutely mandated to oversee a shareholders meeting once in a while.
DONUT 5: Dirk's Mandate
Oh, and Nowitzki himself is mandated to do the same.
There is always something a bit unsavory about the pro athlete who holds a press conference after he throws a game-winning TD pass while avoiding the public after throwing a game-losing interception. Meanwhile, there is always something gigantically positive about the athlete who is so consistent and so steady and so in control that he faces the music no matter what.
Dirk Nowitzki is the epitome of that guy. His availability to his public is not only part of his immense charm -- it's also woven into the fabric of Mavs culture.
So of course "The Announcement About The Announcement'' was simply Dirk providing an injury update as he is all-but-required to do.
DONUT 6: 'Three Steps Slow''
In Dirk's usual self-effacing way, his late-Saturday address to the media included the concession that his game can't afford to move any more slowly.
"If it limits my movement 10 years ago I'd still be able to play effectively out there,'' he said. "But if it limits my movement now, I'm already a step slow – that makes me three steps slow and it just makes so sense to be out there.''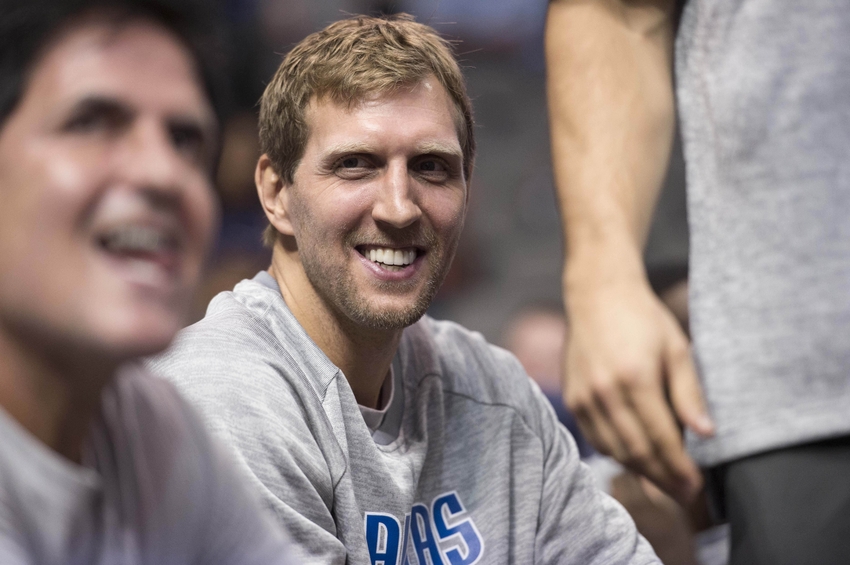 I'm not sure this is absolutely true in a purely-basketball sense. If I'm the Mavs and tonight's 7:30 tip at the AAC against the Hornets is for all the marbles -- a playoff berth is on the line, say -- "Three-Steps-Slow Dirk'' still gets a uniform. "Three-Steps-Slow Dirk'' can still make one bucket ... or maybe can still make lots of buckets in compared to his 2016-17 Mavs teammates ... and I want him on my team in some capacity.
But ...
DONUT 7: Impeding Factors
But ... there are two factors that impede giving Dirk minutes right now.
One is easy and obvious: The risk of causing the Achilles to be injured more severely.
"It's tough, but once I'm out there I don't want the same thing to happen again just like next week, so I want to make sure now that it's good to go,'' Dirk said.  "I'm hoping that it heals pretty soon here and I can play the rest of the season pretty pain-free ... (I'll be) just seeing it day-by-day, pushing it a little more and seeing how it reacts.''
DONUT 8: And The Other Factor (That Nobody Wants To Mention)
What is the risk/reward of Dirk playing at less than 100 percent for a 4-15 team?
Nowitzki, interestingly, actually put a percentage on where he's at physically, depending on how you interpret his words. He said, "Sometimes it's tough because I know the one thing I can still semi-do is score the ball and spread the floor. At this stage of my career I don't move well any ways, so if I'm out there at 80-90 percent I don't think I'm a big help.''
Whoa. Guys, if Dirk is "out there are 90 percent,'' he'd be a HUGE help.
This is, I think, a glimpse into Dallas' reality. Owner Mark Cuban is doing interviews in recent days in which he refuses to concede that the Mavs are "tanking.'' On Saturday he repeated what he told me two weeks ago, saying, "We're going to keep on trying to win as many games as we can."
But as I point out here in my analysis of where the Mavs truly are, a team can "be trying'' and a team can be "not tanking on purpose'' while at the same time be involved in what I've called "Organic Tanking.''
Isn't Dirk serving as Exhibit A of how this works? Dallas isn't trying to lose to help its Lotto status. But Dirk might be at "90 percent'' but is out "indefinitely'' and might return in late December?
As you see above, Nowitzki wants to win games this year and pointedly called any sort of talk to the contrary "nonsense." But I believe he means "tanking'' is nonsense. I don't believe that seeing the difference between what he would do with his Achilles for a 4-15 team vs. what he might do with it for a 15-4 team is "nonsense.''
DONUT 9: Charlotte Tonight
There is a game tonight, and Dirk will observe it. DallasBasketball.com will be in the house, of course, and we invite you to ride along with us by following me on Twitter at @FishSports and by following @MattGalatzan here and of course, by being involved with your free membership on DB.com Boards.
But even as we watch this game, we'll have an eye on Dirk. Because he is The Most Important Mavs Investment Ever. Because we are tired of the grenades.
DONUT 10: "All-In''
Happily, as you see in the above video, Nowitzki used the phrase "all-in'' as it regards the rest of this season.
"But for now I'm all-in and I want to play,'' he said.
Wait ... "for now''? What does "for now'' mean?
DONUT 11: No Change?
Some of the news stories written about Dirk's presser insist that he leaves the impression that fulfilling next season's second year of this contract and playing a nice, round 20 years with Dallas remain locked-in plans.
The Star-Telegram wrote, "Nowitzki signed a two-year, $50 million contract with the Mavs this past summer with high hopes of honoring that contract. What has happened to his body lately hasn't changed his stance.''
Unfortunately, I didn't see him say anything quite like that at all.
DONUT 12: The Final Word
What Dirk actually talked about in regard to his health and his long-term status with the Mavs is about a "re-evaluation this summer.''
https://twitter.com/tim_cato/status/805273739726389248
"I want to get back on the court as soon as I can -- that's really all I'm worried about for now for this year,'' Nowitzki said. "I think we can re-evaluate this summer. I'll talk to ... the trainer (Casey Smith) and Cubes and my family and kind of just make a decision there.''
If you are interpreting that as a future possible "Dirk grenade''? I cannot blame you, as you've been conditioned to do so.