This Dallas Mavericks team may be struggling for wins right now, but their is one thing everyone can agree on: these guys play hard. Once again, the Mavs dropped a tough one, this time to the Charlotte Hornets on Monday night at the American Airlines Center by a score of 109-11. The loss moves Dallas to 4-16 on the year and 3-6 at home on the year. 
And they played hard. Right?
"The shots were not dropping,'' coach Rick Carlisle said in his overall evaluation. "They made some tough shots, and then they broke us down a few times. They outlasted us; their experience and execution down the stretch was the difference. I'm disappointed in the result. We did a lot of good things. The thing that's most disappointing is the rebounding numbers. ... We got wiped out tonight by 20, which shouldn't happen. That points to effort, which I don't like to say about this team, but I've got to look at it. We'll see. That's not good."
If Rick finds that an issue upon further examination, it would be a first, this sort of crack in the armor of Dallas ... 
"We have to be crazed dogs from the tip to the final buzzer and that is how we have to play,'' Wesley Matthews said, suggesting some agreement with his coach. "That is how we have been playing. That is our identity and we just didn't do it long enough tonight.''
Meanwhile, the Mavs certainly gave enough effort in most areas to have had the Hornets on the ropes. In a game that was full of lead changes and back-and-forth scoring. Dallas held a three-point lead heading into the fourth quarter, but let things slip away in the final period, with the Hornets outscoring them 34-23 over the last 12 minutes. 
https://twitter.com/JoshEberley/status/805983483357184004
The Mavs made a late push, led by Dwight Powell and Jonathan Gibson, but were put to bed when Jeremy Lamb hit a late three to put Charlotte up for good. They had a bad beginning to the fourth on the defensive end, but closed out strong, forcing the Hornets to earn the win late. Unfortunately for Dallas, they just couldn't make that final push to the finish line.
In a scary moment for the Mavs in the first half, Andrew Bogut was forced to exit the game after Roy Hibbert fell backward into his leg, resulting in an apparent knee injury. It did not look good for the Mavs center, as he limped off the court in some obvious pain. 
Said Carlisle: "We don't think it's terribly serious. From what I understand, it was hyperextended. The X-ray was clean from the information that I got. At this point, it appears we dodged a bullet."
A hyperextended knee could mean a month out for Bogut. This impacts his availability to the Mavs, but also his availability as trade bait. We've already written one story about wishing to get a first-round pick for Bogut (see Mavs Premium here) and as Fish notes, we need to be wary of public pronouncements to the contrary.
https://twitter.com/fishsports/status/805989725458796545
Nicolas Batum and Kemba Walker led the way for Charlotte, with Batum scoring 14 points, grabbing 15 boards and handing out seven assists. Walker added in 19 points of his own, shooting 53 percent from the floor. Marco Belinelli also contributed 16 points, including going 2-of-4 from beyond the arc. 
The Hornets shot over 50 percent from the floor, and as aluded to above, killed the Mavs on the glass by a 55-35 margin, which proved to be a a major difference in the game in the end. 
The Mavs, meanwhile, shot just 41.9 percent from the field, and 13-36 from beyond the arc. They continue to struggle from deep as a team, proving once again, in our minds, that they just don't have enough outside shooters to justify the amount of shots they take from downtown. 
Harrison Barnes, however, continued to show his worth as a budding young star early on in the season, going for 29 points and seven rebounds on 47.6-percent shooting. He was the best player on the floor throughout the game, and his performance alone should be proof enough that the Mavs have a legitimate piece to build around moving forward. 
Wes Matthews scored 16 points, shooting 4-9 from beyond the arc, but shot just 38 percent overall. Deron Williams also added 15 points and 13 assists, in his second straight game with double-digit assists. 
Powell had his second straight night in which he played very well, scoring 15 points and grabbing seven rebounds on 7-11 shooting, and Gibson had 13 points, including a big three down the stretch. 
The Mavs will turn the page to the Sacramento Kings in what will be Dallas' third straight home tilt. Dirk Nowitzki will continue in mothballs and Boogie Cousins will lead a dysfunctional Kings squad into the AAC on Wednesday night, that currently sits at 7-13 and will be coming off of a road loss to the New York Knicks. Cousins -- a favorite conversation of Mavs trade talk on DB.com Boards -- is averaging 29 points and 10 rebounds for the Kings this season. But dysfunctional? Yeah. Matt Barnes may or may not be available for the game, as he is currently being sought be the NYPD for an interview after a night club incident regarding an alleged assault of a woman.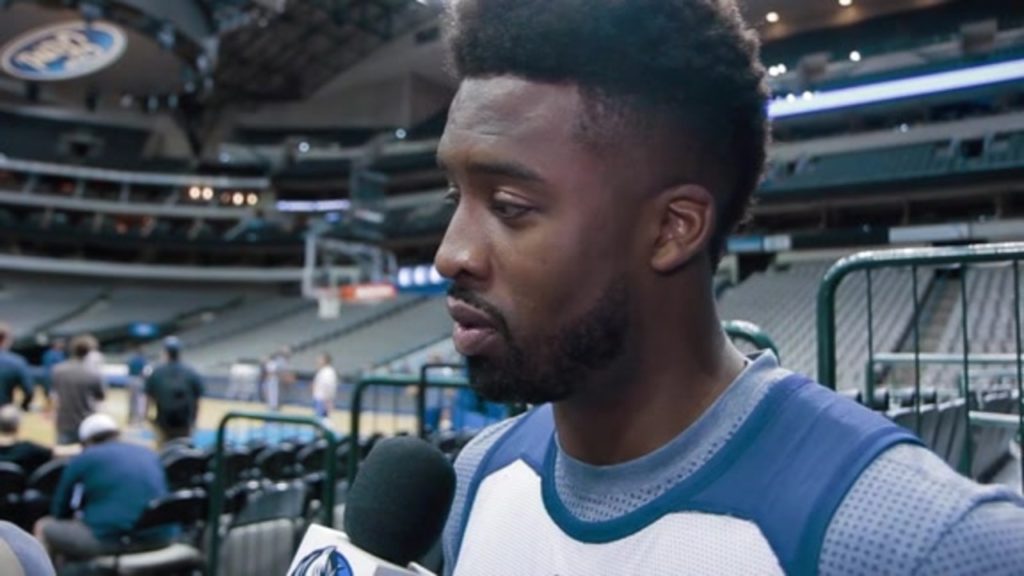 That's a winnable game, if the "crazed-dogs'' effort is there.