Donut 1: Kings 120, Mavs 89 Scoreboard Malfunction
After a second half Kings' bucket, the score keeper accidentally rewarded Sacramento with a few hundred extra points. The mistake was corrected almost before the announcers could comment on it—but they needn't have bothered.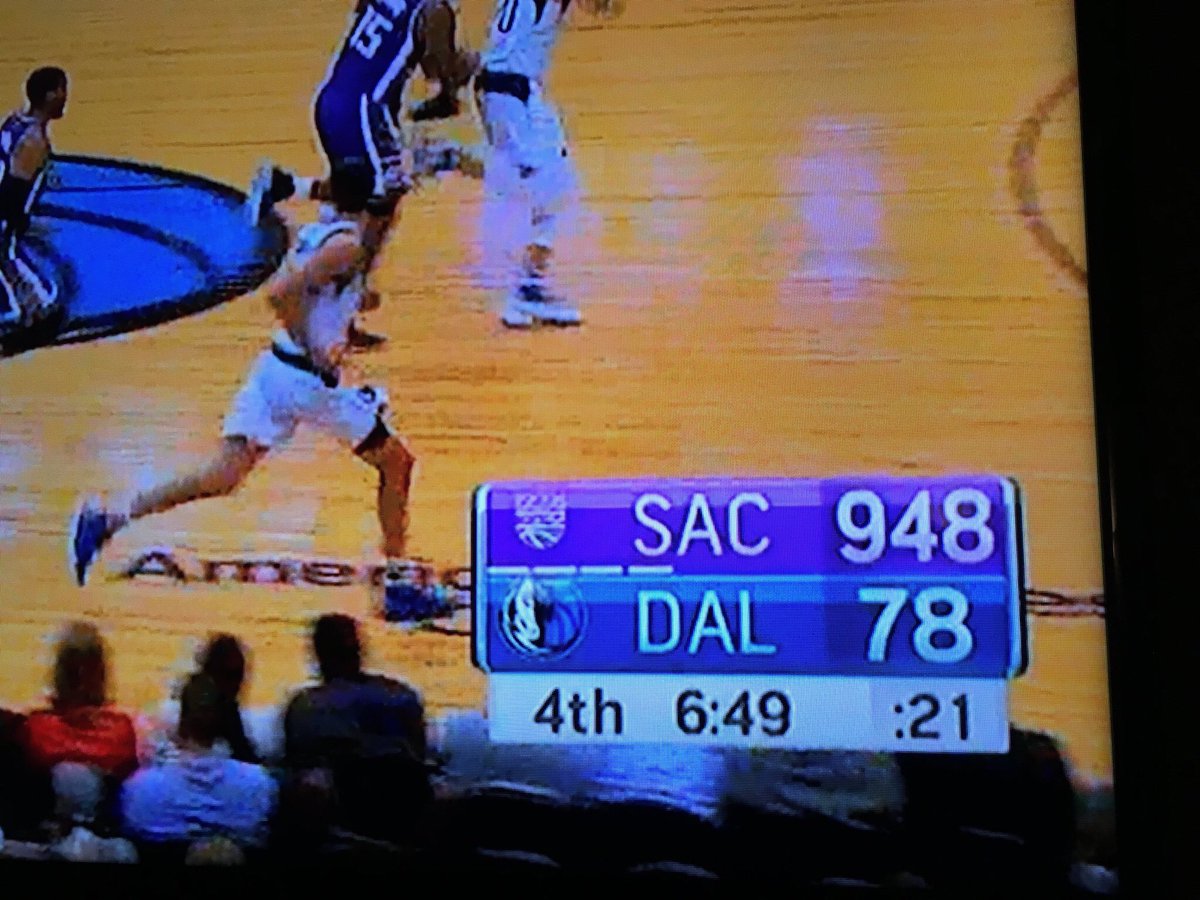 At one point, after what passed for an amazing stretch by the Mavs in the 4th quarter, they'd cut the lead to a "mere" 14 points. In other words, this was not a close game. The Mavs were outscored 29-12 in the 3rd, 35-25 in the 4th, and (as I'll explain later) that 4th quarter was worse than it sounds.
The final score was 120 Kings, 89 Mavs.
It's one of those rare times that a score can kind of speak for itself. Or, if it doesn't mind, just go ahead and keep its mouth shut.
Coach Rick Carlisle almost did just that, offering only this as a postmortem:
 "I'm going to make a short statement and be on my way: That was a very, very, very disappointing performance. It starts with me; I've got to do a better job getting these guys ready to play, getting them ready to compete. The second half was inexcusable. The way we played – just the way we performed all around – everything from how we competed, decision-making. Shot-making comes and goes, but the competitive spirit has got to be there. We're going to do better."
Donut 2: What a Difference an Injury Makes
In the 2015-16 season, the Dallas Mavericks lost only 95 games to injury. For some perspective, the league average was 150 games to injury. This isn't anything new. The Mavs had only 71 games lost to injury the season before that.
When you build an old team, you have to keep them healthy. If you keep them healthy, you can win a lot of games in some really smart ways.
So far, only 20 games into the 2016-2017 season, the Mavs have more than 50 games lost to injury.
They're not on pace to beat the 350+ games the Pelicans lost last year, but they're definitely out-pacing all recent versions of themselves. When you're a team that builds by signing cast-off veterans on the cheap, you can't afford it when the bubble-gum and duct tape holding them together starts to come lose.
We're all out of bubble gum, but I'm not exactly sure what we came to do.
Donut 3: The Other Darren Collison
Darren Collison didn't make much of an impact as a Dallas Maverick. Neither on the court, nor in the minds of fans and coaches. He was often seen as indecisive, mistake-prone, and relatively ineffective. At one point, he played so poorly that he was actually replaced by the creaking ghost of Derek Fisher (hey, so was his current Kings teammate Matt Barnes!)
He's had a couple of decent seasons since then, but this year has been pretty pedestrian (12 points and 4.8 assists per game).
Maybe he has a little taste for revenge against his former team—or maybe these depleted Mavs are just what any player needs to look like a force on the court, but Collison opened up the first quarter 3 of 4 from the floor for 8 points, he added an assist, and he didn't turn the ball over.
He would go on to have a turnover night that was very familiar to Mavs fans—but he also finished with 5 of 10 from the floor for 19 points, 3 boards, 3 assist—and he also got himself to the line for 7 of 8.
No, that's not an All-Star level of play—but at times it was the best he's looked all season—and that's a bad look for a team that wants us to believe that Williams is defending well. If he's defending well, we need to figure out why so many Point Guards, even the bad ones, keep winning that matchup.
Hint: Williams is ranked 27th among PGs in ESPN's Defensive Real Plus Minus.
Donut 4: Christmas Wishes?
Ol' DB.com pal Michael Dugat made a tweet that makes me want to find every mall Santa's lap and plop down to make some requests.
https://twitter.com/mdug/status/806687545652350976
Me too, M-Dug. I want this team to rebuild, and I know they have to shift some guys to do that, but I hope Matthews isn't one of those guys. Yeah, he started off slowly this year—and I was pretty loud about it. That's because I was right.
That means you can trust me when I say: we want his crazed-dog defense and cold-blooded shot-making to be the catalyst for a lot of wins going forward.
Don't let the boxscore fool you. For a lot of this game—and especially the first half—Wes Matthews kept the Mavericks in this one. He was 6 of 10 (4 of 6 from three), he had 4 boards, an assist, a steal, a block, and only turned the ball over once. His stat-line doesn't do the work he put in vs Sacramento justice.
Much like with Andrew Bogut, it's tough to be a glue player on a team with very little to glue together ...but if the Mavs can ever surround Matthews with enough sturdy pieces, he's going to be the missing link that pushes this team from good to fantastic.
"If'' is a powerful word. It's a favorite among optimists, and a mainstay of regret.
Donut 5: Fool's Gold
Hey, if you want to tell me that D-Will is a killer defender, I'll hear that. I've missed a lot of those plays, but a lot happens on the court, so I'll listen to you.
You want to tell me that he's a great facilitator? I agree with you. When he makes smart passes, there are few better at putting his teammates in a position to score buckets.
You wanna tell me he's a solid scorer? Ok. Show me plays like the ones he made at the end of the first half, when he imposed his size and will on the interior, and helped cut the lead to 4.
But, I'll have to show you pictures of my kids too—and those pictures include throwing passes away (a couple behind Devin Harris for unforced turnovers, including one that led to a back-court violation). 
I have to show you the time Matt Barnes threw a Hail Mary to a player that Williams made no effort to cover in transition. Or I could point to another lapse on that open corner three to McLemore in which he made no effort to rotate.
As I mentioned above, he ranks 27th among point guards in Defensive Real Plus-Minus. ... Even worse (283rd) league wide. He's 40th in total Real Plus Minus for Point Guards and 259th among all 425 qualified players. It's not my imagination. It's bad news, it's frustrating to see through the matrix of 10-point 4th quarters and realize it's a mirage.
Can Deron nail his FTs when he drives to the basket? Yeah. Can he hit open three pointers and induce fouls? Yeah. Can he make huge plays and find his way to the basket? Can he play nasty defense and keep his man in check? Can he hit a cold blooded three with a man in his face? YES. YES. YES.
That's why it's so frustrating when he doesn't do those things. It's more obvious when a good player and a smart veteran like Williams makes a series of rookie mistakes, because you expect better.
Did he put up buckets? Yeah, but let's not forget that a lot of those threes that he made were a lot like the ones that he missed—early in the shot clock, heavily-contested, as likely to miss the rim as find the net.
But, hey. If you want to focus on the junk time points that filled up the box score—I'm ok with that—because some PG-hungry trade partner might focus on that same box score—and that could be his best assist as a Mav.
Speaking of "trade partners'' -- did into Mavs Premium here for a report from inside Mavs HQ on that subject and more.
Donut 6: Turnovers
The Mavs turned the ball over a season-worst 23 times. The Kings scored 34 points off of those turnovers.
They picked up 14 turnovers and only scored 7 points.
I'm a smart and snarky guy—but sometimes a guy (or five) getting hit in the nuts is all you need to laugh.
Send tonight's tape into "America's Funniest Home Videos" (is that still a thing?), win a million dollars, use that money as part of a trade throw in.
Donut 7: Technically a Time Out
Rick used so many time-outs in the third quarter trying to stop the Kings' momentum, that he was out of them pretty early into the 4th quarter.
He was whistled multiple times for excessive time-outs, which is a technical foul.
I've seen coaches in that situation before, but I don't think I can remember seeing Rick Carlisle in that situation. More proof that we're a city spoiled by winning and by head's up coaching.
Don't get me wrong—Rick knew exactly what he was doing when he took the techs. It's not like he had a Chris Webber moment and forgot he'd used them all. It's just strange that he's coaching a team that needed so many time outs wasted on sutures, gauze and pep-talks.
It's weird that Rick looked out at the court and thought, "A free throw for them is better than whatever it is we're doing right now."
Donut 8: Boogie is a Beast
Yep.
You can read Fish's piece about this "beast'' thing right here.
Now you can let me tell you all about what a beast does when you expose your soft innards.
Tonight he clawed and chewed the Mavs to the tune of 10 of 16 shooting, 24 points, 14 rebounds, 7 assists, 3 blocks and he was 2 of 2 from the arc.
He only played 33 minutes.
Let that sink in.
Now, remember that DeMarcus Cousins has never been in a playoff game.
The Kings are wasting his talent right now, but he just keeps getting better. I hope they figure it out, or we're going to watch one of the best talents of this generation turn into a punchline.
Donut 9: Fool's Gold Part 2
Harrison Barnes was honored at half-time for his time with the Olympic team. The squad, as you probably heard, won the Gold at the summer Olympics—but they did that primarily without the help of Barnes, who lived on the bench for most of the tournament.
Back then, a lot of Mavs fans were nervous about what Barnes would bring to this team, since he hadn't done much in the NBA Finals, nor in the Olympics.
So far this year, he's been a fantastic player—even in isolation—which goes against the "he can't shoot with a guy in his face" narrative that seemed so accurate until this season.
But, perhaps the Olympic honor carried with it a slight whiff of the tough summer Barnes experienced with the Warriors and the Men's team, because he had one of his worst nights in a Mavs uniform.
He shot 5 of 16 from the floor, missed all four of his three-point attempts, managed only 4 rebounds and one assist. He was also responsible for a team-high seven turnovers.
The saving grace? He was on the attack all night, even when his shots weren't falling, and he was active and aggressive on defense— proving that a tough night shooting wouldn't distract him from the rest of his game.
That tenacity and effort is why I'm not too worried about one game. But, you know I had to mention it. (And regarding the team's overall lack of tenacity, we should note that it's actually two straight games of that. Oh, and one straight game featuring what I assume was a stern Carlisle behind closed doors. I'm afraid we're gonna have a bunch of those this season, too.)
Donut 10: It's What's Inside that Counts
Ok, so the Mavs played an ugly ugly game. It's what's on the inside that counts, right?
Well, bad news on that front, too, folks. Despite a far more respectable showing on the boards (the Mavs only got out rebounded 41-40 vs. Sacramento) things were miserable in the paint.
The Kings outscored the Mavs in the paint by a confusing 68 to 30.
So yeah. It is what's inside that counts. It's just that the Kings -- with Bogut and Dirk watching -- had 38 more of those things to count up after 4 quarters. That's usually enough to make the difference.
Donut 11: The Justin Anderson Play of the Game
I want you to know, I rewind these things and watch them 10 times on my DVR so that I can tell you exactly what happened. Plus, when a season is going this poorly, it doesn't hurt to laugh.
If you want to check it out, this happened around the 4:40 mark of the 3rd quarter.
Dwight Powell sees Ben McLemore driving baseline and he seals  that crack. McLemore can't undo his momentum, so he loses his footing and slips on the ground in front of Powell and—gulp—Justin Anderson.
Justin Anderson looks down for a minute, like a kid who got his first hit in little league, but forgot to run. Finally, he realizes that there's no whistle, he reaches down, and plucks the ball out of the still sprawled McLemore's hands. At the 4:45 mark the stat sheet will read, sort of accurately, "Ben McLemore lost ball turnover (Justin Anderson steals)."
Anderson sprints down the court, passes the ball, and gets it right back. He drives inside—and goes up for a dunk or a layup. He panics and decides to bail on it, so he tries a half way pass while out of control in mid-air.
The ball, predictably, sails behind Dwight Powell, and into the hands of Kosta Koufos. He gets it to Collison, who immediately feeds a Boogie Cousins who cheated the play, and he gets a dunk about 65 feet from the nearest Maverick.
Donut 12: The 4th Quarter Was Worse than it Looked
Ok, sure, Garbage-Time Williams picked up 11 points in the 4th quarter, and that'll look really good for his box score. Barnes was 2 of 2 in the  final frame. Anderson 1 of 1.
Meanwhile, Nick Brussino went 1 of 3; A.J. Hammons 0 of 2; Gibson 0 for 5 ... you get the idea.
I'd love to talk about how badly the Mavericks defended in the 4th quarter (giving up 35 points)—but the reality is worse than that: They also couldn't shoot.
And you can congratulate Williams if you like, but a few of those shots he took and made were the kind that you're only ok with when your team is down by 21 points.
Over the second half, the Mavs scored a total of 37 points—which means the 3rd quarter was actually a worse showing for them—but that's only because a few lucky shots found the net in the 4th.
Don't be fooled by a 35-25 box line. It was every bit as bad as, and maybe worse than, that 29-12 third quarter.
And it was a far cry from the team that scratched back to within 4 at halftime.
So ... it doesn't hurt to laugh. I love Fish's attitude to all of the Mavs' woes, as displayed on two fronts. One, the photo below. Hey, there's a toilet sitting court-side at the AAC! Haha!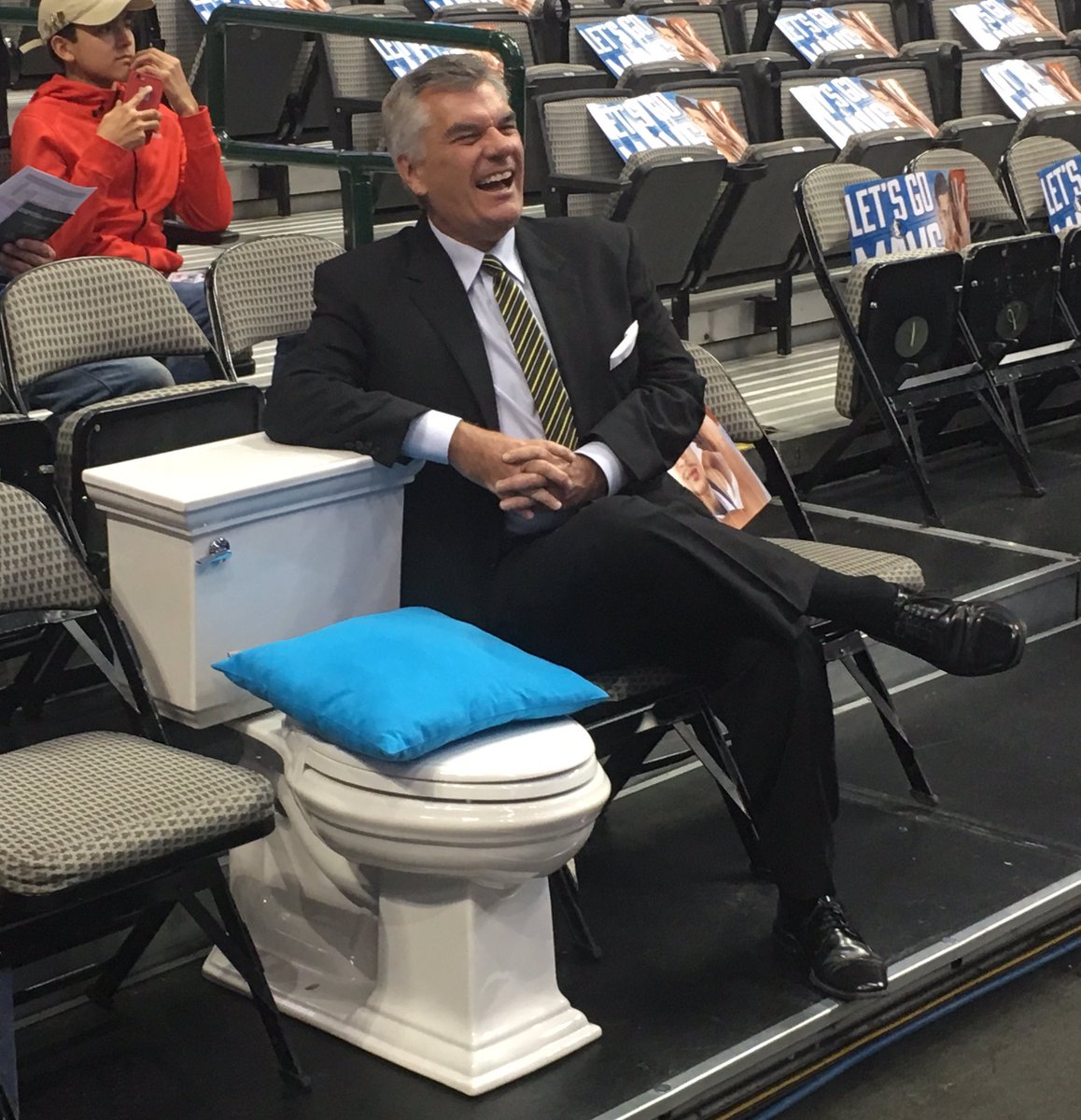 But two, Fish's column that explains why there is a toilet sitting court-side at the AAC ... and the part of all this that ain't a joke.
Donut 13: The Final Word
"It was a disservice to us as teammates, it was a disservice to the coaching staff who put in work and it was a disservice to the fans that came here tonight." -- Harrison Barnes' on the home team's performance.