Teams don't have "closed-door meetings'' after wins. Teams don't quickly usher the media out of the locker room after wins. Teams don't do immediate roster-wide film study after wins.
"Sometimes,'' Dallas Mavericks coach Rick Carlisle said in review of Wednesday's embarrassing 120-89 home loss to the Sacramento Kings, "you need to change things up a bit.''
There is only so much the Mavericks can do about being 4-17. They cannot make wholesale lineup changes; put-'em-in-street-clothes injuries to Dirk Nowitzki, Andrew Bogut and JJ Barea, along with nagging issues for Deron Williams, Seth Curry, Devin Harris and others, have made the lineup changes for them. They cannot "turn it over to the young guys''; Dallas is already relying on kids and scrap-heapers. They can demand more effort from themselves — something that's been lacking in back-to-back losses to Sacramento and on Monday before that to Charlotte — but heck, the Mavs were all about "fight'' before this week and before this week they were 4-15, so … how can we assume automatically better results?
Nevertheless, Carlisle's unprecedented post-game film session with the team was worth a try. 
"When you're in a leadership position you've got to make these decisions quickly on the right course of action, but sometimes you need to change things up a bit,'' Carlisle said. "I've never watched film after a game before in my 15 years of coaching, but … I felt it was the right thing to do.''
The change-up didn't turn the players' apple carts upside down. The session lasted 35 minutes, was not necessarily an ass-chewing, and everyone went about their business.
"And, hey,'' the coach said, "(on Thursday) we got right to our lifting and a competitive practice and we've got to get ready for another good team (tonight).''
When it come to Mavericks foes right now, they are all "good teams,'' relatively speaking. Dallas made a lousy Kings club look "good'' by committing a season-high 23 turnovers and by getting outscored in the paint, 68-30, all part of a second-half collapse that the Mavs being outscored 64-37 in the final two quarters. It won't take Mavs problems to make the Indiana Pacers look good tonight in a 7:30 tip at the AAC (Mavs-Pacers GameThread here on DB.com Boards) — the 11-11 Pacers can do that all by themselves.
They'll be lead by young Myles Turner, the DFW native who in the teams' previous meeting in the season-opener was good for 30 points, 16 rebounds and four blocks in an OT loss for the Mavs. Indy's lineup will likely look like this:
PG J. Teague
SG M. Ellis
SF P. George
PF T. Young
C M. Turner
Dallas will counter with a quintet expected to look like this:
PG D. Williams
SG W. Matthews
SF H. Barnes
PF D. Finney-Smith
C S. Mejri
There are only so many things to expect from such a group … but Carlisle demands, at the very least, professionalism.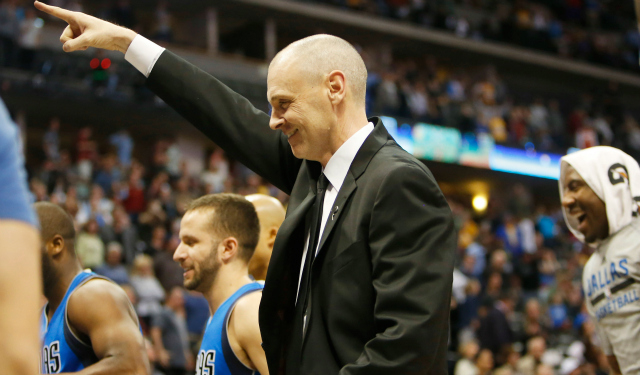 "We talked through the stuff,'' Carlisle said. "We're in a situation where we're all in this together – coaches and players together have to figure out how to dig out of a hole. … We're professionals and our job is to compete at the highest possible level,'' Carlisle said. "I don't give into (other factors), none of us can. We've got to understand that there is a growth opportunity every time we set foot on the court, whether its practice, shoot-around or a game, the competition is stiff, it's tremendous in this league, it's the best basketball in the world.''
Unfortunately, the Mavs are wobbling around near the league basement and are off to their poorest start since 1993-94's 1-20 beginning and are playing some of the worst basketball in the NBA world … and you can see that whether you watch film morning, noon, or night.