Coming off of maybe their most impressive win of the season on Friday night over the Pacers, the Dallas Mavericks were forced to turn around quickly and take on arguably the hottest team in the NBA right now, the Houston Rockets. The Rockets are on a tear, having won seven of their last eight coming into the game. Wes Matthews and the Mavs put in a valiant effort, but ultimately the Rockets would take down Dallas, 109-87, at the Toyota Center. 
Matthews continued to put the Mavs on his shoulders, scoring 26 points in consecutive nights, shooting 8-22 from the field, and 5-13 from three. He was also tasked with the unenviable burden of defending James Harden all night, which is just about as tough a job as you can ask anyone to do in this league. 
Harrison Barnes had yet another 20-point effort of his own, but wasn't a consistent enough threat for against the Houston defense to warrant any extra attention. Barnes took just 13 shots on the night, hitting seven of those attempts, and shot just one three in the game. 
If you ask me, this team needs Barnes to take a more authoritative role in the offense if he is going to take his game to the next level. He has shown he can do it before, but if he wants to be a Batman instead of a Robin, it needs to come on a more consistent basis. 
Dorian Finney-Smith chimed in with 11 points, as his offensive game continues to progress nicely, but the rest of the Mavs rotation scored just 30 points combined. If you're counting at home, that's an average of just 3.3 points scored for the remaining nine players that saw minutes in this game. To be frank, that is just not going to cut it if this Lotto-look 5-18 team wants to start winning games. ... and it might help if Justin Anderson fights his way back into a prominent role in the rotation, something coach Rick Carlisle clearly doesn't think he is earning right now.
The problem here however, is the wide disparity in scoring talent on the Mavs roster, as compared to the teams that they are playing each night. It's simply a problem that the short-handed roster doesn't have the possibility of fixing right now. 
In the end, Matthews and Barnes kept this thing in striking distance as long as they could, but the hot-shooting Rockets made it damn-near impossible for the Mavs to make a legitimate dent in the deficit. 
The Rockets, on the other hand, are loaded with scorers, as they had six guys score at least 12 points, with James Harden and Eric Gordon leading the way with 18 points each. Harden did more than just score however, finishing with 16 assists, and one rebound shy of a triple-double with nine boards. 
I have always been of the opinion (and still am as of tonight), that Harden is one of the more overrated scorers in the league. He shot just 4-12 from the field, including 2-8 from three, but got to the line 10 times, hitting eight from the stripe. I suppose it's a lot easier to average 28 points a game when you are making nine to 10 free throws a night, but the rest of his scoring game just doesn't impress me. 
Where Harden is elite, however, is his passing ability, as evidence by his 16 assists here in this one. His vision and playmaking are special, and he has so many weapons on that end of the floor that it is almost unfair for the opposing defense. He can find anyone, anywhere, at anytime, and his teammates have made defenses pay all season long. Combine that with the way he pushes the officiating envelope, and Dallas doesn't have answers for him.
They're so good offensively,'' coach Rick Carlisle said. "We hung in, kept it within 10 or 11 most of the game, but it's hard getting over the hump."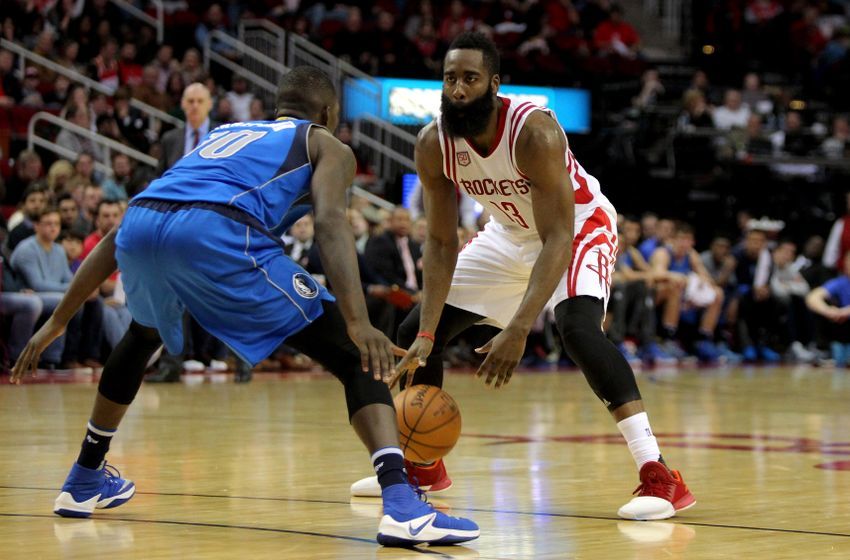 The Mavs will now return home to face Wilson Chandler, Emmanuel Mudiay and the Denver Nuggets on Monday night at the American Airlines Center. The Nuggets are a top-10 scoring offense in the league, but struggle on defense, giving up more than 108 points per game this season. 
If the Mavs figure out a way to get some more production from elsewhere on the roster, it will be a very winnable game for them. That task however, has proved very difficult as of late.