Donut 1: Familiar Territory
The Dallas Mavericks have lost a lot of games this season, but it's rare that they take a lead into the fourth quarter and then lose by double-digits.
That's just what they did Wednesday, falling 95-85 to the Detroit Pistons. (Game story here.)
"We had a lot of small slippages that added up very quickly,'' coach Rick Carlisle said of his now 6-19 team. "There were some minor mistakes, and in a game like this, which is a low-possession game, they added quickly ... so we paid a price.''
The Pistons used the game to get back above .500 for the young season.
For the Mavs to climb back above .500, they would've needed to win last night's game about 12 times in a row.
Donut 2: The Curse
Mavs have won six games this year, and none of them were games that I covered.
Going into the fourth, I thought my streak might finally be over, and the Mavs were going to take home a victory on a night when I was taking notes.
They nearly did it opening night, and that game went to overtime. I don't know why I got my hopes up.
Then again: if you're on Team Draft Pick (like I am) then you may want to thank me. Every time I watch, I improve the Mavericks' lottery odds.
Donut 3: Dirk and Retirement
No surprise: Dirk Nowitzki didn't play against the Pistons on Wednesday night--and the nights he plays this season will likely be far fewer than even our most optimistic guesses a month ago.
I'm working on a piece about Dirk going from chasing milestones, to becoming a milestone--but I think this tweet from the man himself says it all:
https://twitter.com/swish41/status/809088335268511744
If you want a little more on Dirk's retirement talk, you can check that out here.
Donut 4: Show Some Highlights
The highlight reel, such as it is:
Donut 5: Justin Anderson Play of the Game (Moratorium)
When a team scores only 85 points and loses by double figures, there's plenty to criticize ... but I've really appreciated the way Justin Anderson has responded to the DNPCD he earned last week.
Anderson didn't spend a lot of time on the court on Wednesday (only 13 minutes), but while he was there he had nine points, five rebounds, and got himself to the FT line. He also had a turnover in those 13 minutes -- but if Anderson can turn 26 minutes into 18 points and 10 rebounds at some point, I believe people would call him an NBA player.
That may not be enough for praise on most nights in the NBA--but Justin clearly works hard--and that's worth at least a day off from poking fun at his shenanigans.
Donut 6: Barnes for 20
Barnes had 3 games of 20 points or more before coming to Dallas. This year, he's AVERAGING over 20 points a game.
After his rough performance against the Kings, I mused that I wasn't worried at all, because he continued to attack relentlessly, work his ass (tail, buttocks?) off, and play solid defense.
Turns out, that 5 for 16 night was, after all, the anomaly I expected it to be. In five out of the last six games, Barnes has either hit the 20-point marker ... or missed it because he didn't need to be in the game in crunch time (see his 18 points in Denver).
Barnes, unfortunately, didn't make it to 20 points (just under, with 19) and the team really could've used the extra points.
What he was, however, was extremely efficient. He was 9 of 18 from the floor, with five rebounds, two assists and two steals. Most nights, you'd be pretty happy with that.
The problem is, Barnes continues to morph into the Mavs primary scoring option, and whether it's fair or not, if you lose by 10, and you scored 19, you needed to score 30. Perhaps we could ask the question: why were less prolific shooters taking so many shots away from their primary scorer?
But, that's for another Donut.
Donut 7: D-Will at His Best and Worst
I've talked about the things I love about Williams in this space. I like when he punishes smaller defenders (or even larger ones) and gets to the basket. I like the way he sets up his teammates. I like the fact that he's a threat to drive and score, or drive and kick the ball.
On the other hand, I've also told you what bothers me about him. Some of those drive and kicks are so predictable, that the defense doesn't even hunker down to defend him ... so when he throws a lazy no-look-hook-pass behind him, it's as likely to go for a fastbreak the other direction, as it is to find a teammate. I also dislike that he often settles for threes and long-two point shots, which negates the best parts of his game.
So, here, I got to watch him be both players -- and help and hurt his team in the process.
Aggressive D-Will drove to the basket and got to the foul line 9 times--making all of them. His time at the line essentially rescued his efficiency against the Pistons.
On the other hand, he only managed a handful of assists, and he'd likely have had more, if he remembered that Barnes, and not Williams himself, has emerged as the team's most efficient and consistent scoring threat.
Williams was 3 of 13 shooting here -- and it would've been worse if he'd not gotten some of those fouls. He could've brought his missed shots down, and seen his assist totals climb, if he'd remembered to put the ball in the hands of better scorers.
But--as I've said before--someone out there looking for a guard who can score points--they'll ignore some of that other stuff when looking for a trade--and when you're the selling team, ignorance like that can be pure bliss.
Donut 8: Scoring Threats
If I told you the Pistons had five players in the double-digits in scoring, you'd expect one of them to be Drummond; you'd be wrong. The Mavs held him to only three points here.
On the other hand, as is often the case with opposing point guards, the Mavs let Reggie Jackson put together his best game since returning from injury 10 days ago. (He had a season-high 20 points and six assists vs. the Mavs).
Four other players put up 10 points or more for the Pistons: Morris, Harris, Caldwell-Pope, and Leuer.
The Mavs, on the other hand, only had two players in double-digits: Harrison Barnes (with 19 points) and D-Will with his 16 points (9 of them from the line).
Against the Clippers last month, much was made of how much better LA's bench was than the Mavs bench. Right now, the reality ought to be sinking in: A lot of benches are going to be better than the entire Mavs lineup--starters included.
That's why I'm on Team Draft Pick (don't call it Team Tank).
Donut 9: Whatchu Talkin' 'Bout?
So--big ups to the Mavs for holding Andre Drummond to three points (11.5 points less than his season average). On the other hand, the big man hauled down 17 rebounds.
It's bad to let anyone haul down 17 rebounds (four offensive). It's even worse that his total (17) was over half of the Mavs total as a team (30).
He may not have put up as many points, but he sure claimed a lot of possessions for his team ... and sometimes that's all it takes.
Donut 10: The Rebound "Battle"
The Mavs lost the rebound battle by a lot again (50 to 30, and no, I'm not counting team rebounds). 
Maybe this will just be the norm when they go up against a skilled big man like Boogie or Drummond.
Still, there's got to be some way, even against those bigs, to keep the differential from being so lopsided.
We've talked about this before: 20 rebounds is worth 20 possessions, and 20 possessions can lead to a lot of points.
At least 10? I'm not sure -- but I'd wager it's damned sure close.
Donut 11: Rick Keeps Winning- - Just Not Lately
This tweet by Mark Followill made me realize that Dirk isn't the only future Hall-of-Famer who probably expected to hit more milestones this year than he has so far.
https://twitter.com/MFollowill/status/809138184244363264
When the season started, Rick was in 20th on the all-time coaching wins list with 661 victories. His lifetime win percentage is 57.6 percent.
He only needed six wins to tie Fratello for 19th and seven to take that spot over. If he'd finished this season with a winning record, he'd have nudged past John MacLeod for 17th place.
Instead, like Dirk -- who as we note here is putting the idea of retirement into words -- some of Rick's milestone moments will have to wait until next year.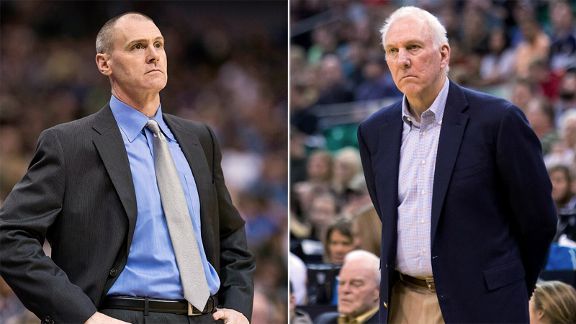 Unlike Dirk, and good news for Coach Carlisle's legacy, we can assume that Rick's career as a coach has far more time remaining than Dirk's career as a player.
Donut 12: The Flip Side
On the other hand, with Wednesday night's loss, Rick moved into a tie with the still-active Gregg Popovich for 26th all-time in that category. They both have 490 losses. 
Longevity has its perks and its downsides. ... and the NBA marches on, now with a new seven-year CBA agreement that means labor peace and much more. ... a chance to watch the greats of the game go on, uninterrupted.
DONUT 12: The Final Word
R.I.P., Craig Sager.