First, the Chaz Green news:
Chaz Green, the Cowboys' oft-injured swing tackle, will miss the rest of the year as he'll undergo surgery on the herniated disc in his back.
Coach Jason Garrett called Green - a Cowboys selection in 2015 draft's third round out of the University of Florida - a "tough and conscientious guy.''  But he's never been quite right physically for Dallas, who will now have to rely on second-year pro Emmett Cleary as the backup tackle.
Dallas may eventually activate guard La'el Collins to help the O-line, too, though more immediately the club will likely activate a player off the practice squad. It's worth noting that the Cowboys' D-line injuries might make that a position of need. Zack Moore is likely the guy.
The timing of Green's surgery is unfortunate; had the Cowboys known he would be unavailable just two days ago, the club wouldn't have released sixth-round running back Darius Jackson (quickly claimed off the waiver wire by Cleveland), but would have instead activated Darren McFadden in Green's place. And Tank Lawrence is out ... 
Here, the Cowboys-Bucs injury updates for the 7:30 p.m. start on Sunday night ...
And it's a problematic one, because Tank Lawrence has been ruled OUT: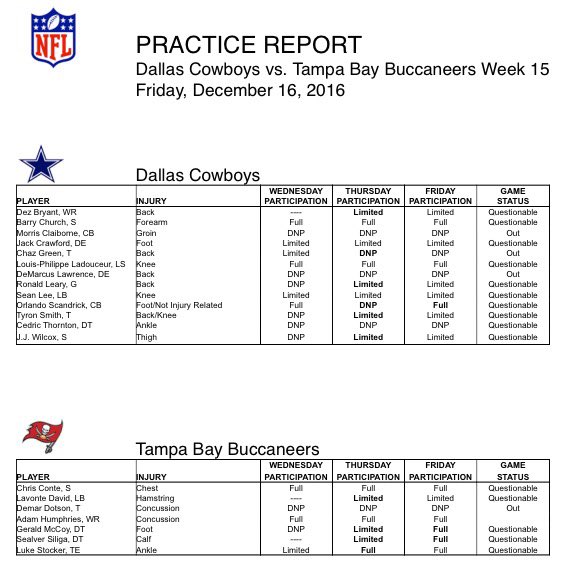 Now, here are my Top 5 Dallas Cowboys Fantasy Picks for Week 15 against Tampa Bay.
1. RB Ezekiel Elliott. After facing stout run defenses each of the past three games the Bucs may not offer much of a respite. The Bucs are No. 17 against running backs in fantasy this season, and some services have the Bucs as high as No. 13. In NFL terms the unit ranks No. 21 in yards allowed. That equates to 110.7 yards per game. The reason I say it may not be that much of a respite is because this Bucs defense has gotten significantly better since it gave up 160 rushing yards to San Francisco on Oct. 23, a game the Bucs won, 34-17. In their last seven games the Bucs have held two opponents under 100 rushing yards as a team and those have come in the last three games, all of which Tampa Bay won. This is a team on a roll, having won five straight, and a defensive unit that is feeding off that momentum. What does that mean for Elliott? Well the rookie has just two 100-yard games in his last seven, but he's had at least one rushing score in four of those games. He seems to have settled into a groove where you can expect at least 90 yards and a score. I personally think his ceiling is a bit higher this week. I could see him clearing 100 yards and scoring once as the Cowboys rededicate themselves to running the ball to insulate QB Dak Prescott and the passing game. The only reason you don't start Elliott this week is if you have Arizona's David Johnson and Pittsburgh's Le'Veon Bell, in addition to Elliott, on your roster. And if you do then you might be the best fantasy owner ever.
2. WR Dez Bryant. I'm a little more bullish on Bryant this week than on Prescott because the matchup looks a little better. Certainly the Bucs have two solid corners in Brent Grimes and Vernon Hargreaves. But against fantasy wide receivers this Bucs defense is No. 20 overall (some services have them as low as No. 27). What that means is there should be some opportunities for Bryant to get some daylight between himself and coverage, which has been an issue each of the last three games. If the Bucs have been watching carefully, they'll see that the past three defenses have assigned a corner to Bryant almost exclusively, and it's at least slowed Bryant down. But if you need a reason to bank on Bryant look at this season. He's caught one pass in three games this season. In the game after each of the first two Bryant had 100 yards receiving and caught a touchdown pass in one of those games. So he bounces back almost immediately. We can tackle the issue of Bryant having three one-catch games this season another day.
3. QB Dak Prescott. Earlier this week I wrote a piece on what I believed was Prescott hitting the rookie wall. I think the data in the piece backs that up. Now, that doesn't mean that Prescott is going to suddenly stop being an effective quarterback. But we need to separate the real world from the fantasy world. In the real world the Cowboys can win games if Prescott only throws for about 200 yards and a touchdown. The Cowboys have done that this season. But can you win a fantasy playoff game with Prescott throwing for that kind of line? You'd be hard-pressed. His fantasy points have declined the past three weeks — from 20 to 10 to 6. I personally think last week was an aberration. He threw two picks for the first time this season and that cut into his scoring in standard leagues. The Bucs are a solid unit against quarterbacks in fantasy this season and they are No. 12 in the NFL in sacks with 30. So protection is going to be key for him. Still, the game is at home and it's indoors. I believe Prescott's fantasy numbers will be somewhere between 10-14 points, so think of it like a slightly better Vikings game, where he scored 10 points on the road in a victory.
4. WR Cole Beasley. I'm going with my gut this week. I think Beasley has a game closer to what we saw out of him earlier this season. Back then he was catching 5 to 6 passes a game and mixing in a touchdown now and again. I think the Bucs' safeties are going to have a hard time tracking Beasley and he could be in for something like the 6-56-1 TD game he had against Cleveland on Nov. 6. Of course, if you play PPR he's going to be a better play than our No. 5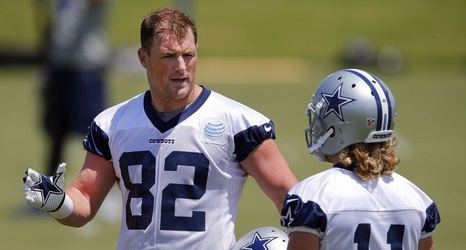 5. TE Jason Witten. He's been targeted at least seven times in four of his last six games. He'll have chances to pile up four catches and 30-40 yards. I'd recommend Beasley over Witten as a flex option this week, though.
Want to talk more Cowboys? Hit the CowboysHQ.com message boards or hit up Postins @PostinsPostcard or Mike Fisher @FishSports on Twitter.
null