The Sacramento Kings come to Dallas on Sunday to play your Dallas Mavericks. It's DeMarcus Cousins time, as he brings his immense skill and all the questions marks that accompany him, both on and off the court.
There's something new about him this trip, and it is likely to have a positive impact on the Mavs' future - but perhaps not in a way that anyone has been anticipating.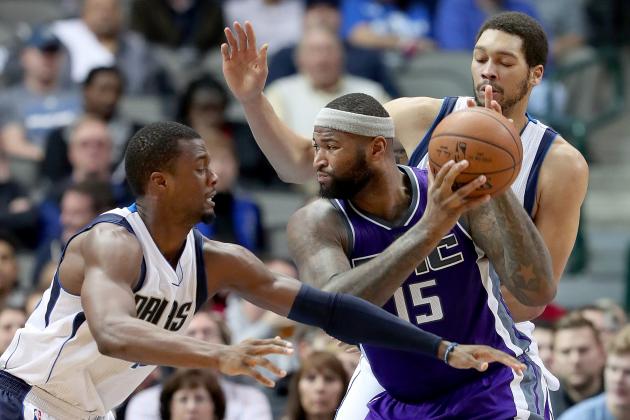 The last time these two teams played, less than two weeks ago in Dallas, Cousins dominated, scoring 24 points and pulling down 14 rebounds in a 31-point Kings win. He put on display all the talents that have had other teams drooling over the idea that one day he might be available in trade or free agency. 
As Mavs coach Rick Carlisle said that week, "Cousins is a beast.''
Since then, however, the man-child in him emerged again, as it has so many times over the years. This time it was a confrontation with a local Sacramento reporter after a game, over an article written about him that he felt painted an unfair portrayal. Here's that paper's version of events. ... and here is a video compilation of his locker-room moods with the media.
This is not the first time that Cousins has been immature, bullying, or out of line as a member of the Kings, and it's unlikely to be the last. In addition, he has been frustrated (vocally, at times) over the failure of the Kings to be able to put a winning team on the court with him, as they have consistently been awful (as bad as last year's 33-win team was, it was the best in his entire career there), and the end of that misery seems nowhere in sight for them. 
For those reasons, NBA observers and teams have long assumed that one day the Kings will trade him, before he hits free agency, with the idea that he will want to join a winning organization as soon as he gets a chance. They can get a king's ransom for him via a trade, but nothing if he simply leaves as a free agent, so the feeling is that at some point they will cave to the inevitable and make that trade.
Predictions of his looming availability are frequent, such as this article a month ago fueled by Kings' minority owner Shaquille O'Neal in which he said that if Cousins didn't grow up and become a leader, then the Kings "may be looking to go in a different direction."
 That article was accompanied by the word that several NBA GM's felt he was definitely going to be moved by the trade deadline, and perhaps as early as December. And those predictions were before this recent ruckus with Sacramento press.
Yet at the same time, the Kings have never tried to trade him, except for an unauthorized George Karl attempt to make some exploratory Cousins trade calls in 2015, a move that infuriated Cousins and led to Karl's ultimate dismissal. Unlike Karl, the organization's upper management's stance has been that they have their franchise player, and getting to respectability is going to be easier with him than without him, an approach which makes a lot of sense in light of the difficulty in the NBA to get elite talent. In addition, Cousins has always said he wants to stay, rather than be traded, so they've had no pressure to move him, as long as free agency is not around the corner. (His current contract ends on June 30, 2018.)
So what's new with him? Is it the recent ruckus? And where do the Mavs figure in the picture?
In our estimation, the locker-room problem is an issue to be fixed, but nothing that really alters the landscape with him. He's done worse, he's their centerpiece, and they'll work to smooth this over and move on. Maybe it's already done, in fact.
But the big news with him comes from the new CBA that was informally agreed on this week, and that will be ratified soon and go into effect on July 1, 2017. Within it is a change to the rules that is designed to allow teams to reward a franchise's self-created centerpiece player like Cousins, in ways that were not possible in previous years, and thereby keep him from leaving in free agency. 
The details on the new rules are still hazy, but based on what we are hearing, here's the bottom line:
A team will only be allowed to have one such player, and it can only be a player who is elite (making all-NBA teams) and whom they have had since the day he was drafted. In other words, it's a player just like Cousins. And such a player will be allowed to receive significantly more money, and get it guaranteed sooner, than he could get otherwise.
For Cousins, we believe that on July 1, 2017 the Kings will be able to offer him perhaps as much as $225 million (the exact amount would be unknown until the 2018-19 cap is set, to extend his existing contract by another five years. No one else will be bidding, it will be a far bigger amount than any other team would be able to offer him a year later (and perhaps by as much as $85M), and every penny will be fully guaranteed to him, no matter what happens later, from the day he signs it.
With such an advantageous tool at their disposal, will Sacramento still have to worry that they might lose him when his current contract runs out? I would think not! Instead, if they think he's the guy, they can extend him and then have another six years ahead to create the winning combo with him in the middle.
What Boogie recent said to ESPN: "I talk to management a lot. We're on the same page. I'm not worried about it. To know that you're wanted throughout the league ... I'd be worried if nobody wanted me. Then I'd have a situation on my hands. But I'm happy where I am. I'm happy with this team. I'm in a great place.''
So we said this news is likely to have a positive impact on the Mavs' future. But how so? To us, he's certainly not headed to the Mavs (or anywhere else) in trade now.
Here's how the Mavs benefit. For teams looking for a veteran center to trade for, who can make a difference in the next few seasons, Cousins is now almost certainly erased from that list. That means less supply to fill the demand for a good, effective, veteran center - and for the 6-20 ought-to-be-seller Mavs, their Andrew Bogut trade chip got more valuable. "More valuable" means the Mavs should be able to get a better return, if and when they do shop Bogut.
But in the meantime, Cousins is coming to town. Tune in Sunday at 3 to see if the young Mavs have found a better way to slow him down since the last meeting. 
null