Donut 1: Rockets 123, Mavs 107
Nothing about this game was pretty.
You might argue that the Mavs found their shot, especially from long-range, but that doesn't matter if you give up 123 points to a team that took their foot off the gas.
Final score Tuesday at the AAC was 123-107 and the Dallas Mavericks got dominated far worse than that.
The final tally is courtesy of a 33-25 final quarter in which the Rockets were rolling out Sam Dekker, Bobby Brown and K.J. McDaniels.
It was bad. We've got the game story here ... and a podcast on "The Temper-Flare Festival'' here ... and in-depth coverage of the game and what it all means and more below ...
Donut 2: Confessions
I've been telling a lot of you that Team Draft Pick has nothing to worry about, but the reality is this: the West isn't as good this year as it has been in the past.
A few days ago, the Mavericks were only 4 games out of the 8th seed, because the 8th seed is the 14-17 Sacramento Kings. Fish did the "Chase For Eighth'' math here, and the players were feeling pretty good about themselves with the two straight road wins.
So, yeah, there is some danger that the Mavericks could sneak into the playoffs.
The problem with that scenario should be no more evident than it was Tuesday night: The Mavs got chewed up by one of the NBA's good teams—and I'm not even certain the Rockets are among the elite teams.
Winning enough to get to the 8th seed means wrecking your draft chances only to go up against teams like the Warriors, the Spurs, and the Rockets.
Donut 3: Spoiler Alert
When the Texas Chainsaw Massacre happens, we sort of focus on the chainsaw part. A bunch of people dying of natural causes isn't a movie—but add a chainsaw, and people start paying attention.
For that matter, we don't really remember the people who get killed in all of these slasher movies. We remember Mike Myers, we remember Jason and Freddy—we don't remember the name of that one kid at the cabin.
Here, if there was a monster in Dallas, his name was James Harden. The murderer and the chainsaw folded into one DNA set. ... 34 points, 11 assists, 5 rebounds, a block…while shooting efficiently (9 of 16 and 12 of 12 at the line).
The only comfort the Mavs can take is that very few teams have an answer for Harden. Or, that he didn't play much of the 4th quarter. Or, maybe just the good fortune that they won't see him again until the 2017-2018 season.
Donut 4: Messy Basketball
The game was a mess. Bogut's shoulder, Rick yelling at the opponent, Ariza's ejection, Ariza being restrained by police and security because he lurked near the tunnel waiting for Mejri (apparently because Mejri trash-talked his family?)
James Harden called the Mavs "unprofessional'' and said they were disrespectful. 
I won't disagree. It was a pretty ugly and out-of-control display. I wasn't proud to watch.
But, I can also say that no on-court trash talk justifies waiting outside of someone's locker room—and that when your teammate lurks outside a locker room waiting for another player, you lose your "We're the professionals" high road for that evening.
Donut 5: Patrick Beverley
Patrick Beverley, one of the "professionals'' from last night's game, taunted Rick Carlisle on the sidelines. You know, because of how respectful and professional the Rockets are?
He apparently shouted, "Way to be an icon, coach! Have a nice season, coach!" 
His super-professional taunting was in response to the tech that Rick picked up earlier in the game.
Rick didn't respond to Beverley—and when he was called for the tech earlier in the game, he seemed to agree with the call. Rick, unlike the Rockets, showed some self-awareness. 
Harden and Beverley showed a short memory—and they seem to forget that they are a team that's so dysfunctional that they got Kevin McHale fired last year, and were known as the league's malcontents.
Forgive me if I'm not impressed with a team that's temporarily turned its bad attitude outward.
Donut 6: Big Men?
Zero shot attempts, zero points. 16 minutes played. 10 rebounds, 3 blocks, 2 assists, 3 turnovers 5 personal fouls.
Those are the combined totals for Andrew Bogut and Salah Mejri. If you throw in Dirk, the numbers don't get much better (he was 2 of 8 with 3 rebounds and a turnover in 15 minutes).
The shocking thing is that in only 16 minutes of action, the two Dallas centers managed to create little pockets of controversy. Bogut put his shoulder into Harden, and Mejri hurt Ariza's feelings. Very little time on the court, but those two moments will dominate most discussions of the game.
Donut 7: Salah Responds
 Ariza and the Rockets are insisting that it was Mejri doing all the trash-talking. Salah's Twitter response:
"There is always 2 sides to every story.I would never insult an opponent's family regardless of how much a player insulted me repeatedly. 
"Last night was a physical,intense game.We r professional athletes & role models to young basketball players.Im commited to mutual respect.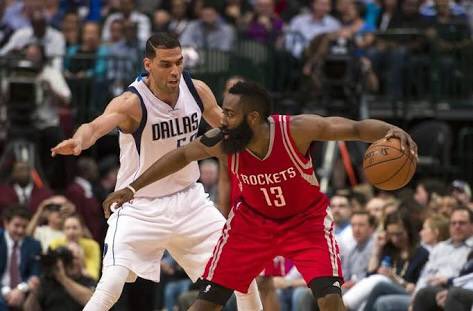 "I am committed to have mutual respect to every player on the court. Let's play BASKETBALL. Happy holidays everyone!!''
Donut 8: Trade Blocks?
Sometimes you know what you've got.
Does Devin Harris need 14 minutes?
Does D-Will need 23 minutes and 11 shots?
Does Bogut and Dirk together work ... and should the Mavs concede that it doesn't?
Consider this paragraph from ESPN:
The Mavs have been outscored by 62 points in the 53 minutes that Andrew Bogut and Dirk Nowitzki have both been on the floor this season. They played together for only the first two minutes of Tuesday's loss to the Rockets. "It's not a great lineup having me and 'Dirty' together," said Bogut, who was plus-7 in 11 minutes in his return after missing 11 games due to a bone bruise in his right knee. "For most of the year, it hasn't been a great lineup plus-minus-wise. … The lineup that works better now is obviously 'Dirty' and Harrison [Barnes] and then me and Harrison together. We kind of split time in that position."
So the Mavs' signing of Dirk's "bodyguard'' is working so poorly that the bodyguard himself thinks it's a bad pairing?
I don't need to see Williams or Bogut again to know that neither of them is a part of this team's future, that neither of them is good enough (alone or together) to get this team more victories, and that neither of them is getting BETTER by being on the floor more often.
In fact, Bogut might be eroding his trade value with every injury and lukewarm stat-line he puts up.
Williams might be drawing attention to his shooting woes has he drifts closer and closer to the bottom of the league in FG%.
Meanwhile, Seth Curry is shooting the ball better than Williams, turning it over less, playing more active defense, and getting better every day.
If you don't see either player as part of your future, it's worth remembering that teams will give up assets for Williams based on pedigree and reputation. But, eroding that reputation will also erode his value.
On the other hand, guys like Curry, Finney-Smith, Anderson and now Pierre Jackson? Those guys can improve their stock and their ability by being on the court as often as possible.
You just have to admit that this isn't a playoff team. ... and admit where else you've been wrong.
We're working on a Mavs Premium piece on this subject specifically regarding the shrinking trade value of Deron Williams. Stay tuned.
Donut 9: Defense?
Ok, fine, let's talk about this awful game some more.
The Mavs shot 41.4% from the floor. They shot 39.5% from behind the arc. They got to the FT line 8 times more than their season average. They made 20 out of 25 of their free throw shots.
They still lost by 16 points and they needed a huge 4th quarter to keep it under 20.
Why?
Because the Rockets shot 52.6% from the floor and 53.1% from three.
The Mavs get away with poor rotations on three pointers a lot. They give up big corner shots, and often seem to pray that they won't go in.
There are two teams in the league that you cannot afford to concede the three point shot to: The Golden State Warriors and the Houston Rockets.
There are a lot of three-point shooting teams in this league now, but the Rockets built their team to shoot threes and maximize the metrics of the long-range shot.
They threw away their interior defense (Dwight Howard) to put more people on the court who can spread the floor.
If I'm making a scouting report for the Rockets, it's just going to be a picture of James Harden's beard, a middle finger, and the words, "These guys shoot from three." The Mavs didn't seem to know any of that on this night.
Donut 10: Quotable
"That other team was trippin' tonight, just disrespectful, unprofessional, players and coaches. I don't know what was their problem, but I think that got us going. They wanted to throw a little cheap shot and just woke us up a little bit and it was over from there." - James Harden on the Mavs … and more QUOTEBOARD here.
Donut 11: Fair is Fair
Some of you might have noticed my praise of Wes Matthews and my pointed criticism of Deron Williams. Some of you might have thought, "Hey, you mention that Williams is 108 out of 112 in FT% ... but you leave out that Wes Matthews is 111 out of 112!"
Fair. My inner voice is just as aware of that oversight as you are. However, it misses how much Wes has improved since an irrationally terrible start.
Yes, his overall FG% for the season is 39.1%, but in his 15 games in December he's shooting 42.3% and he's taking fewer shots overall.
He also has a top 15 Real Plus-Minus at his position, with positive numbers on defense and offense (numbers that have continued to improve throughout the season).
So, it's not that I didn't notice the aggregate looks just as bad for Matthews. It's that I see which player is trending up and which player is trending down.
If Williams played defense at the same level as Matthews, his offensive struggles would seem quaint.
Donut 12: A Final Word on NBA Scheduling
I know the Mavs are having a down season, but they've made the playoffs most of the last decade and a half. In fact, their worst season in that stretch was a 41-41 record that would've gotten them into the playoffs in the East that year (and it's the same record that got the Rockets the 8th seed last year).
I also know that the Rockets are dominating things this season. Certainly they've contributed more than their fair share to the Mavs' loss total this year.
But, even if both teams are headed separate directions this year, they are still conference rivals. They are still division rivals. And, from what we saw last night—they're still good old fashion sports rivals.
Yeah, we're past the days when Dirk and Tracy McGrady were trading buckets in a playoff series—but these two teams still clearly have some heat for one another.
Why in the world did the NBA schedule all four of their games so early in the season? The Rockets and Mavs won't play again until 2017-2018 unless the Mavs playoff prospects morph in some incredible ways over the next few months.
That means the Mavs and Rockets played all of their games before the All-Star Break, before the trade deadline—which artificially guts the possibility of late-season drama.
The NFL makes sure that they save a few in-division games for the end of the season. More than once, the Dallas Cowboys have settled their season on a win-or-go-home regular season finale vs a division rival. Next week, when the Lions play the Packers, it will directly determine who wins that division.
This year, it seems a little unimportant whether the Mavs and Rockets play a game in late April—but there was no way to predict that when making the schedule.
These division games ought to show up in the final weeks of the season—they shouldn't be burned in the first third of the schedule like this.
If you thought the drama of this game was compelling for Game 32—imagine how intense this game would've been as a meaningful Game 79 on the schedule. And now we check for Mavs intensity in Game 33, at the Lakers, tonight, in a 9:30 tip. Find the Lakers-Mavs GameThread and talk here on Mavs DB.com Boards.