DONUT 1: Ping-Pong
The Dallas Mavericks continue to cling to the mathematics that make "The Chase For Eighth'' seem slightly less ridiculous than it probably is. Hey, Dallas has 10 wins ... but some other crappy team presented in eighth in the West only has 14 wins, so ...
 "We're not in this,'' coach Rick Carlisle says, "for ping-pong balls or any of that kind of stuff."
Carlisle happens to like ping-pong, as you might remember. And -- like most every other endeavor he undertakes -- he's good at ping-pong, too. Of course, that's not the reference point here; it's NBA Draft. The Lottery. Being Not Good Enough. Rick wants no part of this.
But ...
DONUT 2: Fultz On The Draft Board
We do.
Here's one reason:
At this stage in the process, Markelle Fultz is the most coveted prospect the entire 2017 draft, and with the talent level of this class, that is definitely saying something. He has been compared to a young Dwyane Wade, the type of player which Mavs fans should be plenty familiar with. At this point in his development, he is a better shooter than Wade was coming into the draft, but still has room to improve in that aspect of his game. 
With the Mavs looking for the player with the most talent, as well as the highest upside, Fultz looks like that guy. Moreover, he would come in and instantly solidify a position of great need, and could also play some 2-guard as well. The Mavs might need to be the team that holds the most ping-pong balls this May to pull this off, because being lucky enough to lock down that No. 1 pick is the path to Fultz.
Such an acquisition will also mark a leap forward in Mavs point guard thinking. A few years ago, the organization thought the rules changes would mean the unclogging of basketball, leading to the increased valuing of the waterbug guard. It was the logic used in part to select Shane Larkin.
Our examination of Markelle Fultz and this hopeful shift in philosophy is here in Mavs Premium.
DONUT 3: Fall For Ball
We've also got a good look here at UCLA point guard Lonzo Ball. The Mavs desperately need an alpha dog, and a floor general to take this team into the future, and alongside Harrison Barnes, Ball could be exactly that. 
At 6-6 and 190 pounds, this guy is potentially the complete package at point guard. He possesses elite playmaking ability, court vision, and passing ability. He makes smart, quick decisions, especially on the fast break. He is also a terrific ballhandler with the ability to navigate through defenders, but also moves well without the ball in his hands. Those skills, combined with his shooting ability from the outside, make him truly difficult matchup for defenders.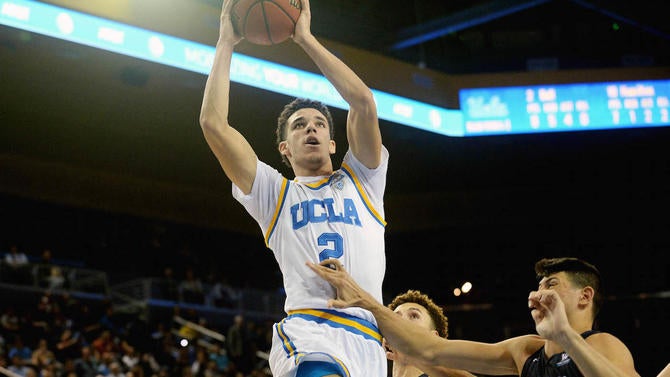 Our Mavs Premium piece also looks into Ball's defensive failings and whether they're fixable. Good work by our Matt Galatzan ... again, just click here.
DONUT 4: Carlisle's Challenge
The pinch the Mavericks find themselves in as the team itself has a singular goal while the franchise as a whole must examine a bigger picture is this: "The Treadmill of Mediocrity'' swallows everything around it.
Moods and attitudes? Always in danger of being swallowed, no matter how you lose. (And not even the greatness of Carlisle is guaranteed insurance against this.) Chances for the playoffs? Being swallowed. Chances for a high lotto pick? Being swallowed, too, because you're stuck in that muddled middle.
You play a guy like Deron Williams because you think maybe he can lift you from mediocrity, but instead his level of play might be so low -- or rather, might be so mediocre -- that potential trade partners decide his value is too low to bother.
The Mavs' playoff desires are a legit story. Our coverage of their NBA Draft plans, launched earlier than ever in the almost-two-decades history of DallasBasketball.com, is justified, too.
But the story underneath the stories will also be examined, and it's all about moods and attitudes and chances and changes.
DONUT 5: The Fun
I don't mean to pick on D-Will here, but we'll use him again as example of a complexity regarding what do as this season slips away. (Oh, OK, in deference to Rick, I'll go with "if/when'' this season slips away. 
https://twitter.com/wesley_share/status/815069593354010624
Would the Mavs be better-served in giving minutes to Deron ... or in letting finally-in-The-Show Pierre Jackson do his thing? Can we all agree that in the end, Dorian Finney-Smith and the Mavs are going to benefit from DFS getting NBA starting minutes because Dirk's been hurt ... as now this undrafted rookie looks like a rotation piece for the rest of his career?
Remember, Dorian was anything but a lock to even be here. Jonathan Gibson was supposed to make it before him. The Mavs should -- soon -- devote part of this season to the unearthing of gems.
They'll ultimately be the better for it.
DONUT 6: The Grind
If it seems to you like December was sort of a grind, in a way beyond the grind of losing, you are right. As our buddy Mark Followill notes, until this year, Dallas had never played 17 games in the month of December, and the 2016 run called for five back-to-backs.
Merry Christmas.
DONUT 7: What Happened To Bodyguarding?
We've taken the story of Andrew Bogut's generous spirit, MFFL, and we've buried the lead.
Is it gracious of the veteran center to have approached Rick to offer to come off the bench, letting Nowitzki start at the 5, maybe, recognizing as he has that the Dirk/Bogut front-court pairing isn't working well? Sure. It's lovely.
But wait ... THE DIRK/BOGUT PAIRING ISN'T WORKING WELL.
How did that happen? I certainly didn't see it coming. Remember how Bogut was going to be Dirk's sidekick, his "bodyguard''?
That was gracious, too. 
But now Andrew might be Dirk's understudy?
DONUT 8: It's Not All Awful
It's not all awful, of course. To wit:
"Dallas was the right thing for me from the day I signed here,'' budding star Harrison Barnes says. "I'm happy to be in this process, in this challenge, every single night -- pushed out of my comfort zone to become a better basketball player. And I'm excited for what the future has in store.''
DONUT 9: The Dirk Factor
As we noted a bit ago, the possibility of this being the final season for Mavericks icon Dirk Nowitzki has always been in play. You can recognize it in his age, in his hints and in his contract, which pays him $20 million this season but features just an option for 2017-18.
And not playing next year is an option -- yet it's noteworthy any time we hear Dirk actually put this in words.
"If things don't go so well and it hurts everywhere, it could be that 2017 will be the end," Nowitzki tells German magazine Sport Bild.
Alongside that, though, comes Dirk's talk from this weekend. Not only does he feel good about Dallas making a run (OK, again, my deference) but he says the Achilles is fine.
So, as of right now, it doesn't "hurt everywhere.'' This is good.
DONUT 10: Quotable
DONUT 11: The Projection
After Friday night's drubbing at the hands of the Warriors (read about it here), the Mavs currently sit at 10-24… still tied for the worst record in the West, and tied for the second-worst record in the NBA. In fact, the Mavs will carry their worst-ever win percentage into the new year since the 1997-1998 season. 
At the current rate they're on (29.4-percent winning percentage), they will finish the season with 24-26 wins.
But ...
DONUT 12: The Final Word
"The record is not good. But there are a lot of teams in a similar boat. We're not out of this (playoff run) by any stretch.'' -- Carlisle.
null