The Washington Wizards entered Tuesday night's game against the Mavs coming off of a loss at Houston just 24 hours earlier. For a team that is notoriously bad on the road (just 3-11 coming into the game), it was going to be a difficult task to take down a team that was coming off of three days rest, and the Mavs were going to have to exploit that advantage. 
Fortunately for Dallas, they did exactly that, as they held off the Wizards, 113-105, at the AAC.
"Washington was playing on a back-to-back and they are a better team than their record,'' said the Mavs' Harrison Barnes. "We just wanted to try to throw a lot of bodies at them.''
Barnes eventually became that most important "body.'' But during the first half, it seemed as though John Wall was going to take things into his own hands and keep the Mavs' draft powder dry, scoring 20 points in the first 24 minutes of play. Thanks to some solid Dallas defense later, and a lot of shots from teammate Bradley Beal, Wall finished the game with just five more points in the second half. 
Beal, while scoring 25 points in the game, was just 10-26 from the field, including 3-11 from beyond the arc. Meanwhile, Wizards big man Marcin Gortat took advantage of a soft Mavs interior, scoring 12 points and grabbing 16 rebounds. Otto Porter Jr. and Markieff Morris were ok, but combined for just 26 points, while the rest of the Wizards offense came up with a very meager showing. 
On the Mavs side, Barnes led the way with 26 points, seven boards and five assists (tying his career high), on 8-18 shooting. The Mavs' new centerpiece has now scored 20-plus points in 19 of 35 games this year, and has been in double digits in all 35 of those games. Barnes is quickly becoming the go-to-guy for the Mavs, as he continues to get more assertive and aggressive within the offense. 
Barnes also got the line for nine free throws, showing exactly how much he has evolved his game during his time as a Maverick. In Golden State, he was known mostly as a jump-shooter, and solid high-post turnaround guy. Now, he drives to the hoop, gets to the line, finishes at the rim, and hits contested jumpers on a consistent basis. 
He is without a doubt the Mavs' best player right now. … and was the go-to guy with 24 seconds to go, when his 3-pointer sealed the outcome.
"We were just a little rattled (before that), but (Deron Williams) was very poised in that situation," Barnes said. "He got in the paint and hit (Wesley Matthews), and he threw it to me. I had missed some shots down the stretch,  but I just tried to relax and I shot it with confidence and it went in."
"It was one of those 'finally' moments," Barnes said.
But it wasn't just Barnes that showed up for the Mavs on Tuesday. Williams, battling an illness, added 21 points and six assists of his own. Though he did show some defensive struggles against Wall in the first half, Williams settled down on that end of the floor in the second half, helping to slow down Wall. 
Dirk Nowitzki had a solid 11 points and nine rebounds in 24 minutes, taking just nine shots, but hitting some key buckets in important spots, while being part of two adjustments:
One, he started at center, with Andrew Bogut (who dinged up a knee here) coming off the bench.
Two, he watched as some of the familiar sets that over the years put the ball in his hands instead now set up Barnes. And of course, The UberMan loves it.
As good as Barnes was (you get to vote for him or any other Mav for "The Dirkie'' here), the Mavs bench as a whole deserves a nod as well. As a unit, the Mavs bench scored 43 points, including 17 from Devin Harris (a season-high) and 16 from Seth Curry. They crushed Washington's bench production by a whopping 43-15 margin, and help the Mavs shut the door on a late Wizards comeback bid. 
The win moved the Mavs to 11-24 and 7-9 at home on the season. They have two more home tilts remaining this week —  against a bad Phoenix team on Thursday, and against  the Atlanta Hawks on Saturday — before hitting the road for five games against some very vulnerable teams. They will then return home for a couple of winnable games in a against the Lakers and Knicks, after facing Utah to open the home stand. 
If the Mavs are going to take a shot at righting this ship and getting back into the Western Conference playoff picture, their next 10 games will be the best chance they have this year to do it. Out of the next 10 teams they face, only Atlanta (18-16) and Utah (22-14) have records above .500 as we write this. It will more than likely be their easiest stretch of the season, and they simply must take advantage. 
For now though, the Mavs will focus squarely at the Suns, who are playing a very bad brand of defensive basketball right now, giving up the second-most points per game as a team in the league with 112.8.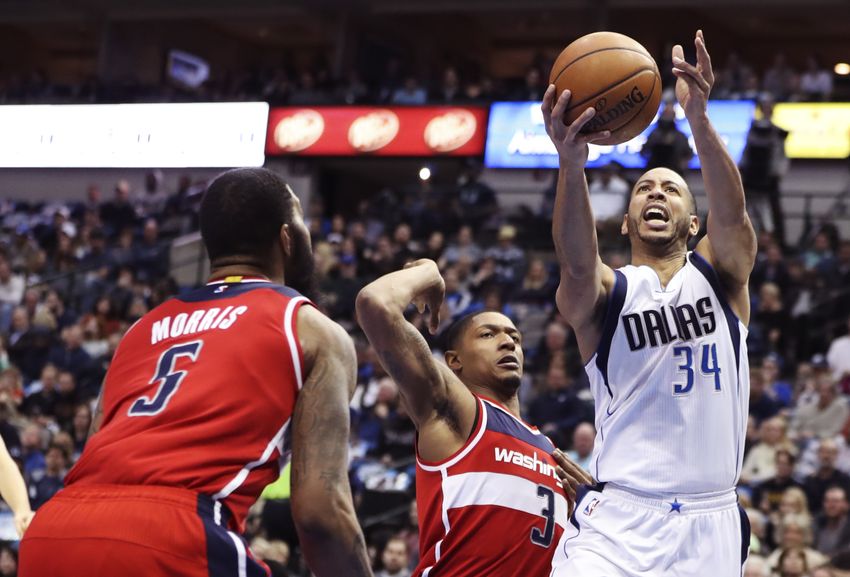 "We can,'' said Harris of Dallas' ability to get hot now. "We are getting some guys back from injury. We are starting to build a little team chemistry. The games are a bit stretched out now and not on top of each other and it is a favorable schedule. So, yes, we feel like we can win some of these games."