Donut 1: Mavs Fall to Suns
The Mavs had a golden opportunity to get another win at home against the lowly Phoenix Suns (just 11-25 and 4-16 on the road coming in) on Thursday night, but they were unable to capitalize on the opportunity.  The Suns entered as one the worst defenses in the NBA in points-per-game, but the Mavs could only manage to muster 95 points on the night, falling to the Suns in the process, 102-95. 
Harrison Barnes led the way for the Mavs with throughout most of the contest with 19 points, while Deron Williams ended the game as the Mavs high-scorer with 20 points.
Said D-Will: "Very tough, man. This is a tough one to let go of. This is a very winnable ballgame against a team that's right there with us, and we definitely let it slip away."
There were a few offensive positives; Seth Curry had yet another solid game of the bench with 16 points on 6-9 shooting. But unfortunately for the Mavs, that would just not be enough, as they allowed Brandon Knight (17), Devin Booker (22), and Eric Bledsoe (26) to combine for 65 points in the game to shred the Mavs perimeter defense. 
As a team the Mavs shot 45.6 percent from the field, and 31 percent from three, while the Suns hit 44.7 percent from the field, and 41.2 percent from three. The Suns also made more free throws (19) than the Mavs attempted (17), in what is becoming a bit of a theme this year for Dallas. 
Also, in a bit of irony, Tyson Chandler (who was twice a Maverick) absolutely destroyed the Mavericks on the boards, hauling down 18 of the Suns' 53 rebounds on his own, while the Mavs pulled down just 31 as a team. The Suns also had a whopping 18 offensive rebounds in the game, while the Mavs had just seven. 
In the end it was a bad loss for the Mavs, in what was one of the few games they have been "expected'' to win all season long. For a team that is hoping to take advantage of a relatively forgiving upcoming schedule, this was not ideal. 
Donut 2: Harrison Barnes as the Centerpiece
In a season of inconsistencies, one thing that has been a constant for the Mavs this year has been Harrison Barnes. For the season he has averaged around 20 points and around six rebounds per game for Dallas, as he has begun to spread his wings after leaving the Warriors this past offseason. 
Night in and night out, he is the best Mav on the floor. Yes, even when that floor is shared with Dirk Nowitzki. HB's game has evolved since venturing out on his own, and he has done nothing but improve as the season has progressed. He hits tough contested jumpers, Dirk-like fade-a-ways, and has begun to attack the basket and get to the line with some consistency. 
My main (and frankly only) issue with Barnes this season is that he does not demand the ball in big moments. Instead, he tends to give way to Deron Williams or Wesley Matthews from time to time, even when he is unquestionably the best option. He has even stated himself that he needs to be more aggressive when the game is on the line, and demand the ball in those moments. He just doesn't do that on a consistent basis quiet yet. And Thursday was a great example of that, as after a hot start of 14 points on 7-9 shooting, he scored just five points on 1-4 shooting for the rest of the game. 
If his game continues to improve however, he will become the unquestioned centerpiece of the Mavs' rebuilding project moving forward. He has the talent, the BBIQ, and the work ethic to do it. All that remains for him is putting it all together night in and night out. ... and maybe some self-recognition of how he is now "The Man.''
Donut 3: Dirk the Role Player
As crazy as it seems, we have officially reached the point where Dirk is no longer the Mavs main offensive weapon. As a guy who as followed his career since the day he was drafted by the Bucks and exchanged for Robert 'Tractor' Traylor I never imagined that this day would come.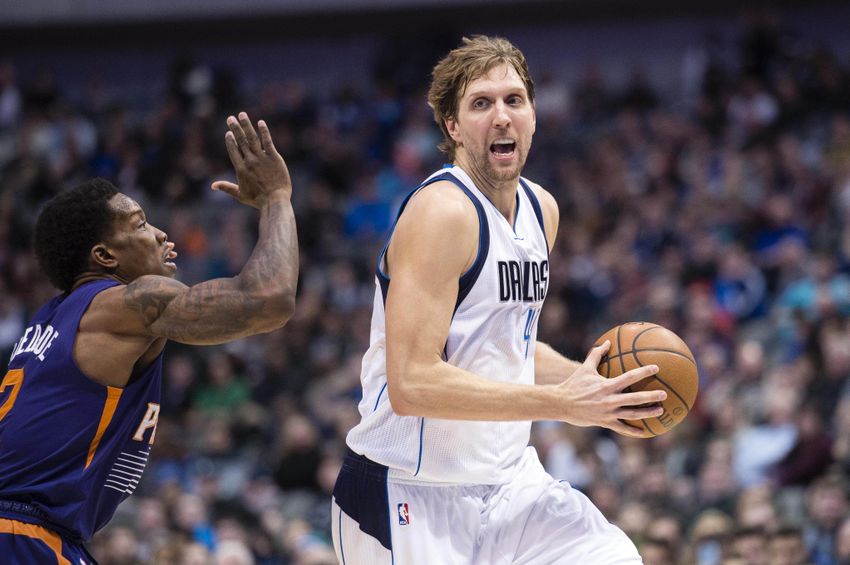 It was perhaps the biggest trade steal in Mavs history, as Traylor never became an NBA mainstay, and tragically passed away in 2011. Speaking of Traylor, he was one of the best human being's basketball has known, and his death was a tragedy. The trade worked wonders for the Mavs, but what happened to Traylor was not a joke. 
"At Michigan State we battled against him and he might have been the most time-consuming and mind-challenging matchup we ever faced and we as coaches weren't even playing,'' said Indiana coach Tom Crean on Twitter after Robert's death. 'He had great feet and hands and a very soft touch ...You really had to have a plan to stop him." 
But I digress; back to Dirk. 
Dirk has been, and I suppose forever will be the greatest Maverick to ever put on the jersey (Our Steven Kilpatrick writes on his milestones and gravestones here). But his age has seemingly caught up with him a bit, and he has become more of a role player for this team. A damn good role player, but a role player still. 
This transition in Dirk's game, as well as the passing of the torch to a younger star in Harrison Barnes, has seemingly signaled the beginning of the end for the greatest Maverick of all time. (Coach Rick Carlisle is saying that Dirk won't ramp up to bigger minutes for awhile.) But in typical Dirk fashion, instead of feeling down or frustrated, the rise of Barnes excites him, and he has embraced the opportunity to mentor the Mavs future maybe-franchise player.  
https://twitter.com/aryaahmadi/status/816741869757562880
A NyQuil moment.  A classic moment.
Donut 4: Insert Brussino
In a surprise move on Thursday night, Rick Carlisle decided to insert Nicolas Brussino into the lineup early on in the game against Suns. Brussino, while failing to score, injected youth and energy into the Mavs lineup, and was very effective. 
Brussino hasn't seen much of the floor this year in any meaningful time so far this season, but embraced the opportunity and made the most of his minutes. The Mavs like his game, and with some development he, along guys who are farther along in the process like Dorian Finney-Smith and Seth Curry, could provide very valuable bench depth for the Mavs moving forward into their rebuild.
It is very difficult to find effective and consistent role players at the NBA level, so when you find them it's a blessing. And the Mavs, I hope upon hope, may have found three of them this past summer. 
Donut 5: Deron's Minutes
Deron Williams has been fine for the Mavs. As a matter of fact, he has been one the most effective offensive weapons for the team over the last few weeks. But, as detailed in another great premium piece by our Steven Kilpatrick, his real value for the Mavs lies in his trade-ability, which may be ever-shrinking ... and it may be time to move him sooner rather than later. 
The Mavs are in desperate need of an athletic, scoring young point guard to make this offense into what it has the potential to be with Barnes, Wes and Dirk, and Williams just isn't that. He is a reliable option, but his current level of play is better suited as a back-up to a contender such as Cleveland or Golden State, rather than a starter in Dallas. 
He is not the same player his was in Utah, when he was averaging 17 points and nine assists in six seasons, and making Chris Paul look like a fool when they matched up. Yeah, that happened. But he is effective, and brings a veteran savvy to a position of need for a contender. Right now he is pushing himself to be more than he is, because the Mavs need him to to win games, and it has been difficult at times. 
Deron is a hometown hero to a lot of people in the DFW area, especially in The Colony, there is no denying that. He is also comfortable here alongside his friends and family, but his future is not with the Mavs, and it's time to cut bait and get something in return for him before it's too late. 
Donut 6: Devin Harris is Coming on at the Right Time
Devin Harris struggled with injuries to begin this season, and it took some time for him to come along. Over the last four games, however, Harris has come off the bench and provided a much-needed scoring punch in the absence of J.J. Barea. In that time, he has averaged about 12 points in 19 minutes per game, and he has been a major factor in the Mavs chances over that period of time.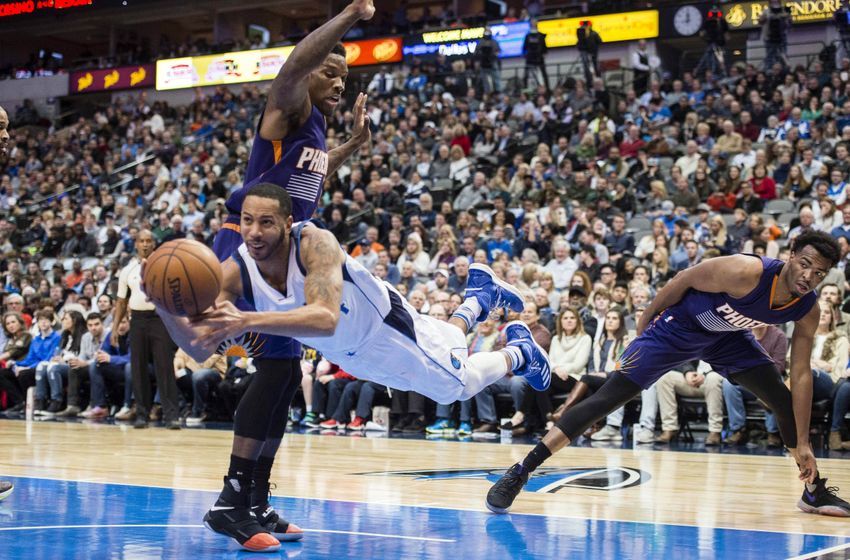 With Barea's health status uncertain moving forward, Harris' recent success is more important than ever, and right now the Mavs need everything they can get out of him. Will it increase his trade value if his is still playing at this level by the time the deadline comes around? Only time will tell. But as long as he continues this recent string of solid outings over the next nine or 10 games, the Mavs will have a chance to inch their way back into the playoff hunt. 
Donut 7: The Return of Tyson Chandler
Up until the point where the Oklahoma City Thunder botched a trade that would bring Chandler to them in exchange for Joe Smith, Chris Wilcox, and DeVon Hardin (which would have been one of the most lopsided trades in recent memory), the Thunder were thought to have made the trade that would put them over the top in the Western Conference. Luckily for Dallas, that trade fell through, and Chandler was traded to the Charlotte Bobcats later that year. 
The following season, the Mavs had their eye on Chandler, and sent Eric Dampier, Eduardo Najera and Matt Carroll to Charlotte in exchange for him and Alexis Ajinca. Ah yes: The Dust Chip, one of the trades that seemed almost designed by DallasBasketball.com!
Mavs fans will forever hold a special place in their hearts for the Phoenix Suns center and former Mavs rim protector. He was a key cog in the Mavs championship run in 2011, but more importantly he brought a brand of spirited toughness to the Mavs in the paint that they hadn't seen in quite sometime. The rest is history, as Chandler helped solidify the Mavs interior defense, and they went on to win the NBA title.
It's not fun seeing him be good for someone else. But it is fun seeing TY.
Donut 8: How Not to Rebuild
Speaking of the Suns, they have become the argument for how not to rebuild, as the debate on the Mavs "To Tank or Not to Tank?" season continues. The Suns have been dreadful ever since their rebuild began following the exit of Steve Nash in the 2012 free agency period. 
Sure, they have drafted some talented players, namely Eric Bledsoe, Devin Booker, Dragan Bender, Marquese Chriss, and Alex Len. They also have some good locker room and role player guys like Tyson Chandler, Leandro Barbosa, and Jared Dudley. The problem here, though, is ... none of it works. 
Despite all of the young talent, the Suns are arguably the worst team and the most poorly-run franchise in the NBA. That is what scares a good portion of Mavs fans about tanking. What if the Mavs go for broke and "Fall for Ball" or "Smell Markelle'' or whatever? Will they turn things around like the Spurs in the late 90's? Or will they be the next version of the Suns?
Both possibilities are there, and it's that uncertainty that drives the argument against tanking. It's just impossible to know what will happen, and is that juice worth the squeeze? I don't know. What I do know is that the Suns are doing it the wrong way, and that begins at the top, and with the coaching. Luckily for the Mavs, they are solid in both areas, and this is supposed to be one of the deepest draft classes in some time. 
The Mavs aren't tanking though; they are playing hard. They are losing, but they are playing hard, and as long as they do that, and the young players keep playing well, the whole tank argument is moot to me. ... at least until 11-25 becomes something uglier than that.
Donut 9: Devin Booker is Special, Though
Out of the dumpster fire that is the Suns however, at least one thing is salvageable, and that is Devin Booker. While glancing up at the Fox Sports Southwest game coverage on the television from the American Airlines Center press box, I noticed a stat pop up. Devin Booker is the fourth youngest player to reach 1,000 career points in NBA history at 19 years and 162 days old. Who are the other three guys on the list ahead of him?
Just LeBron James, Kevin Durant, and Kobe Bryant. No big deal. 
Booker is real, and he is going to be the cornerstone of the Suns when they are forced to begin another fix-it project after another dreadful season. He's the kind of offensive threat that can be built around in this league, and at just 19 years old, the sky is the limit for this kid. 
Donut 10: Bogut's Future
Andrew Bogut was recently reported as being 'Done with Dallas' by an Australian media outlet. But really, what Bogut said was taken somewhat out of context, and even Andrew agrees with that. 
https://twitter.com/andrewbogut/status/816857851016704001
In the interview Bogut states:

"Thankfully I'm a free agent here so I only have a couple of months more here and then will most likely move on," Said the Mavs' center. "I don't see myself hanging around with everything that's gone on. It will be an interesting six months ahead."
The interview goes on for around 10 minutes, but the Mavs social media hemisphere was set on fire when the interview first came to light. But if you really listen to the interview, all Bogut does is acknowledge three things: 1) The NBA is a business, and anything can happen at any time, 2) The Mavs are terrible, and moves will undoubtedly be made sooner rather than later, and 3) Despite his largely ineffective and inconsistent play, he has trade value in today's league. 
That's about it. Bogut is not demanding out of Dallas, nor is he saying he's phoning it in on the Mavs. He's simply stating that, considering the state of the Mavs franchise, his future is uncertain; which it is. Fish writes a game story wrapped around the idea that all Bogut really did was utter two "dirty words'': "Trade'' and "Rebuild.'' Go get it here.
Donut 11: The Time is Now
The Mavs' loss on Thursday was as a big a blow as a (now 11-25) team can suffer right now. Beginning with the matchup against the Suns, the Mavs were to face only two teams with winning records out of their next 10 (Atlanta and Utah), including another matchup with this Suns team in Mexico City, and two games against Minny.
If there is going to be any point on the Mavs' schedule in which they can fight their way back into the race for the eighth or "Getting drubbed by the Warriors in Round One" spot, then Thursday night was supposed to serve as that launching-off point. Instead the Mavs lost to a team that they were supposed to beat.
Now they must move forward and take advantage of this uncommonly easy stretch of games, and put some W's in the column, in order to make up some ground on the 15-20 Kings. They are just 4.5 games back of Sacramento for the eighth seed, and considering the struggles of the teams ahead of them in the standings, it is not unfeasible that they catch Boogie and the Kings for that spot. 
Donut 12: Up Next
The quest for the eight seed will continue against the 20-16 Hawks on Saturday night in the American Airlines Center. The Hawks are led by forward Paul Millsap (who has been the subject of a lot of trade rumors as of late), and Dirk's fellow German national star Dennis Schroder, who is currently averaging 17.5 points and 6.3 assists on the year. 
Along with Schroder, who is one of the NBA's best up and coming point guards (and a guy that the Mavs passed up on in the 2013 Draft), the Hawks have double-double machine Dwight Howard manning the middle, as well as scoring threat Kent Bazemore on the outside.
The Hawks, however, traded perhaps their best outside shooter in Kyle Korver on Thursday to Cleveland for a 2019 draft pick, which arguably will provide the Mavs with a unique opportunity to catch the Hawks undermanned. (Cavs-Hawks trade talk is here on DB.com Boards.) With any luck for the Mavs, it will be this matchup against Atlanta, rather than Thursday night's game against Phoenix, that steers this team onto the right track. 
The Final Word
We've had some success in short periods of time, but we were never able to put our foot on the gas and get separation. We've just got to continue to get better at that." - Devin Harris.