The Minnesota Timberwolves are shopping point guard Ricky Rubio via trade proposals, and you saw this coming last summer. Rubio, still just 26, has long been billed as a spectacular ball-handler and passer but never able to become a capable NBA-level shooter, could've been acquired last summer because of what Minny projected Kris Dunn -- the fifth overall pick in the 2016 NBA draft -- to be.
Dunn, just 22, isn't there yet; he's averaging 3.9 points and 2.3 assists in 16 minutes a game. But the Timberwolves (and especially their new coach, Tom Thibodeau) are ready for the change. So Rubio, averaging 7.6 points, 7.9 assists and four rebounds a game this season, is on the trade block as the Feb. 23 trade deadline approaches.
Among the speculative partners? The Dallas Mavericks, where some national observers seem to see Rubio as some sort of a match with Dirk Nowitzki.
They see it wrong.
DallasBasketball.com is informed by a Mavs source that Dallas has no interest in acquiring Rubio -- and that even goes for taking him on in a trade dump ... in other words, at a cost of relatively nothing.
Rubio's flaws as a player are part of this disinterest. But so is his salary. He is making $13.5 million for 2016-17 and is owed $29 million through the end of his contract in 2019. Maybe, as Yahoo reports, the Sacramento Kings see value in acquiring him and pairing him with DeMarcus Cousins, who as you first learned on DB.com, will be driven by the new CBA to stay with the Kings.
Hopefully, the Mavs gain the same level of understanding of the CBA that you can get by reading our David Lord's in-depth analysis of how the new rules must be used to help Dallas rebuild. Indeed, by making certain to pass on Rubio and this contract, they are demonstrating that.
Similarly, by the way, Dallas is showing the same wisdom in its reaction to the availability of Hassan Whiteside, the Miami center. The story is here, but in short: The Mavs would rather have a premier first-round pick in 2017 than have Whiteside, a DB.com scoop that tells you plenty about what Mark Cuban probably truly thinks when he bobs "back and forth'' on the subject of tanking.
So, being a "buyer'' at point guard isn't the plan.
How about being a "seller''?
On Monday, Chris Paul of the Los Angeles Clippers tore ligaments in his thumb and will be out until March. There is a great deal of speculation about some blockbuster trade the Clippers should make to "salvage'' their season in a way that might keep them semi-competitive with the Golden State Warriors.
The popular speculation: Some sort of blockbuster than assumes that Paul and Blake Griffin are destined to leave LA this summer anyway, so why not strip down and re-do now? Like, say, trade Griffin for Carmelo Anthony!
No, we can't really figure out that logic, either, first because we're not ready to assume that this summer there will be some mass exodus from LA. More importantly and more immediately, though, our question isn't what the Clippers do to give up -- it's the opposite of that.
Maybe LA should be trying to acquire a point guard to help them stay afloat during Paul's two-month absence.
And which team is in the midst of "going back-and-forth'' on giving up the season? Which team is also blessed with a veteran point guard (or two, or three) that might be of value to a contender? Which team even has one of those guys to offer as an expiring contract?
That would be Dallas.
So here's the way we posed a couple of questions, first to an NBA source with knowledge of the Clippers situation. First, is it possible LA would be in the market for a player like Deron Williams? The answer was "yes.''
Then we posed a question to a Mavs higher-up: If the Clippers call you about acquiring a veteran point guard, would you listen?
The answer: Dallas' front office "cannot see much of anything working there'' (a suggestion that the concept has at least been examined briefly, as hundreds of ideas need to be) ... but that "We would always listen.''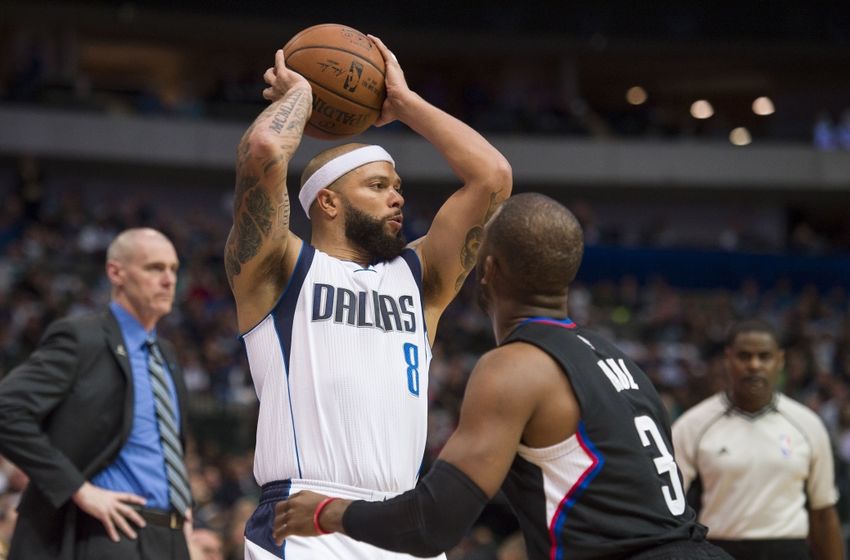 Mark this down as the second hint, following the pick's-better-than-Whiteside news, that the Mavs are prepared to envision somebody like Deron Williams offering them more overall value as trade bait than he does as an on-court contributor. And really, you can add a third hint, that the Mavs aren't simply playing company-line lip service on all these ideas, because this answer on "listening'' on a point guard is completely different than Mark Cuban's answer to DB.com on Wesley Matthews (viewed as a keeper.)
There is a game of Point Guard Musical Chairs to be played here ... The Mavs simply need to grab a seat.
null