As of a few days ago, Justin Anderson was still experiencing The Break-Out Year That Wasn't. He scored a career-high-tying 19 points in Sunday's blowout win over the Lakers, but otherwise, generally, when it comes to the Dallas Mavericks' rotation, "Simba'' is on the outside looking in.
That wasn't the plan, especially as last spring, the then-rookie was one of the few bright spots in Dallas' Round 1 playoff loss to OKC. What's the plan now, starting with tonight's visit to the AAC by the Knicks (GameThread here on DB.com Boards) and beyond? How is Anderson, 23, dealing with the struggles -- his, and his 15-29 team's? What does he think of the guys around him, including his boss, coach Rick Carlisle?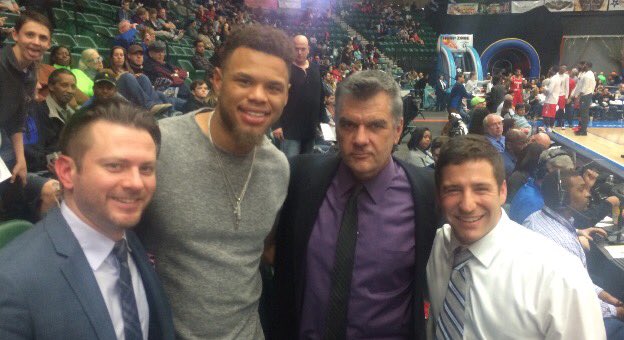 Anderson recently showed up in Frisco (as did teammate Dwight Powell) to watch the D-League Texas Legends game, and to cheer on Mavs assignees AJ Hammons and Nico Brussino. Justin's visit (with support from Jared Sandler and Matt Galatzan) below ...
On Hammons and Brussino playing at Frisco
"AJ stood out a lot to me ... with his ability to score the ball, and just be a rim presence, stretching the floor, shooting threes, and he's talking a lot on defense. (Brussino) is a very patient player. You can tell he's a professional. He's played professional before back in Argentina so, you can just tell. His ability to shoot the ball is tremendous, and his patience, letting the ball come to him, and not forcing things or forcing shots and things like that, It's pretty impressive coming from a (young) guy.
"It meant so much to me that (last year, Mavs vets) took time out of there day to come out here and watch me play (at Frisco), and it gave me that much more energy to play hard, and just continue to work, and that's something that I wanted to do for these guys (Hammons and Brussino), is show them that they still have our continued support, and every chance I get to come down here and watch these guys play, I'm gonna try to make it happen.''
On his own time in the D-League
The time that you get (In the NBA) is your workouts. Sometimes we'll get to play some one-on-one, two-on-two, or three-on-three, and things like that after practice ... I think it's a tremendous opportunity (to be in the D-League) to get some run ...
 https://twitter.com/dallasmavs/status/823576953839980549
"We have a player development guy, Mike Procopio, and he does a great job communicating with us, and being honest with us from the jump (about being assigned to Frisco). He does our workouts, and makes sure we are doing the things that we need to do to get some time on the floor with the Mavs. So when you're working hard and trying to get out on the court, sometimes its not that you're not good enough, its just that you've got a lot of firepower and some savvy veterans. Last year was like that, with guys like Chandler Parsons and Wesley Matthews, we had guys that could really put it in. So I needed some time down here to develop ... it was something that you had to get up for and come down here and produce.''
On Pierre Jackson
"Well, first, his personality is tremendous. He's an awesome dude, he's funny and very humble. I mean he was so humble for the opportunity when he came up, and hopefully he's the same way every day, which I'm sure he is, I almost know he is. ... I know he's already going to be ready, so there's no need to tell him to get ready.
On seeing Dirk dunk in Mexico (in a Mavs win over the Suns)
"I will say it was a delayed reaction. We kinda were stunned for a second, to say the least, when we first saw him raise up there and dunk it.''
https://twitter.com/dallasmavs/status/819754480996679680
"I think the best part about it was, after the game in the locker room, he played it (on video) about 16 times straight, and he said 'You see this? You see that?' He just kept pointing out different things about the dunk, so it was pretty cool to see the old man get up there, and I think he has a couple of more left.''
On this rough Mavs season
"I think (we've lost) already as many as we lost in my college career (at Virginia), but this is a chance for me to continue to see it as an opportunity to grow, and an opportunity to get better. Talking to some of our vets, like  J.J. (Barea), he pulled me aside, and I was talking to him about how tough it is, and I wanted to do everything I could to help our team win, and he said 'Look man, you can't name a player that hasn't really been though it in the NBA. You're gonna go through tough seasons, you're gonna go through tough times, but its about the continuous fight, and fighting back, and trying to give yourself an opportunity.'''
On functioning within the framework of the team
"Absolutely. You've gotta be able to play as one; you cant go out here and try and do your own thing because it won't translate well to the NBA. Not many guys can do things like break down somebody one-on-one every single possession down the court. You've got some guys like Steph Curry who are (that) special, but not even LeBron (James) wants to try and do it by himself. He wants to get everyone else involved. So its something you have to do to make it translate.''
On his investment in community service
"'Investment' is a great word to use for it, because it has a greater return, and every time I get a chance to be out in the community working with children or working with people in need, that's an opportunity to me that I always try and jump on right away. Just because, coming from where I come from (Montross, VA.), a very small town, low population, it means a lot to be a guy that's a servant, a guy that's willing to give, a guy that's willing to go out and be there for other people, and that's something I want to do, bring people together, be there for other people, and its something that I really take interest in.''
On Rick Carlisle's personality
"He's a great dude, and he's wired different. And what I mean by that, is he has a very different sense of humor. He has no filter, just because of how confident he is on who he is as a person. That's something that I respect a lot about him. He's not wishy-washy, he'll tell you exactly how he feels, he's very honest, he's upfront, but the coolest thing about him, is that he takes his job seriously. He really cares about the game of basketball, he's always trying to find different was to be innovative, and trying to do different things to help our team get better, so you've gotta respect a guy that does things like that.''
On how things have gone individually for him things season
"I think everything has gone great. Outside of our record, I try to focus everything back to the team. There's never any worry about me and what I'm getting. That's never what I want to try and focus my energy on, because those are things you can't control. All you can do is control the amount of work you put in in the summer and during the season.''
On what Carlisle has been honest with him about
"Early on in the season, coming off of last year, he felt as though I loosened up a little bit defensively, and that's something to this day that I have to continue to prove to him, that he can trust me out there against any of the best players night-in and night-out, as he did last year. That's something that, like I said, you've got to control the 'controlables,' and be ready when my number is called, and I think that's something that he really respects: when he calls my number I'm ready and I'm ready to play hard for him.''