Ever since the  Dallas Mavericks got off to the terrible start at the beginning of the season, many MFFL have been clamoring for Rick Carlisle to play the younger roster pieces. The thought was, guys like Pierre Jackson, Seth Curry, Justin Anderson, and Dorian Finney-Smith could gain some experience and play hard on the way to an organically-tanked season.
Nobody thought that playing Jackson for 24 minutes, and Finney-Smith for 31 minutes, for example, would lead to a winning formula. 
The problem .. er, solution ... is, it did, as the Mavs took down the Knicks 103-95 at the American Airlines Center on Wednesday.
Another relative youngster, Seth Curry, was the hot hand from the beginning for Dallas, finishing the game with 20 points on 8-19 shooting in 34 minutes. Curry's continuing improvement is very encouraging for the Mavs. He has become an important part of this team's rotation, and if he keeps playing like this, that won't change anytime soon. 
Harrison Barnes (yes, he's young, too) meanwhile, ended the game as the Mavs leading scorer with 23 points. He shot 8-15 from the field, while also grabbing 5 rebounds, and coming away with two steals.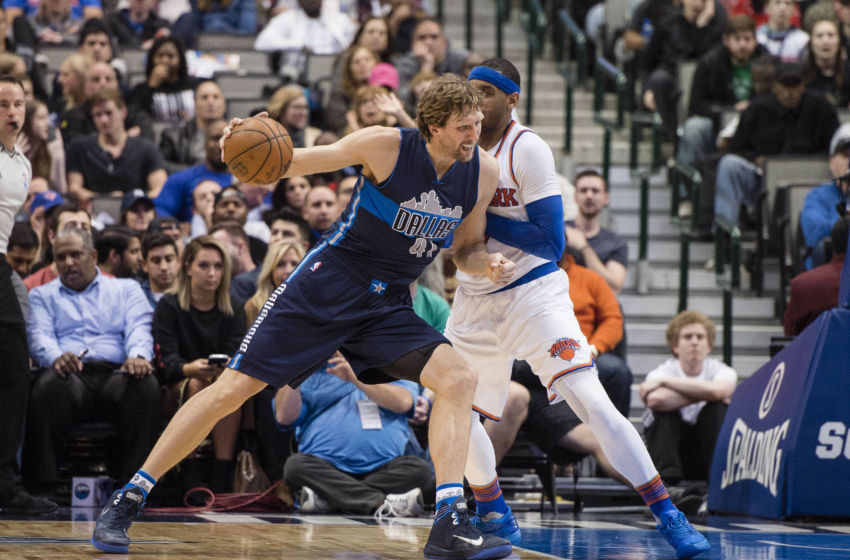 Not to be outdone, Dirk Nowitzki contributed 19 points of his own, on a crisp 8-12 from the field. He also tallied three blocked shots and four rebounds in the game. 
Now to Pierre Jackson. Jackson -- who on Wednesday received his second 10-day contract from Dallas, with the next move being to offer him a full deal for the rest of the season -- started the second half after Deron Williams went down with a toe injury near the end of the first half, and played well. (D-Will's toe could be a significant issue. Wes Matthews also sat out with a hip problem, and JJ Barea is out with a calf injury. Andrew Bogut did return to the floor for two points, four rebounds, two assists and three blocks in 21 minutes. The Mavs say Wes, Deron, JJB and Dirk will not make the trip to OKC for tonight's 7 p.m. tip.)
I know I know, Pierre only scored four points and shot 2-8 from the field. However, the Baylor product made good decisions with the ball, and made some plays to get some other guys open looks. We all know he can shoot, but they just weren't falling on Wednesday. If he keeps of this kind of effort, though, his time on the court will only increase as the year goes on. 
In truth, this was game was kind of a strange one. For instance, the Mavs were actually crushed on the glass 55-36, and only hit 6-26 from beyond the arc. Yet, they won rather comfortably at the end of the game. Considering the Mavs three-point shooting has been paramount to their success this season, it makes this win all the more impressive. 
So what was the difference?
The Mavs defense made up the difference by forcing the Knicks into 18 turnovers (scoring 27 points off of those turnovers), while committing just seven of their own. They also got Kristaps Porzingis into some early foul trouble, and held him to just 13 points on 4-11 shooting. 
Yes, Carmelo Anthony scored 30 points. However, it took 24 shots to get those points, and Dallas was able to hold him to just seven in the second half after his hot start. In fact, as a unit, Dallas held the Knicks to just 42-percent shooting from the field, and 30 percent from beyond the arc. 
"Guys played hard,'' Carlisle said. "We were kind of in a swarming mode.''
Carlisle specifically cited the work of Justin Anderson on 'Melo. You can read about that here on Quoteboard and you can see our fun Q-and-A with Simba here.
Overall it was a solid team effort for the Mavs who, after Wednesday's win, have now won five of their last seven games. ... and who here, have some "Dirkie'' candidates for you to pick from.
 "It was a good way to grind it out and get some big stops,'' Dirk said. "We made Carmelo miss a couple of more shots, so I thought that was a big win for us considering we're going to a tough building (Thursday) against one of the hottest players in the league."
In terms of trying to better the 16-29 record, those wins couldn't have come at a better time, as the Mavs will face a brutal three-game stretch that includes road games against Russell Westbrook's Thunder on Thursday, San Antonio on Sunday, followed by a matchup with LeBron ("Get Me A F'in' Playmaker!'') James and the defending NBA champion Cleveland Cavaliers on Monday. 
For now, the Mavs and their youngsters can revel in this win however, as they have now won six of their last seven matchups with the Knicks.