Donut 1: Mavs 103, Knicks 95
Carmelo Anthony kept this Wednesday game close. His 30 points kept the Mavs from moving beyond a couple of 10-point leads (in fact, the Knicks got within one point in the fourth quarter before the Mavs found some separation again). But the Dallas Mavericks shut him down in the fourth.
Hey, it's tough to win in the NBA, even tougher on the road, even tougher if you're the New York Knicks.
The Mavs shot 47 percent, they got to the free-throw line twice as often, and they shut down the Knicks bench (or, better said, the Knicks haven't got a bench).
If Melo were showcasing himself for a trade to a title contender, I'd say he had a great night proving that he can still be a playmaker.
But, as the guy picking out gravestones in the Madison Square Garden parking lot ... he's not writing himself a very strong epitaph.
Good win for the Mavs—but just another night for the Carmelo Anthony edition of the New York Knicks.
For more on the "swarming'' Mavs win, click here.
Donut 2: Fools Gold
Don't look now, but  maybe the Lakers back on Sunday didn't play exceptional defense on Harrison Barnes while they let everyone else get whatever they wanted.
Yeah, Barnes had his first single-digit scoring total of the season vs LA--but he won't always have time (or motivation) to fill up the sheet with clutch buckets when his team is hanging 122 points on someone.
Barnes, back in the context of a hard-fought contest, was back in the context we've grown accustomed to:
23 points, 5 rebounds and 2 steals. 
Welcome back, HB; you were here the whole time.
Donut 3: Dirk's Finesse
Before the game, Fox Sports SW treated us to a sizzle real of Dirk plays from his youth. Plays where he went up big for dunks, plays where he beat his own teammates out on the fast break. A Dirk that doesn't always get to show up now that his knees are in their mid-30s (or worse in dog years).
But Dirk isn't done being flashy just yet.
He scored 19 points on 8 of 12 shooting, he picked up two assists, and more than once he swatted the ball out of the hands of driving players--forcing turnovers out of bounds, or loose balls that turned into steals for nearby teammates.
But, one of the savviest moments of the day was when he pump-faked his would-be doppleganger, Porzingis, right out of his shoes, then easily collected the foul. 
Donut 4: Dirty Dirk Returns
All that finesse stuff is fine, but my favorite version of Dirk is angry Dirk. After a non-call in the second half, when Dirk had gone on a bit of a cold streak, Dirk hit an F-you bucket right in the face of Melo. You could see that it was as good as a dunk for him.
He also picked up three blocks during his SmallBall stint as center.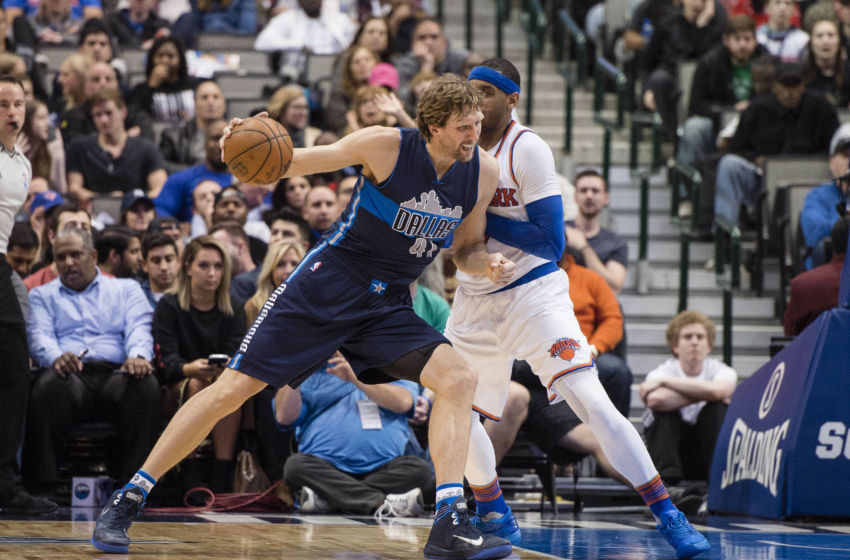 But, my favorite Dirk moment of the game was when he cleaned up the board off a long miss by Curry. Dirk had to get up and extend over the box-out without fouling. He got his hands on the ball, laid it in beautifully, and reminded us that his game is way more than that One-Legged Euro Lean-Away. 
Donut 5: Hero Ball!
Sometimes, when a key player picks up a foul, a nearby teammate (either of lesser talent, or with fewer fouls) will lobby for that foul. It doesn't always work, but sometimes it does. If two guys made contact at once, it doesn't hurt to keep your best guys out of foul trouble.
Why do I get the feeling that Melo does the opposite for Kristaps?
I think Melo is in the ears of the ref whispering about technicals, flagrant fouls, possibly open sores. Anything he can do to share the floor with one fewer super-star.
But hey, it almost worked. Without the burden of teamwork, Carmello was able to take 24 shots en route to 30 points.
Melo did have three assists--but he also turned the ball over seven times. One of those times on a weird drive-and-kick that pulled his teammate out of bounds.
I wish we had cloning technology, so that we could field an NBA team with two Carmello Anthonys ... both complaining after the game that the other didn't pass the ball enough.
Donut 6: Who the Hell is Ron Baker?
Let me tell you the story about how sometimes coaches get too clever.
Late in the 4th quarter, the Dallas Mavericks had a 99-92 lead. 
With 57 seconds to go, Kristaps Porzingis grabs an offensive rebound, scores a bucket, and gets fouled. He then hits the FT and the Knicks are down 99-95.
The Mavs take a full time-out, and during this time-out Knicks coach Jeff Hornacek subs out Porzingis and puts in Ron Baker.
Poor Ron Baker was in the game just long enough to step out of bounds on a bad bass from Anthony, effectively icing the game with the turnover.
Ron Baker looked like footage from the 70s, and that's where he belonged. When you've got one of the best young 7-footers in the game, and you're a terrible team, you want to let him learn what it takes to be on the floor and get stops.
Kevin Love was able to get a stop on Steph Curry in the Finals. Porzingis can probably figure it out a bit faster than Ron Baker.
But, maybe there's some secret edict to keep Melo happy with a little hero ball.
Donut 7: Seth Curry

I wish I could show you every shot Seth Curry took last night, so that you could see that 8 of 19 doesn't begin to tell the story about his game. At least three of his shots took three steps into the basket before tip-toeing out of the rim (one of those hung around the basket long enough for Dirk to break Earth's gravity and lay it back in).
https://twitter.com/dallasmavs/status/824435150960332800
I've been asking, all season, what Curry could do if he got starters minutes at his position. Turns out, he does what a 2-guard is supposed to do: He scored 20 points, he grabbed five rebounds, he got three steals, and he took care of the ball (only two turnovers despite a much higher usage rate).
How long can the Mavs wait to extend Curry contractually at rate that makes sense long-term? I think we've seen enough to know he's worth more than the open market might pay him—which makes any time a good time to start thinking about his future in Dallas.
Donut 8: Justin Anderson Play of the Game
Time to remove the irony from the title. Last night, Justin Anderson made a strong case for retiring the award--but instead, I think I might save the award and offer it to the best hustle play of the game.
A couple of games ago it would've been Devin Harris' end-zone tip that saved the ball from going out of bounds.
Tonight, there were a lot of great hustle plays--but my favorite came from the man himself:
In the fourth quarter, when the game was close (the Knicks had just cut the lead to one point), the Mavs turned the ball over. But, Justin Anderson immediately swiped the ball back, made a quick drive to the basket, got fouled by Anthony and smacked Anthony in the face on the way up for good measure.
He recorded another steal a few plays later and fed Jackson with one of the fastest outlet passes I've seen from the Mavs all year. That Anderson-heavy sequence helped open the Mavs lead back up to seven points—and it was a lot of fun to watch.

Justin talked about his tough first half vs. Anthony vs. his better second half:
"Every possession he tries to find your body and he is a great player. In the first half he had me a little discouraged. Just had some tough shots but I stayed with it and my teammates had my back. In the second half I asked coach for another shot at it and I am thankful he gave me that opportunity."
For all the snark, that's the real story of the Justin Anderson Play of the Game award. The award was always about watching people make incredible hustle plays and then completely mess them up. But, the secret to being on that list all the time, is an ability to shake off the last time you did something stupid and to keep your energy and aggression at a high level.
Anderson's ability to keep working—his belief that he has more and more corners to turn—that's the real spirit of the award. Yeah, we have a little fun at the expense of a player once in a while—but it's also a recognition that the player is || this close to doing something amazing.
Last night, Justin got to do a couple of amazing things—and that's way more fun to write about.
Donut 9: Organic Tanking
J.J. Barea hurt himself again, and not only did he not play here, but Rick suggested we might not see him again until after the All-Star Break.
D-Will hurt his toe in the first half against the Knicks. He hit a three while hobbling around the court, but he clearly wasn't right. Would he have come back out if this were a close first-round playoff matchup? If we know anything about D-Will, we know he would. That guy played through something called a groin-contusion last year.
I don't know exactly what that is, and I don't want to look it up, because I have a groin, I know what a contusion is, and I'm not interested in compound words that put contusions in my groin area. Let's move on.
Conspicuously absent from the lineup here: Wes Matthews. If we hadn't already heard that Matthews isn't anywhere near the trading block, we might assume he was being shipped somewhere else (any other season and that's exactly what I'd have assumed). But, there is a chance that the Mavs simply see him as a long-term asset that shouldn't take undue risks in a lost season. ... and he's got a hip issue, for real.
We also know that Wes himself lobbied to play, and had to be held out against his competitive wishes. Anybody wonder why Rick and company wants to keep that engine in the garage during this tear-down and rebuild?
Unfortunately, as I've hinted at all season long--this team might actually be better with the young guys--so the attempts to organically tank, for this night, didn't work out.
How can it when your opening-day eighth man scores 20 points?
Donut 10: The Andrew Bogut Audition Tape Starts Now?
Welcome back, Bogut. Please envelope yourself in bubble wrap and rebound the basketball as often as you can.
His first night back wasn't much to get excited about—but it also wasn't much to leave me concerned. The Mavs—against all odds—are trying to put their best team on the floor and win games.
This means—for better or worse—playing SmallBall and looking for the three as often as possible.
It's always more fun watching Dirk at the 5 because when he comes out to the perimeter to set a screen, you can't afford to run through that screen, because the give-back can  (and does) punish you with a wide-open shot from one of the best players of all time.
https://twitter.com/dallasmavs/status/824439787230789632
Watching Bogut come out to set a screen isn't as miserable to watch as most guys—because the dude can pass (we got to see that on full display last night). He doesn't just know how to hand the ball off to his give-and-go partner. He knows how to thread the needle.
But, that's still not as dangerous an offensive weapon as a big man who can score from any place on the floor.
So, Bogut—a bit like Justin Anderson—needs to be ready for any moment he gets to be on the court right now.
There won't be as much playing time as there was early in the season—especially for a guy who seems prone to injury. But if he keeps Rick happy, he will find his time on the floor (and possibly earn the attention of a trade-minded team with even more time available to him).
https://twitter.com/dallasmavs/status/824455638629711872
Before we get to Feb. 23, though, we get to tonight. Dallas at OKC in a 7 p.m. tip. I believe I am right in saying the Mavs have yet to win this year on the second night of a B-2-B. And in addition to Wes and JJB and Deron not making this trip, Dirk is also staying home. So Bogut will have to be one of the few hands on deck (with rookie AJ Hammons also having been recalled from Frisco) ... and for the 16-29 Mavs against Russell Westbrook, this feels like a "scheduled loss.''
The Mavs-at-OKC GameThread is here.
Donut 11: Signature Moves
A recent piece by the very funny Shea Serrano (of The Ringer) felt like a perfect primer for tonight's game.
Shea covers a bunch of guy's signature moves, and how effective they are on a 1-5 tier scale (Tier One is "It Would Really Be Great if You Stopped Doing That; Tier 5 is "Like the Sun Rising, Only Better.")
The reason I bring this piece up, is because we got to see three of these signature moves on full display.
The most obvious? Dirk's Tier 5 One-Legged Euro Lean-Back. Spoiler: it worked.
Next up? The Derrick Rose jump pass (a Tier 1 move). He used it a few times, but my favorite was his use in the first quarter, when he just chucked the ball out of bounds without grazing a teammate.
But, the move that defined the game? Melo's Tier 3 "F Your Triangle" Iso.
Shea says if you see Melo put the ball behind his head, there's no way Melo isn't shooting. Melo put the ball behind his head a lot. Sometimes it worked, sometimes it didn't. That's why Tier 3 is a 50/50 move.
Honorable Mention: Justin Anderson with the half-way decent Rajon Rondo-inspired fake pass. Not quite Gumby enough to be as iconic as Rondo's, but it still froze his defender for a second, and led to points—making it somehow better than when Rondo does it.
You can see our fun Q-and-A with Simba here. And get the Mavs-Knicks Quoteboard and "The Dirkie'' voting, which is all here on DB.com Boards.
Donut 12: Final Word
Carmelo was good--but the Knicks aren't. 
That might be the epitaph on Melo's time in NYC—whether he wants to hear the criticism from guys like George Karl or not.  Karl won for his entire career. Melo, even in the East, hasn't found a way to win without Karl.
Even head-case J.R. Smith has been better (and found more success) outside of the orbit of Anthony's gravity.
Anthony took 24 shots (almost 10 shots more than any of his teammates) and he made 13. That's the only reason the Knicks were in the game—but it's also the reason that the Knicks lost by nearly 10.
I know that's not entirely fair. Justin Anderson's 11 points was almost as many points as the entire Knicks bench. Porzingis got into foul trouble in the first 13 minutes of the game. Rose, always a "volume shooter," uhhh—volume shot?
Plus—it turns out—the Mavs aren't as bad as we once thought—especially when the big German is 8 of 12 in a support role.
But, the big German is also part of the measuring stick for success that Melo will be weighed against.
Melo and Dirk are among the few players in the NBA with no-trade clauses—and only one of them really earned the loyalty associated with that. The other guy gave up on his former team and forced his way out of town discordantly. Some might even say that Melo did his best to freeze out other strong personalities (Amare, Lin, Chandler, and now Porzingis). 
If you want to be the man—and Anthony does—then you get to be the neck that holds the albatross. In a recent game vs Phoenix, Melo missed a game winning three as time expired. If you watch, everything about the play goes perfectly. His teammate sets a perfect pick, he gets matched up against the smaller man, he gets his shot up, and then it traces the rim before spilling out. Melo just sits down on the scorers' table, dejected, while his teammates (and a young fan) try to console him.
They all know who's responsible for the Knicks curse—most of all Anthony knows—and that's a fog that droops down and covers up the stat sheet that says Melo played well. The only thing not obscured is a Knicks team that can't beat anybody. Not even some of the worst teams in the West.
Sometimes it's tough to be "the guy."