The Dallas Mavericks almost never win at San Antonio.
The Dallas Mavericks almost never beat LeBron James' Cleveland Cavaliers.
And, just speaking to this season, The Dallas Mavericks flat-never win on the second night of a back-to-back.
So how in the heck did Tuesday's stunning result - Dallas 104, Cleveland 97 - happen at the AAC?
"We're a shit team,'' Mavs coach Rick Carlisle said. "But we're an underrated shit team. That's about as accurately as I can put it."
There's truth in that pile of feces. Even with this rather incredible Monday win over the regal Cavs (which comes on the heels of a similarly incredible Sunday win over the regal Spurs) there are realities. Dallas is a humble 18-30. Dallas is riding some weird Yogi vibe, with 10-day D-League signee Yogi Ferrell not only starting (which is ridiculous) but starring, as he was good for 19 points against LeBron James and Kyrie Irving and Cleveland. Dallas is wrestling with the value of "tanking'' and the value of "organic tanking'' and the value of "winning.''
From owner Mark Cuban in the pregame Stairmaster presser: "If you want us to win, we're going to try to win games. If you want us to tank, hope everyone beneath us wins a lot.''
OK, but ... what sort of rudderless organizational policy is that? We don't know. But Dallas had lost 12 straight at San Antonio until Sunday and that's dead. (Again, read that coverage here.) And Dallas beating Cleveland? That doesn't happen. And on the second night of a back-to-back? The Mavs -- who in many ways largely rely on Dirk Nowitzki and older guys -- were a sluggish 0-9 in back-to-back second nights ...
Until this.
If you asked us 48 hours ago what this back-to-back had in store for the Mavs, It probably would have centered on some variation of the word "ugly.'' Instead, Dallas beat two of the three best teams in the NBA on back-to-back nights, marking their first win on the second night of a back-to-back this season ... and relying on the cliche of "a total team effort'' from Dallas. They defended well, forced turnovers, competed on the boards, hit their free throws, continued to take care of the basketball. ... They also shot a healthy 45.3 percent from the field as a team, despite their struggles from beyond the arc (28.1 percent). 
Harrison Barnes led the way with 24 points and a season-high 11 rebounds, all while shooting 9-of-16 from the floor. Wes Matthews complemented Barnes with 21 of his own, and despite some lingering hip pain, played a heck of a game defensively against LeBron James. 
Seth Curry also had yet another solid outing, adding 16 points, five rebounds and four assists in 38 minutes. He was also the main defender on Kyrie Irving (who he held to just 18 points) for most of the night. Irving is arguably one of the best scorers on the planet, so for Curry to hold him to those kinds of numbers is extremely impressive. 
The story of the night for the Mavs however, was once again Yogi Ferrell. Ferrell, who had maybe the toughest workload for any guy fresh off of signing a 10-day contract in NBA history, was asked to step in and run the show for the Mavs, and defend Tony Parker, Patty Mills, and Kyrie Irving, all within 72 hours of signing his deal. 
The diminutive Ferrell passed that test with flying colors, ending Monday's game with 19 points, five rebounds, three assists, four steals, and just two turnovers. Yogi's Dirkie-worthy performance (yes, YOU vote for the Player of The Game on DB.com Boards!) may have just earned him another 10-day deal from the Mavs' brass, as he continues to impress everyone who has been watching this team over the last two games. 
Don't look now, but the Mavs have now won seven of their last 10 games, and are playing some very good basketball. Maybe they have found the right recipe to chase down the eighth spot in the West (currently held by 21-25 Denver as we write this), or maybe not. But beating the Spurs and Cavaliers on back-to-back nights, Kevin Love's absence not-withstanding, is very impressive. 
The win moves Dallas to 18-30 with the Philadelphia 76ers coming to the American Airlines Center on Wednesday night. If the Mavs can keep this kind of play up, as they navigate a more than manageable eight-game slate before the All-Star break, it's not inconceivable that for them to be within striking distance of the playoffs heading into the second half of the season. 
Said Rick: "We've got a little bit of an unusual team; we're old and we're young. We really don't have any in-between guys – maybe Wes, Wes is 30. He's really the only guy that's kind of a tweener there. Everyone else is 32 or older, or 25 or younger. We've got a big divide there. Our veteran guys, my trainer (Casey Smith( and I map out the best plan to try to maximize these guys and keep their energy up in games, not play them too long, not play them too short. It's a bit of a science, but the guys go along with what we do, which is really a key thing. ... Dirk is in and out of there a lot – that can be challenging for players. There's no way we have the energy to win a back-to-back like this if those guys aren't down with that kind of strategy."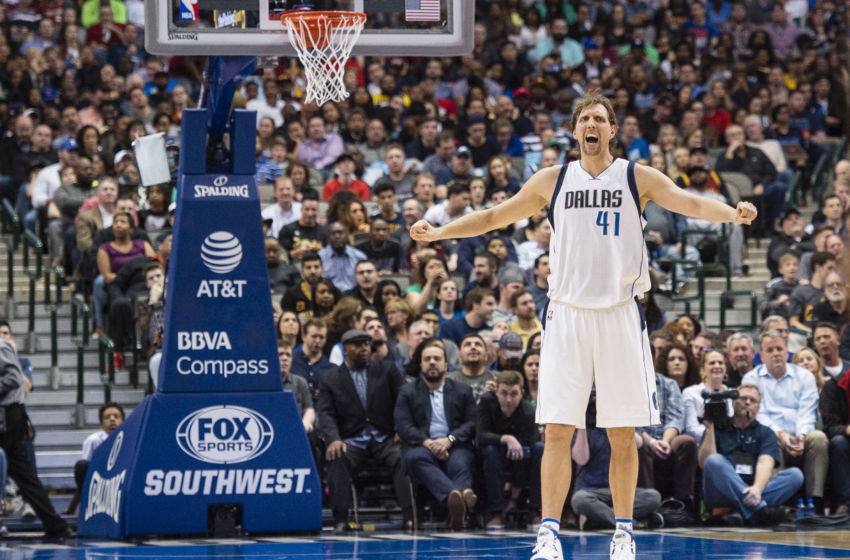 Is this all crazy talk? Hey, who are we to deny these players of dreaming their dream? One thing is for certain: this team -- "shit'' as though it may be - is going to continue to play hard, no matter who is standing across from them on a nightly basis.