The Dallas Mavericks on Monday completed an improbable-but-impressive performance against two of the best teams in the NBA this season, San Antonio and Cleveland, by winning both games of a back-to-back. Newcomer Yogi Ferrell, a raw NBA rookie just signed to a 10-day contract (and now the target of Dallas' plans with a two-year offer) started both games at point guard for the Mavs and scored 19, to complement Harrison Barnes (24), Wes Matthews (21), Seth Curry (16), and Dwight Powell (14) in the Monday win over the Cavs.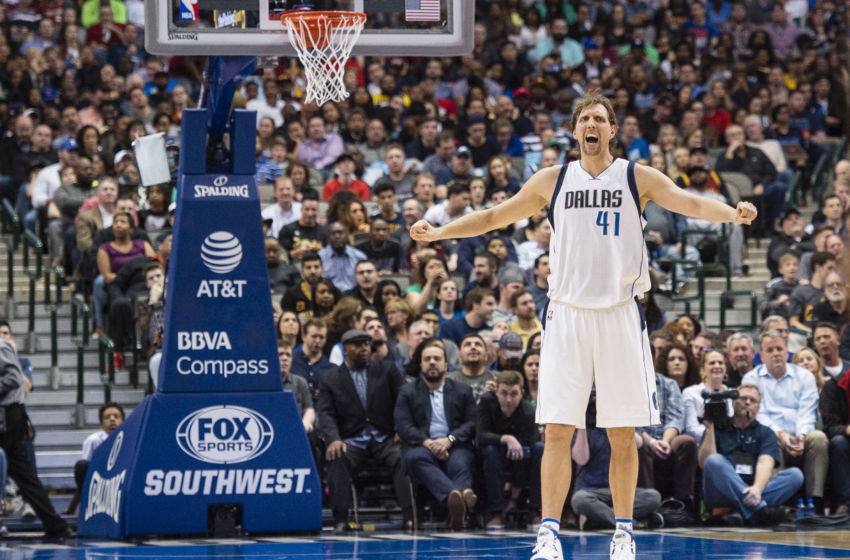 This is the same team that had not been competitive against the NBA's better teams all season, yet they were impressive against two top teams in a row. (See our game coverage here.) If the Mavs can win games like this, is the sky the limit from here? Have they turned the corner?
Or is this still a season that needs to be invested in a high draft pick for the future of the franchise?
To provide some perspective, we've enlisted two of DallasBasketball.com's most passionate thinkers on this topic, Nick Wilson ("DevilMaskRascal") and Michael Gilmer ("Audiosway"), and asked for their "Debate Team'' input. 
We began by posing the following question: "Should the Mavs ignore the idea of tanking and pursue a playoff spot, and if so why?" Here are the reasons given why they should, and some alternative food for thought in reply.
1 This team is on a roll, and they are proving to be too good to tank. 
The Mavs are 7-3 in their last 10 games, and the schedule ahead looks like it should be even easier. (The 18-29 Sixers are at the AAC tonight; game discussion here on DB.com Boards.) The playoffs are a definite possibility once they start facing and beating some of the teams like Denver and Portland who are just a bit above them in the standings.
And as good as they've been lately, trying to lose enough for a top pick could be hard for the Mavs without injuries or obviously throwing games. Even waiving Andrew Bogut wouldn't make them markedly worse. Deron Williams can't be traded without his permission and seems to like being home. (Amid continued buzz about a Deron-to-Cavs trade, here's something you need to know about LeBron's "f----g playmaker.'') Dirk seems to be rounding into form. 
Dirk, Deron and the bench guards are mostly healthy now. Barnes is getting better and better in his new role, and Wes Matthews can focus on what he does best. Young guys like Seth Curry, Dorian Finney-Smith, and Dwight Powell have significantly improved via inflated playing time. And how about Yogi?!? Where's the practical path to get significantly worse than the nearly .500 team we've seen for a month and a half now?
Counterpoint - This argument is certainly thought-provoking, but even with these impressive wins over the hated Spurs and the evil LeBron (and yes, they were impressive and fun to watch), it's a long season. These Mavs just haven't been capable of being very good very often, as demonstrated by the fact that it wasn't that long ago that they lost to a horrendous Miami team, and it took the best game of the year for most of their veteran players just to beat a struggling Bulls team by one point. Even with the recent positive results, they are 12 games under .500 and languishing near the very bottom of the league. 
The roster itself dictates the value of tanking from here. Dirk himself says he's still recovering from injury, JJ Barea just went down recently and will likely be out another month or longer, Deron and Devin and Wes keep getting sidelined here and there, and Bogut can't stay on the floor. Considering all that, it's time to move the veterans with soon-to-expire commitments out of the way via trade, open up more playing time for the young guys who have been benefiting by getting to play, and take the lumps of letting them learn by their mistakes that will also add some extra losses to the ledger as they learn. Kill two birds with one stone, as they say, in accelerating the rebuild of this team.

2 The Mavs owe it to Dirk not to tank
The Mavs' massive debt to Dirk as a franchise should end all consideration of tanking for now. Even though he's making good money this year, Dirk took arguably the biggest discount in league history back when he was a star so the team could acquire more talent, and many are even expecting him to possibly sacrifice more to sign talent next year. 
It's easy to compare this situation to the Lakers sendoff to Kobe Bryant, where his two final  seasons were spent earning a massive paycheck on a tanking team. But it needs to be recognized that Dirk has done it a different way, sacrificing financially in order to avoid that sort of situation. 
Now it's the fans' turn to share in that sacrifice, and put aside their impatience for a rebuild that Dirk clearly doesn't want. This team can tank any year, but there's only one Dirk, and Dirk's financial sacrifices have earned him a chance to go out fighting in the playoffs. 
Counterpoint - This is definitely the best argument against tanking. We all love Dirk for what he has been to the Mavs, and yearn to watch a prime Dirk take the Mavs into the playoffs year after year. 
But, reality is reality. Dirk is already winding down, still a legend, but no longer a player who is the centerpiece on the floor. And there simply isn't enough talent here for Dirk to win with, as  the last five years have seen the Mavs front office squander Dirk's sacrifice to create a revolving door so they could chase unicorns in Free Agency. Like it or not, they are where they are, with the cupboard almost bare, and badly in need of high-upside talent.
If they will bite the bullet for less than half a season, there is a 100-percent chance of them being able to get help via one of the top picks in this loaded draft. It's time to address that talent shortage.
3 The Mavs owe it to the rest of the team not to tank
Players are human beings with pride, competitiveness, and financial interests, not robots. If the NBA was a league of unemotional robots playing basketball, tanking might be a fantastic strategy. All it takes is a photo of Philly's bench in recent years to see the human face of tanking. These players on bottom feeding teams are taunted and disrespected on and off court. Their own fans are actively rooting against their success. Tanking often has a negative effect on players' careers, attitudes, reputations and wallets. How does that environment breed loyalty, effort, leadership, sacrifice and a winning culture? Tanking is not a switch that can be turned on and off.
Counterpoint - This does make sense in a way, but it's also part of the reason the Mavs should trade the bulk of their veteran talent as part of the tanking strategy. A team full of developing guys that are being auditioned for the future are going to play hard and fight just to have a place in the league, while vets over 30 are definitely going to be more impatient. The solution, rather than let the future be held hostage to players who aren't part of it anyhow, would be to trade those vets for assets (such as more draft picks, or younger players with upside) that will accelerate the building of a core for the future.
4 Tanking is actually detrimental to roster building, as it hinders the ability to attract and retain free agents and build trade value in existing players
Tanking hinders other important avenues for team building, possibly making it a total long-term commitment. Unless a bottom feeder is the only team offering big money, any good free agent will almost always choose the better team -- sometimes taking a large discount to do so. We see bottom feeders who get trapped in a tanking cycle until their picks become good enough to repair a losing reputation. 
Tanking doesn't help with building players' trade value or with free agent retention either.
Counterpoint - Many people point to a need to foster and retain the "winning culture" of a team, but maybe the bigger principle is that winning cures all. For instance, Philly has tanked for the last few years and yet now they are winning games as a gritty young team and those guys couldn't be happier. Ersan Ilyasova, 29 and a nine-year NBA-veteran, was recently quoted as saying this about Philly: "I like the team. I like the way we play. I see a bright future with this team." He's happy and wants to stay in Philly when his contract ends.
We see the same thing in Dallas today. A few wins is all it takes to change the outlook. The idea that losing a few games puts a permanent scar on a franchise is just not true.
Moreover, NBA history says that when there's spending room and big money being offered, a good player might go to a not-so-great team. Since Cuban has owned the Mavs, we have seen Robin Lopez, Baron Davis, Steve Nash, Lamar Odom, Michael Jordan and others sign with teams who won 29 games or less the prior season, and we've seen others (such as Harrison Barnes and Chandler Parsons) leave a better team in free agency for a worse one.
Besides, if the Mavs think that winning 35 would attract free agents somehow, how is that much different from being a 25-game winner - and wouldn't getting a great pick make the team more attractive to all? (We reveal just such a Mavs rebuild blueprint here.)
5 The Mavs already have enough talent to be the 8th seed if healthy, so there's no pressing need to tank
The Western Conference's 8th seed will likely end up with a less-than-stellar record, as it currently looks like it will take about 35 wins this season to get that slot. Many (including Dirk) suggest the Mavs would probably be sitting in that eighth slot right now with better health. 
That means this is already an eighth-seed-caliber of team. And as a result of that bad health, the Mavs' youth got valuable development minutes, making the team even deeper and better than it otherwise would have been. 
What if they even add to that by selling the pick while its value is so high? Then the combo of the eighth-seed core plus the fast-developing kids plus an added talent from a trade should make for an even better team for the playoffs.
Counterpoint - Let's take the idea of trading the pick out of the equation. The Mavs are keeping this pick, and drafting someone, regardless of how they play out the rest of the season. The only thing in question is what sort of pick they'll have to work with.
As for the idea that this is really a much better team than their record, perhaps so. But that's true for most teams, so relatively speaking, it changes nothing. While a team can have issues along the way during a season, it's almost always the case that the record says what they really are in relation to everyone else.
And while the start of the year, when they were very injured with a tough schedule, led to a huge hole, was that really an aberration? Maybe the injuries, and the losses to good teams,  were less a case of bad luck, and more a case of seeing the norm for this team. 
The win against San Antonio was certainly different. But I recall back in the 90s when horrible Mavs teams would sneak up on Michael Jordan and the Bulls and win once in a while. And the Cavs, recently, have been anything but impressive, so there's that to consider, too.
This has not been a good team, and the 18-30 record is an accurate measure of that. Want another measure? Rick Carlisle's own evaluation of his club, humorous and true: 
"We're a s-- team. But we're an underrated s--t team.''
6 If the Mavs are good enough to be the 8th seed, then they might even be good enough to make a playoff run, so it would be foolish to abandon that chance
Anything can happen in the playoffs. The final record doesn't matter as much as the direction the team is trending, matchups and luck. The 2007 Golden State Warriors showed what an eight seed David can do to a Goliath. (And Dirk and Devin might want that shot at vengeance.) 
What if Durant and Curry are injured late in the season? You never know. 
The Mavs probably won't beat a healthy, firing-on-all-cylinders Golden State, but forfeiting so far in advance out of fear is illogical. Don't forget, experts picked against them in every round in 2011.
Counterpoint - All Mavs fans understand the sentiment behind this idea. Even now, the vivid memories of the unexpected loss to the Warriors in 2007, and the glorious Mavs title run in 2011, are still fresh.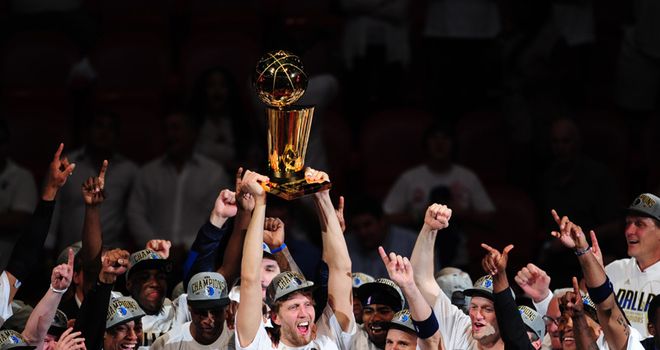 But is there really any reason to think this Warriors' team could be beaten four times by this Mavs team? Or even once? (If we look back to 2007 to compare, that Golden State squad had beaten the Mavs every time they played that season.) This Warriors team has a starting lineup that includes two NBA MVPs still in their prime (Durant and Curry), another up and coming star (Thompson), and a DPOY candidate (Green). All four of them made the NBA All-Star Game last season and again this year, while the Mavs have had none.
In the wake of the last two wins, it's fun to have dreams of grandeur. But if the Mavs were able to meet them in the playoffs (a big if, all by itself), the most likely result would be not only a sweep by Golden State, but four one-sided wins that the Mavs would hope to soon forget. On the other hand, by chasing a pick, the Mavs could have something to take away from this season to build on, a player picked in the top of this draft who could be a centerpiece of the future, and could provide a benefit from this season for the Mavs for a decade or more.
More discussion on this topic -- and your two cents - here on DB.com Boards. Coming later to DallasBasketball.com: a look at this issue from the other side - why should the Mavs tank, and what do they stand to lose if they don't? But next week, a look at the trade deadline coming in a few weeks, and exploring specific approaches and ideas for the Mavs.