After the injury to Pierre Jackson a little over a week ago, the Mavs signed an undrafted free agent to a 10-day deal, in an effort to place a Band-Aid over the point guard spot until Deron Williams and J.J. Barea were able to return from injury. DB.com broke the story of the details of the signing, but mostly, not much was made of the thing, as is the case 99.9 percent of the time with 10-day contracts.
However, seven days into that 10-day contract, that signee is having arguably the best start to a 10-day contract in the history of the NBA after leading the Mavs to a 108-104 win in Portland on Friday.
That players name: Yogi Ferrell.
In his first three games as a Maverick (see coverage here), Ferrell averaged 13 points and five assists in 37.3 minutes per game, was asked to check Tony Parker and Kyrie Irving on consecutive nights, and keep the offense running efficiently and smoothly in the injury absence of Deron Williams. Not only did he accomplish those things, he soared beyond expectations.
Pretty impressive for a guy who was playing against the Delaware 87ers 10 days ago.
Then, facing his third All-Star-caliber matchup in a row in Damian Lillard, Ferrell rose to the occasion yet again. Only here, he did it on a national stage, scoring 32 points on 11-17 shooting and handing out five assists. He was also 9-of-11 from beyond the arc, including the game-clinching three with 19 seconds to go in the 108-104 Dallas win.
"It was a groove where every shot I took felt like it was going in," Ferrell said. "You know, I was just being aggressive just like coach [Rick Carlisle] wants. I work, and it just showed tonight."
https://twitter.com/Michael_Lark/status/827761722249400322
"He's a pretty opportunistic guy," coach Rick Carlisle said of his new starter, "and it's pretty clear that he's out to prove a point."
Ferrell wasn't the only undrafted Mav out to prove a point, however.
Former Trailblazers standout Wesley Matthews had 27 points, while Seth Curry added 19, 17 of which came in the second half of play. Meanwhile, the two former lottery picks in the Mavs starting lineup, Dirk and Harrison Barnes, combined for 22 points.
As a team the Mavs shot 47.4 percent from the field, and 54.8 percent from beyond the arc.
Yes, the Mavs nearly blew a 24-point lead. And yes, they were out rebounded, and outscored in the paint. But they were able to withstand those things, along with a combined 52 points from C.J. McCollum and Evan Turner, to pull out another remarkable win.
They also held Portland's franchise cornerstone Lillard (who was averaging 35.5 points per game against Dallas this season) to just 13 points on 4-of-20 shooting from the field.
The success, which marks the ninth win in the Mavs' last 12 games, and the 400th in Rick Carlisle's tenure with the team, sends Dallas to 20-30 overall, just a tick out of eighth in the Western Conference playoff race. 
This patchwork lineup, that came together by chance and injury issues, has seemingly found a groove, and become a competitive team.
With a six-pack of winnable games on the horizon, the Mavs and 'The Yogi Show' are starting to become a real story across the NBA landscape.
"It's great that we've put ourselves in a position for these games to be meaningful," Carlisle said.
It's become something so significant that it has forced us to step back and re-evaluate our opinions of this team. This may not be the most talented team, but it is a team full of "basketball souls" who want to win, and that counts for something.
"I'm just trying to play with no fear right now, go out and give it my all for my teammates," Ferrell said. "I'm just letting all the chips fall."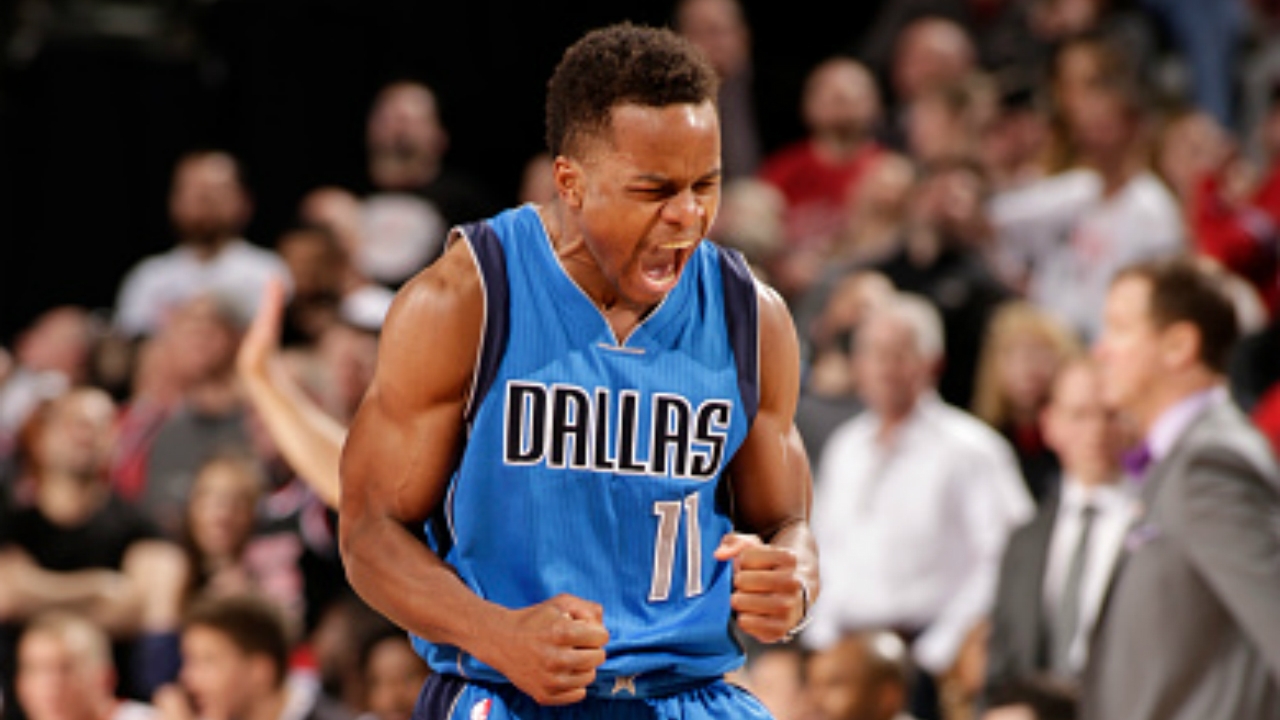 Is 'The Yogi Show' a novelty like 'Linsanity'? Or, as the Mavs prepare to make him the two-year contract offer we've detailed here, is Yogi destined for more? Yogi is just the third undrafted player in NBA history to score at least 30 points within his first 15 career games ... but the bar of success doesn't have to remain that high.
Sidebar comparison: If "all" Ferrell becomes is a Lin-level player, that'd be quite a discovery. ... and "The Yogi Show" merits continued watching.