DONUT 1: A Mavs-Cavs Trade
What's going on with The Mavs and the Cavs, and a trade of one of the Mavs' veteran point guards, to fill the gaping backup PG hole in the Cavs lineup?
We start with one basic piece of information. Yes, there have been talks ("exploratory" was the description I was offered) between the Mavs and Cavs of a possible trade. What you've heard isn't bogus.
But we also understand that the Mavs are open to a deal, but only if they can get what they want. And because the most-mentioned idea (D-Will to the Cavs) doesn't provide an easy way for the Cavs to offer the Mavs what they want, if the Cavs aren't highly interested in D-Will or Harris, trade conversations aren't going to go far. 
So, what to do?
This is what to do: "The Trade Proposal The Mavs Should Make To LeBron's Cavs.''
DONUT 2: The Yogi Show
This Yogi Ferrell thing marks arguably the best start to a 10-day contract in the history of the NBA after leading the Mavs to a 108-104 win in Portland on Friday. (Read all about it here.)
In his first three games as a Maverick, Ferrell averaged 13 points and five assists in 37.3 minutes per game, was asked to check Tony Parker and Kyrie Irving on consecutive nights, and keep the offense running efficiently and smoothly in the injury absence of Deron Williams. Not only did he accomplish those things, he soared beyond expectations.
Pretty impressive for a guy who was playing against the Delaware 87ers 12 days ago.
Then, on Friday, facing his third All-Star-caliber matchup in a row in Damian Lillard, Ferrell rose to the occasion yet again. Only here, he did it on a national-TV stage, scoring 32 points on 11-of-17 shooting and handing out five assists. He was also 9-of-11 from beyond the arc, including the game-clinching three with 19 seconds to go in the 108-104 Dallas win.
https://twitter.com/Michael_Lark/status/827761722249400322
"He's a pretty opportunistic guy," Rick Carlisle said of his new starter, "and it's pretty clear that he's out to prove a point."
DONUT 3: By The Way …
We've reported exclusively that the decision to give Yogi the original 10-day deal was driven by Michael Finley while assisting Donnie Nelson. Now I'm told that the Yogi two-year contract (a story we broke a week ago and one that can go official this Tuesday) will be the result of Donnie running the negotiations.
I know there are some in Mavs Nation who view these details as too minute to matter.
Y'all are wrong.
Donnie is a "basketball guy'' and a scouting expert with incredible connections around the country and around th world. Michael Finley, the former Mav, has similarly earned the trust of owner Mark Cuban and is gaining power inside the building. Keith Grant is a scouting and administrative lifer who needs a voice, too.
Even the slightest alteration in direction in terms of Cuban giving latitude to his lieutenants is significant.
And there is a slight alteration.
The Mavs needed to WIN this player. 
The person in charge of winning is EXTREMELY important to Mavs fans interested in details.
Same thing with picking Yogi in the first place. He was one of six. Finley was key in helping Donnie pick. Smart Mavs fans appreciate the details. ... and what they might mean to the big picture.
DONUT 4: How To Find The Fibber
If you read a report saying Dallas wants to trade for Ricky Rubio, the person in charge of that report is blowing smoke.
If you read a report saying Dallas loves Iman Shumpert in trade, the person in charge of that report is blowing smoke.
And if you read a report saying that Dallas has definitely decided whether to be a buyer or seller at the Feb. 23 trade deadline … yeah, smoke.
The Mavs are presently in limbo in regard to which way to steer as they approach a fork in the road. They have a bad record … but they are almost good.
Cuban's famous "Treadmill of Mediocrity'' is what I think should give the boss his answer; I mean, it's HIS answer! He created it! 
But "back-and-forth'' is still where Mark Cuban is on the subject.
DONUT 5: Cuban's Four Reasons Why
In Tony Cubes' defense: You watch your guys go to San Antonio and win, and then on the second night of a B-2-B win again against the Cavs, and then they crush a Sixers team that essentially has the same record as Dallas, and then comes the thrilling handling of the Blazers in Portland.
You get caught up in the excitement because … well, it's exciting.
DONUT 6: Tonight at Denver
It can happen again tonight.
It's Mavs at Denver in an 8 p.m. tip, and the 22-28 Nuggets are in some disarray and prepped to lose. There are injury issues and they've dropped four of five and yet ... Hey, the Nuggets are hovering around the No. 8 spot in the West. And the Mavs aspire to be that, so ...
All hail the Nuggets?
In a lot of ways, Denver represents that Cuban "Treadmill.'' We can spent a lot of time here on Danilo's injury or whether Mudiay (questionable himself with a back problem) should start or Wilson Chandler's escape. But this is a more fascinating game theme to me: The Nuggets, in the last 30 years, have been a 50-game winner just FIVE times.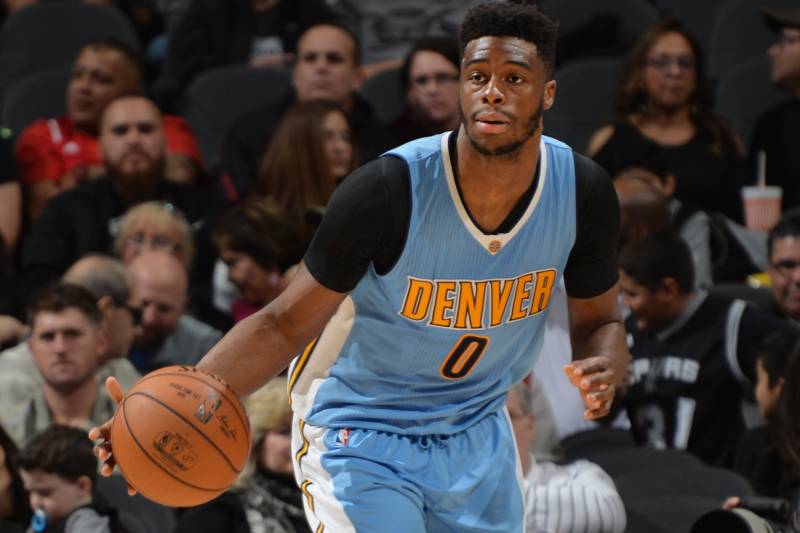 THAT, Dear Reader, is the Treadmill of Mediocrity. It's to be avoided by Dallas at all costs.
DONUT 6: "Organic Improvement''?
I've written a lot about "Organic Tanking'' (which is different that "tanking,'' a Mavs subject debated smartly here.
But what about "Organic Improvement''?
A valued DB.com Boards poster, "NBAJunkie123,'' writes:
"Time to appreciate such and quit debating superficial issues.    Most of us have spent the season thus far debating issues no longer pertinent as the Mavs roster both today and as we view such in future months will be a major improvement than existed earlier in the season and until most recently. The issues of tanking, culture, playing the vets or youngsters and going for a playoff spot seem academic to me as we enter the second half of the season and prepare for improvement in the off season ahead.   Veterans no longer rule the roost so to speak as Coach Carlisle and MBT seem now committed to the youngsters playing the prime time minutes, along with Dirk. That is likely to remain such as their success has been overwhelming.  Organic growth from within has exceeded all expectations and the recent acquisition of Yogi the new PG has cemented this new approach. The veterans with so many injuries and many with expiring contracts are no longer the key to winning and respectability and winning a playoff spot. If that becomes a reality it is in the hands of the young lions on the team.
"I like D Will as a player but he no longer can give it to you full time without incurring injuries as is the case with all the vets.   When D Will was the PG he insured himself of his prominence in the lineup by getting his shots first and foremost and stats. As starting PG he did not recognize Barnes as our new leader and main man.  The team's success when he has been out injured most recently has become obvious.''   
"Organic growth''? "Reversal of Fortune''? This is worth a discussion here … and yet another reason for Mavs fans to sign up for your free DallasBasketball.com membership.
DONUT 7: No Longer 'Either/Or'
At one point, the idea of trading Andrew Bogut and Deron Williams was tied to the idea of "giving up'': Dallas, we all thought, should dump them because they're too good to be on a bad team, especially if they can bring you value in trade.
But here's a new angle that I write about here: What if you trade Bogut and Deron because you can both a) Get something more valuable for the future than they are in the present, AND b) continue to win games without them.
Yogi, on the floor in the last four games, is a more effective player than Deron, if you factor in Deron's injury issues. Dirk at center is working. And Salah Mejri, again if you factor in injuries, contributes more than Bogut's been able to contribute.
If Dallas wants to keep winning …. while also wanting assets for the future … it can in theory shed itself of two vets and not necessarily become a lesser team.
DONUT 8: Buyouts?
Our buddy Marc Stein at ESPN mentions the idea of the Cavs acquiring Deron or Bogut via buyout.
I'm certain this is what Cleveland would like: The pickup of two rotation players at a cost of zero. We'd like to think that Cuban and Company would drive a harder bargain than this. And again, not just because he doesn't want to weaken his roster, but also because he wants to strengthen his future.
DONUT 9: Quotable 
"It's great that we've put ourselves in a position for these games to be meaningful," coach Rick Carlisle says of his 20-30 club. 
DONUT 10: 'It's A Football Town'
Here's proof that a 'football town' and a 'basketball town' can co-exist:
https://twitter.com/nickeatman/status/827760198714531840
I like the Jeremy Lin comp for Yogi in terms of the point-guard excitement. I like the Patty Mills comp in terms of the sort of player he might be.
But the Ezekiel Elliott comp? Yes, that's fine, too.
DONUT 11: Bows And Arrows
Load up your bows and arrows: Wesley Matthews will compete in the 2017 All-Star Three-Point Contest on Feb. 18 in New Orleans, lining up against a field that includes Klay Thompson, Kyle Lowry, Kyrie Irving, Kemba Walker, Nick Young, C.J. McCollum and Eric Gordon.
We can recite a bunch of numbers that illustrate how Wes is an accomplished 3-and-D guy. But we like Carlisle's take on the thing much better.
"It speaks to his character and how people feel about him," Rick said. "In a difficult season, he's been a steadfast constant. And he's kept our guys focused, kept us competing. I'm really happy for him. It's great recognition."
DONUT 12: The Final Word
"I'm just trying to play with no fear right now, go out and give it my all for my teammates. I'm just letting all the chips fall." - Yogi Ferrell