Coming off of an embarrassing effort against the Denver Nuggets on Monday, the Dallas Mavericks were a fairly motivated bunch on Tuesday - none more motivated than Yogi Ferrell, the un-drafted rookie who has come off the D-League scrap heap and into a new two-year contact.
There were Tuesday night obstacles to going full-out Yogi Mania full-time, however. 
One obstacle was the opponent. 
The other obstacle is the truth.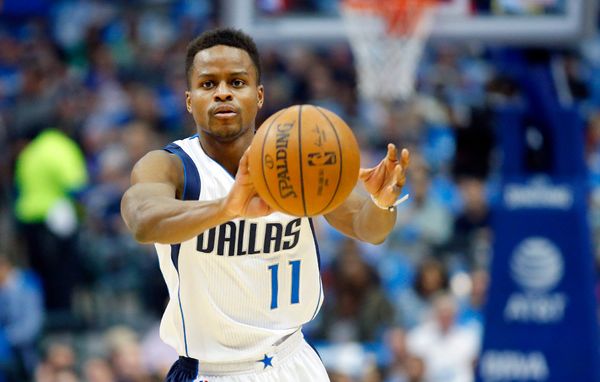 For starters, with the sting of a bad loss to Dallas a couple of nights ago still fresh on their minds, the Blazers were an equally motivated group.
So Dallas -- involved here in one of the most entertaining 48 minutes of basketball to be played at the AAC all season -- in the end saw C.J. McCollum and the Blazers get the last laugh, as McCollum's 14 fourth-quarter points and game-winning floater at the end of regulation ultimately pushed Portland across the finish line in a 114-113 decision. (Fish's gamer is here.) 
As a Mavs fan, it has to hurt, but as basketball fans, one couldn't have asked for a better matchup.
The Mavs showed incredible heart, coming back from a double-digit deficit late in the fourth quarter to take the lead. All the while, Dirk Nowitzki showed us yet again why is one of the greatest to ever do it.
In what coach Rick Carlisle called "vintage'' fashion, Dirk helped manufacture the comeback by scoring 11 fourth-quarter points, including a go-ahead three with 3.9 seconds to go in the game, pushing him to 25 points on the night. Though he was just 7-of-16 from the field overall, he finished 4-of-7 from three, and 7-of-7 from the line.
Oh yea, Dirk also moved passed John Havlicek into 10th place in NBA history in field goals made for a career after a third quarter fadeaway… Not a bad night, huh?
Said Carlisle: "He played a phenomenal game. His shot-making at the end was vintage it was breathtaking."
Harrison Barnes and Wes Matthews also had tremendous nights, with the two finishing the game with 26 points and 23 points respectively. Meanwhile, Devin Harris  and Yogi were both big sparks for the Mavs all night, as they combined for 24 points, with both making key plays on the defensive end of floor.
OK let's get to Yogi.
On the basketball plus side, he scored 12 points, including a gutsy and-one bucket late. On the down side, the Blazers backcourt proved extremely difficult to handle. The duo of Damian Lillard and the aforementioned McCollum combined to kill the Mavs for 61 points on 25-of-43 shooting between the two of the them. Both players made ridiculous shots throughout the game, with McCollum getting the one that mattered in the end.
So the Mavs are 20-32 and even as Dirk said, "That was definitely a fun game,'' we are all in desperate search for satisfaction, for enjoyment, for fun.
Yogi provides that with his style of play. But he's also providing it because the Mavs have chosen to "Print The Legend.''
I'm too young to have initially understood Fish's Tuesday evening tweet:
https://twitter.com/fishsports/status/829139364777177089
But with a little study and a little reflection … I think I get it.
In the classic movie "The Man Who Shot Liberty Valance,'' newcomer/pacifist Jimmy Stewart is credited with saving the Old West town because he kills the bad guy, "Liberty Valance.'' But in the gunfight, tenderfoot thwart doesn't actually do the deed; John Wayne is the true hero. The media, though, enjoys the Stewart angle so much that it goes with it. Stewart's character ends up being a powerful politician, and in his old age, tries to set the record straight with a reporter, who finally shrugs and replies:
"When the legend becomes fact, print the legend."
That's kind of what we're all doing with Yogi now.
To wit:
*Yogi is a come-from-nowhere prospect.''
FALSE. DallasBasketball.com reported last spring that he was a pre-Draft visitor to Dallas. 
https://twitter.com/fishsports/status/731207546640326656
He was absolutely on the second-round radar of the Mavs (who ended up taking center AJ Hammons.)
*Yogi was one of three finalists for the 10-day contract.''
https://twitter.com/townbrad/status/829125221470834688 
FALSE. Ferrell was one of SIX finalists that DB.com detailed here. That list was eventually sliced to three at some point, we suppose. But when we broke the story of the signing last week, we were told that Cuban himself had a high awareness of two guys (not three), Ferrell winning out over Quinn Cook.
*Cuban picked Yogi because both are from Indiana University.
FALSE. I suppose at some point Cuban joked about something like this in his conversations with Donnie Nelson. 
Here's another funny line from Cuban:
https://twitter.com/espn_macmahon/status/829121983656833024
But we reported a week ago that Nelson and Michael Finley were in charge of this process, and on Tuesday, Fish added the name of Mavs analytics director James Brocato as a key decision-maker here.
The myth will be about Cuban's involvement … because who wants to write about James Brocato?! (No offense; James; we want to write about you!)
*Yogi is now solidified as a major "hit.''
FALSE. He's got some guaranteed money now, and that's a start. He certainly looks like a rotation player, and hopefully more. But if you don't know the full story, you can't fully gauge Yogi's success. In addition to Cook, her guys on Dallas' six-pack finalists' list included Briante Weber. 
https://twitter.com/fishsports/status/829133471540969472
Weber just got a three-year contract with the Heat. The full measure of Dallas' decision on Yogi isn't just about his  success here; if you know the details and are interested in them, you know that the Yogi story isn't about being an "unknown,'' isn't about being a Hoosier, isn't happening in a vacuum and isn't at all about Cuban.
In a way, we think Mark is slyly acknowledging the truth when he exaggerates about Yogi's candidacy for an NBA honor by saying it was "a mockery within a travesty within a transmogrification that he wasn't NBA Player of the Week.''
That, it seems, is another way of saying what "The Man Who Shot Liberty Valance'' said:
"When the legend becomes fact, print the legend."