The new Yogi Ferrell deal was signed Tuesday. But the contractual details are now emerging, and from what we are hearing, it was a very tiny commitment by the Mavs, smaller than you may have heard. 

Because of the positive impression he made in his 10-day deal, the Mavs gave Yogi a rest-of-season deal at the minimum, which was a commitment of $207,798. But as we speak, our understanding is that's all they've invested. There is no second year in place.

Instead, the deal simply gave the Mavs a team option for another minimum-salary season, with an end-of-June deadline to make a decision on it. While it would seem that they will exercise that option, they can decide otherwise and walk away with no more cost if they so prefer.
So this really changes the overall picture. For now, this is a "dip a toe in the water before deciding whether or not to dive in" type of commitment. The full deal looks like this:
• 
2016-17 - rest of season minimum salary, which is $207,798
• 
2017-18 - team option for a minimum salary deal, which is $1,312,611
• 
summer of 2017 and 2018 - Mavs have opportunity to make him a Restricted Free Agent, giving them the "right of first refusal" on any offer he would get from another team
Enthusiastic Mavs' fans undoubtedly believe that this short-term deal is certain to get extended via that option, and perhaps it will. He has certainly made a contribution and showed plenty of promise so far in his brief stint with the team. But there are no guarantees after this season.
And there's more to this story. The Mavs really like Yogi. Indeed, two sources suggest the Mavs structured this deal in this way not to shorten their commitment, but because it allows for the signing of a long-term deal this summer. 

For Yogi, this means the next few months are crucial ones, as he tries to turn a Mavs' commitment of a few months into a longer NBA stay.
Having an option, rather than a second year with no guarantees, makes that possible. With a second year of any sort, even with no guarantees, the Mavs would first have to waive him this summer in order to do a new deal. In so doing, they would lose his "rights" and the possibility of restricted free agency. But by declining an option, they retain the opportunity to make him a restricted free agent, where they can match any summer offer.

Perhaps there's some sly method in such madness as well. Between now and the summer, Yogi will have very limited opportunity to create an NBA track record to impress other teams. So when the summer comes, in theory other teams still might not particularly see much value in him, which could then allow the Mavs to sign him to a minimum salary deal of 2 more years, or perhaps even longer, after which they would have full Bird rights on his services. Having him locked up for more than one additional year would certainly be advantageous for the Mavs, who would then have a much longer time frame to develop him, while only being on the hook for a relatively modest financial commitment.

There is a risk in such a choice, of course. Making him available this summer as a free agent creates the potential for another team to up the cost well beyond minimum salary. So the next few months of play - which will perhaps offer better definition of his potential - will be crucial in determining how this all plays out.

If we think back, this portends to be a very similar situation to the one that the Rockets had with Chandler Parsons a few years ago. They had the ability to extend his contract, at minimum salary, via a team option. Instead, they declined the option with the knowledge that they had matching rights and had the ability to control the outcome and keep him in free agency - and then they lost him to the Mavs.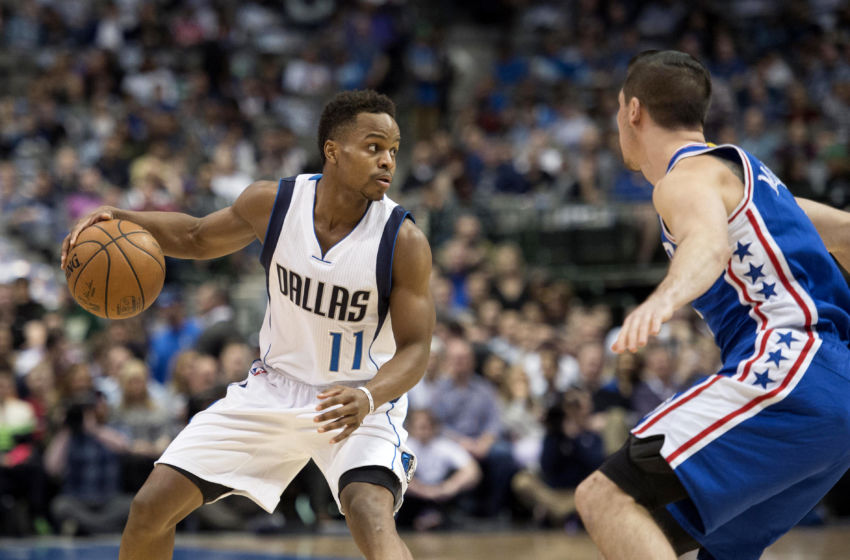 We suspect that, when all is said and done, the Mavs will simply exercise the team option on Yogi in June, and their next actual negotiation with him will be in the summer of 2018. If so, in that scenario he would be a restricted free agent and the Mavs would have matching rights. But who knows, because there are decisions to be made, that might possibly lead to some Yogi Drama this summer - - as an encore to the "Yogi Mania'' of this winter.