DONUT 1: The Truth Hurts
The Dallas Mavericks are starting to be honest with themselves.
"It's been, overall, not really consistent enough to deserve a playoff spot,'' a very frank Dirk Nowitzki said before the All-Star Break about his team's first-half work. It's been overall not really consistent enough to deserve a playoff spot. You've got to put a little string of wins together if you want to be able to sneak in and we haven't (made) this a race.''
Nowitzki and others are doing what they can; Dirk, in the last five games, for instance, averaged 20.2 points and 6.4 rebounds. But ... The Mavericks are 22-34 and as we enter the eve of the Feb. 23 trade deadline are in the No. 12 spot in the NBA's Western Conference. 
They haven't made this a race.
DONUT 2: The Ongoing 'Buyer Vs. Seller' Debate
We've given you the Mavs' own hints.
One, they are telling other NBA teams that they have no desire to include their 2017 first-round pick in a swap. … unless the swap includes a "superstar.' (Dallas entered this weekend assuming such a person would not be available. Dallas was wrong. Details below.)
Two, sources tell DallasBasketball.com that the Mavs are not interested in taking on a "rent-a-player'' … again, unless the swap includes a "superstar.''
So … The Mavs don't want to give you their No. 1 pick and the Mavs don't want to rent your expiring contract. Here's our story detailing that two-pronged approach.
DONUT 3: No Blockbuster 3-Way
Over the weekend, the Mavs were at the center of a hot "rumor'' that has them having "serious conversations'' with the New York Knicks, and the level of names being thrown around is headline-grabbing. A three-way that would send Harrison Barnes away from Dallas while shuffling Carmelo Anthony to Cleveland and causing Kevin Love to become a Mav? 
"That's not happening,'' a Mavs source told me. 
Part of the reasoning? 
"We'd be giving away the best player in the deal,'' the source said, citing Barnes.
Click on the story. It clears up the mess and includes a fine and deserved endorsement of Harrison Barnes.
DONUT 4: The 4 Real Scenarios
In theory, we see four different types of trade scenarios that could involve the Mavs. But as we look at where the Mavs are and what they have to offer, only one of those is very realistic. 
Who might need assets like what the Mavs have to offer? And what might the Mavs expect in return, to act? Let's take a closer look. Bogut? Deron? Devin? Here's the sensible breakdown in your Mavs Trade-Deadline Primer.
DONUT 5: OK, To The Blockbuster
On the one hand, we've said the Sacramento Kings would likely never trade DeMarcus Cousins because ultimately there was an understanding of what a rare talent he is, and what CBA-related advantage there was to the involved parties in staying together. We wrote that here.
On the other hand, we've said the Kings ownership is just nutty enough to do … well, anything. We wrote that here in suggesting that the Mavericks should call Sacramento to see if they want to trade for Deron Williams.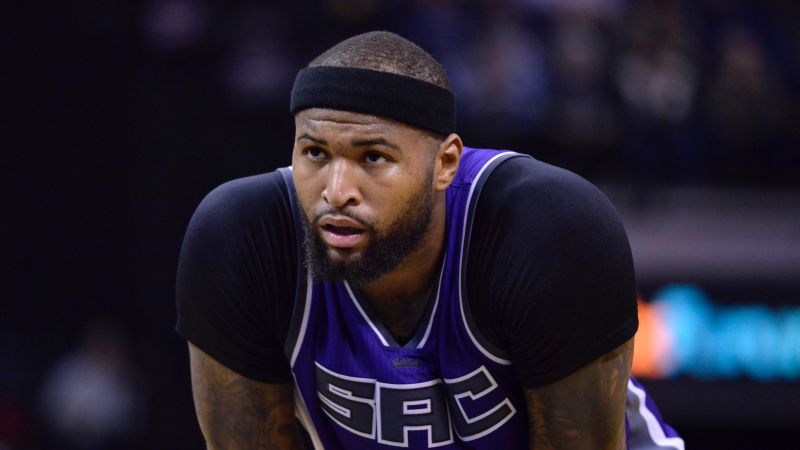 Well, it looks like we'll go with the second hand. And is there a Mavs-Boogie angle?
https://twitter.com/fishsports/status/833700718724935680
Yup. DB.com has the scoop.
DONUT 6: Quotable
"You never want to give coaches eight days (without a game) after a loss because they start brainstorming all types of stuff." -- Wesley Matthews on the All-Star Break -- and on exactly what happened with Dallas' pre-Break loss at Detroit.
DONUT 7: Organic Admission
I've written a great deal about "Organic Tanking'' and how it's an acceptable answer once a hopeful team starts as poorly as this year's Mavs did.
It's not "tanking.'' It's "Organic Tanking'' in the sense that is just sort of ... happens. And is just sort of ... allowed to happen.
So I'm pleased to hear Mark Cuban put my thoughts and my prediction into his own words.
"We're tanking,'' Cuban said last week on the "Ben and Skin Show'' on 105.3 The Fan, "while we're trying to win.''
The commitment isn't quite full enough for my tastes. Maybe you're not ready to start Hammons and Brussino, but this is a time, for example, to give Justin Anderson every single possible minute.
Again, the concept: You don't lose on purpose, which breeds bad habits and bad attitudes. You lose because the try-hard guys you're putting on the floor simply come up short at the end a few more times than their superior teammates otherwise would.
DONUT 8: That Okafor Rumor
Jahlil Okafor? The Dallas Mavericks are reportedly interested in trading for the Sixers' young center?
Sources tell DallasBasketball.com that this is an accurate — albeit old — story.
"We talked to Philly a couple of months ago,'' one source tells us. "But nothing recently.''
This can change on the fly, of course; heck, the Boogie deal, against all odds and all sense was apparently completed during the actual All-Star Game! But Dallas' trade-deadline position is to offer up its 2017 No. 1 pick only if a star is dangled in return.
And Okafor is not that. Read all about the Mavs' Okafor talks here.
DONUT 9: No Big Fish
"I don't see us going after the big fish'' this summer,'' Cuban recently said, a comment that has been mangled in translation beyond recognition, beyond its true intent.
It's not a "change of philosophy.'' It's about who is available, how much can be spent, and most of all, about how  the new collective bargaining agreement incentivizes players to stay with their original teams. DB.com was all over this angle way back in December and often since then. Catch up here. 
DONUT 10: Fish For Dinner
I'm hosting tonight on 105.3 The Fan, 7 to 11 p.m., and we'll be all over NBA and Mavs stuff as it happens. Plus we've got scoop on Tony Romo, a deep dive into Baylor's problems and "Machine-Gun Fish.'' Join us tonight! Click here to listen right on your computer or mobile device!
DONUT 11: All-Star Cuban
Cuban finished the "Celebrity'' All-Star game with about as many points as there were celebrities. He failed to score on 11 minutes of play in the East's 90-57 defeat of the West.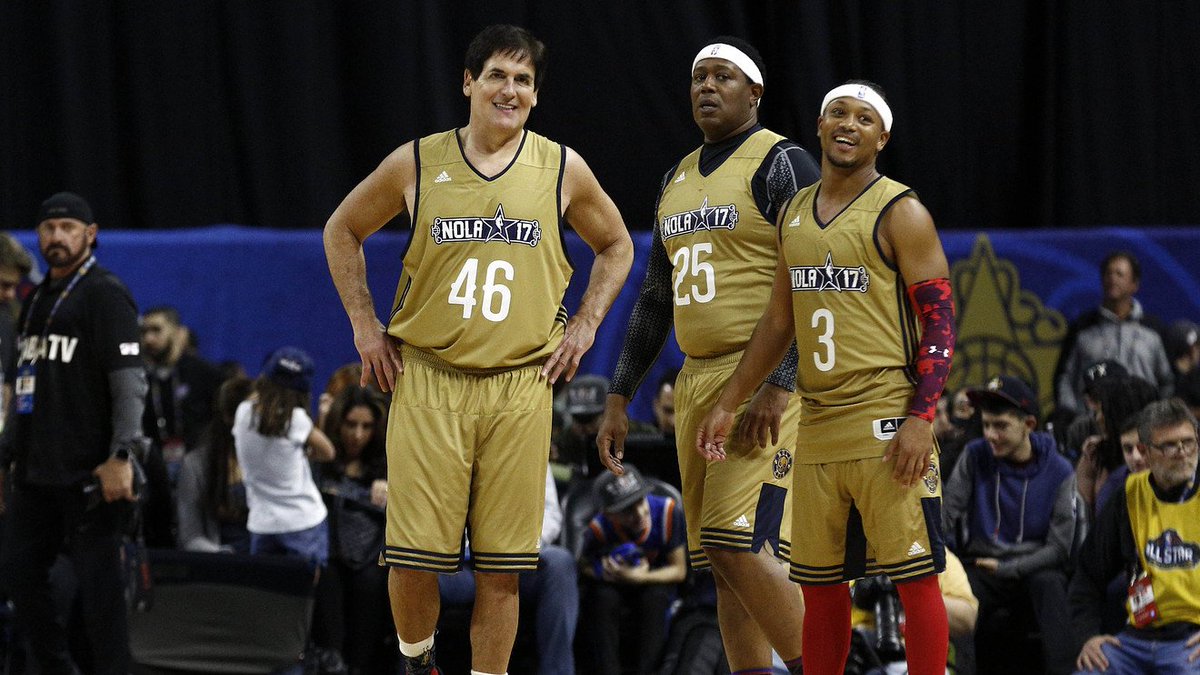 Cuban wore jersey No. 46, a clear trolling of Donald Trump, our 45th President, and noted that he enjoys "f----g" with people ... which, of course, we are quite aware of. 
It's a good try, I guess, to add some spice to an All-Star Weekend that, for me, was lacking in virtually every way. ... and now is far more important for the trade talks that occur than for relatively unknowns dunking or whether KD and Westbrook will ever kiss and make up.
https://twitter.com/TodaysLoop/status/833516568659230720
Or whether Steph ever got up off the floor after The Greek Freak's dunkathon.
https://twitter.com/BleacherReport/status/833512710235041792
DONUT 12: The Final Word
I don't use too much space here discussing politics (though I'm proud that DB.com provides a popular "The Rest of The World'' forum for such things. But in this "The Media Is The Enemy'' climate, I believe something merits a mention. I've been a member of the media for 34 years. I am sometimes ashamed of the handful of bad apples who populate my profession. But most of those bad apples aren't "anti-American''; rather, their greatest crime is attention-getting hyperbole, pretense and headline porn.  
But for any politician of any party, or any citizen of any persuasion, to parse and sample the words of Jesus and Jefferson without context, is intellectually dishonest. Beware of this, always.