Two days ago, the Dallas Mavericks discussed in-house the idea of acquiring Sixers center Nerlens Noel. Their overriding thought then? Not enough ammunition.
Their overriding thought on Thursday morning, as they surprised even themselves with a trade-deadline deal for Noel?
They won a deal they didn't even think they could make.
Dallas Mavericks found a buyer here for the expiring contract of center Andrew Bogut (who Philly will likely try to flip, maybe to Boston) by including young prospect Justin Anderson and a Mavs first-round pick.
In what ways is this a win?
The Mavs told themselves repeatedly that they did not want to sacrifice their 2017 first-rounder. By designating it as top-18 protected, the Mavs — presently in line to pick seventh in the draft and fail to make the playoffs — will not have to convey that pick this season. (In fact, incredibly, Zach Lowe reports that if the Sixers do not receive the Mavs' top-18 protected pick this season, it converts to a pair of second-round picks in 2017 and 2018.)
Noel, a restricted free agent after the season, was going to be one of the Mavs' top three free-agent targets this summer. Now he's a Mav.
Noel, a 6-11, 220-pound third-year big man limited by injury issues, has Sixers career averages of 10.2 points, 7.6 rebounds, 1.6 steals and 1.6 blocks in 171 games. This year, in playing 19 minutes per game in Philly's crowded front court, he's averaging nine points and five rebounds per game.
Noel was the sixth overall pick in the 2013 Draft.
Dallas will say goodbye to Anderson, 23, who was the 21st overall pick in 2015 out of Virginia and despite promising moments this year couldn't break into the rotation.
The deal may not go final yet as Philly searches for a match for Bogut; a third team may end up involved. Also, in the final analysis, the trade should create a TE for Dallas. And one more note: Noel's summer cap hold is $11 million. That eats up a big chunk of cap room (which in theory could be opened back up by a trade-away of Dwight Powell.)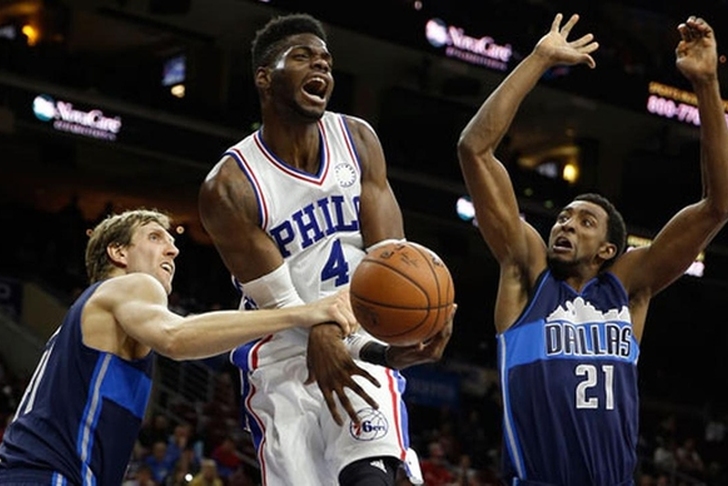 The Mavs — 22-34 as they exit the All-Star Break — can now start a lineup of Noel at center, Dirk Nowitzki and Harrison Barnes at the forwards, and Wesley Matthews and Deron Williams in the backcourt … though before the Noel trade was completed, Dallas was still involved in trade talks with Cleveland.