Donut 1: Mavs 104, Thunder 89
This one looked like it was going to be tight. The Dallas Mavericks and OKC Thunder went back and forth a few times in the first quarter, with the Mavericks taking a razor-thin one point lead into the second.
The game stayed relatively close (thanks to an nice run by Enes Kanter). But, the closest the Thunder would be, for the rest of the game, was 44-46 after Kanter hit a free throw with 3:55 left in the half.
By halftime, the Mavs were up by 10 points.
By the fourth quarter the Mavs were up 17.
OKC outscored the Mavs 18-16 in the fourth quarter, but it wasn't even enough to call it window-dressing.
Coach Rick Carlisle's summation?
 "We've been getting our ass kicked all year, and guys are taking it personally,'' he said after the 104-89 win. "We're playing with more collective force."
Donut 2: Milestone Watch
When Dirk missed game after game to start the season, a lot of people stopped talking about his chase for 30,000 points and started wondering if he'd even reach his 20-year milestone.

Over the last few weeks silence turned to whispers (still drowned out by trade rumors and deadline deals), but as the season climaxes, the whispers have turned into full-blown in-game updates.
It's no longer a matter of "if" Dirk will reach 30,000 points. Unless both of his legs fall off, the man will reach that milestone—and he'll reach it soon.
Dirk had 18 points vs. the Thunder. He's got 20 points to go. If you don't have ticket's to Tuesday night's game, you might want to figure out the internet and find a couple.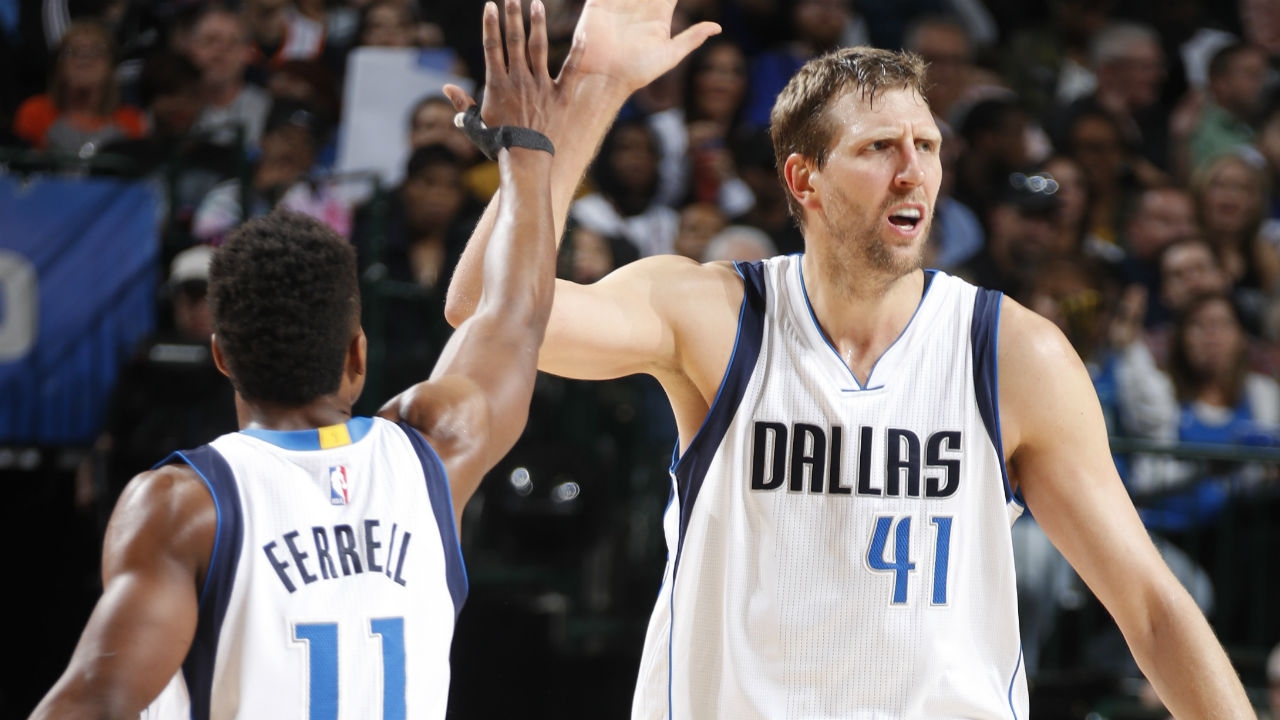 Nowitzki's numbers are below. Nowitzki's thoughts are now ...
"We're still chasing a playoff spot,'' he said, "and I think wins right now is more important (than 30K). So, whenever it happens, it happens."
Donut 3: Salah-Witzki—Two-Headed Center
I'm not sure how often we're going to see Salah and Dirk on the floor together. I get the sense that Dirk is going to spend a lot of the season splitting time between the 4 and the 5. 
When he's at the 4, I have to think he's going to see Nerlens Noel out there most of the time. That's sort of the point of trading for him.
But, there was something very beautiful about the way the two of them played together during a solid stretch of the second quarter. They buttoned down the paint on a couple of defensive stops, and Dirk has Mejri to thank for a handful of his rebounds (a couple of them coming directly off of Mejri blocks).
It can't work all the time, but it's nice to know that foul trouble won't always equal "trouble.''
Donut 4: The Case Against Cuban's Westbrook Comments
This tweet from ESPN's Tim MacMahon is, to my mind, another example of Mark Cuban being a little too cute for his own good.
https://twitter.com/espn_macmahon/status/838544941915631617
James Harden is having a hell of a season, and he definitely deserves to be in the MVP discussion, but he also has a better team around him than Westbrook has.
LeBron probably deserves to be the MVP every year (there's a reason his team has made the finals for the last 6 years running), but he too has a powerhouse team built around him.
Toss all that aside, and let's just look at individual numbers for a second.
Westbrook is 1st in Hollinger's PER rankings (Harden is 5th, LeBron is 9th).
Westbrook is 5th in ESPN's Real Plus-Minus (James is 3rd, Harden is 11th).
If you break that down into individual categories, you'll discover that only LeBron has a positive defensive RPM (1.18) which makes up for the fact that he lags behind Harden and Westbrook offensively.

Westbrook has a disappointing -0.02 defensive RPM (which still only places him at 17th for point guards, and 218 overall). By comparison, Harden's -1.42 defensive RPM has him at 71st at his position 385th overall (the bottom 15% of all active NBA players).
Does this mean I think that Harden is somehow unworthy of the MVP? Nope. Uh uh.
What it does mean: I would sell a good number of my relatives (not the close ones, I'm not a monster) to the Soylent Green company if the Mavs could get one of these players. Let's not pretend that the guy with the better numbers (Westbrook) is a silent partner in the MVP chase.
Donut 5: The Case for Cuban
…On the other hand, when you see the kind of nonsense Westbrook pulls when he (and his team) struggles, you start to see why maybe Mark Cuban isn't completely out of bounds here.
With 4:35 left in the 3rd quarter, Westbrook went full isolation, ignored his teammates, and took a terrible shot during a double-team.

Clearly frustrated by that mistake, he committed a Flagrant Foul against Barnes on the following defensive possession (Barnes hit both). On the same possession (since the Mavs retained the ball after the Flagrant), he fouled Barnes again, sending him back to the line.
In less than 30 ticks of the game-clock, Westbrook did huge damage to his team—and was lucky that he didn't get bounced from the game (he'd picked up a technical already).
Despite avoiding ejection, Westbrook was only 8 of 24, 2 for 10 from three-point range, and he didn't even have a double-double, let alone a triple double.
Lofty standards to measure someone against—but if he's not rocking a triple-double, he can't afford to miss 16 shots. He may have blocked a shot tonight, but he didn't block the one Mark Cuban put up. And you know Cuban loves the idea that maybe he got in Westbrook's head. It's the headspace that keeps Russ from being a true MVP candidate—and the Mavs exploited that.
Donut 6: Superstar Watch (The "Just Good" Guys and the "Just" Goodbyes)
Sadly, since the last time I did a Superstar Watch Donut, we've lost Justin Anderson. I'll miss his energy and his unintentional comedy. I may have given him a hard time, but I really liked his attitude and his skillset.
In his place, the Mavs got Noel—who may end up a star himself one day—but I think a lot of us would settle for a long-term starting center who doesn't embarrass anyone.
In the realm of the other "Just Good" players—I'd probably place Dorian Finney-Smith. When he takes a shot, I no longer groan at my screen. I respect his decision making—and he doesn't need to shoot well, he just needs to shoot "well enough" to keep defenders honest.
What Finney-Smith does off the ball is what makes him so valuable to this Mavs team now, and in the future. He's a hustle-machine. In limited minutes he always contributes to the stat line and to the energy level on the floor. I don't know if he'll ever be a star—but I'm glad he's a Maverick.
Donut 7: Superstar Watch II—Making a Case
Harrison Barnes is the Mavs leading scorer for the 2016-2017 season (and added 17 more points vs. OKC).
Seth Curry, on the other hand, is making a case for being the biggest surprise of the season.
If he hadn't had to share time with Williams early in the year, there's a chance he'd be neck-in-neck with Barnes for that scoring number. He's not just scoring (22 points vs the Thunder), he's scoring efficiently (10 of 16 and 2 of 5 from three). He's also the best three-point shooter in the NBA since the All-Star Break and he's 5th in the NBA for the season (112 out of 259 attempts for 42.3%).
"I have a lot of confidence right now,'' said Seth. "I'm trying to play with a lot of energy and have a lot of fun out there. I feel like it's contagious right now, everybody's getting a chance to show what they can do and have a fun time playing basketball. So we're just trying to keep this run going and most importantly win ballgames during this home stretch and have a chance to make the playoffs. 
Noel gets to be part of this conversation if he has a few more 15 point and 17 rebound outings.
For now—and for the first time in a long while—I'd say the Mavs have found some really promising pieces for their future. Except for this tweet from Fish ...
https://twitter.com/fishsports/status/838572399507488769
... Which I'm sure will soon have a full story to back up its cryptic nature.
Donut 8: Double-Double Dirk
Everyone, rightly, has their eye on that 30,000-point milestone, but this isn't some Kobe Bryant farewell tour for No. 41. The Big German did a lot more against OKC than score—which had a lot to do the Mavs win.

Dirk had his fifth double-double of the season (18 points and 12 rebounds). He added some timely defense, and three assists (which could've been more if we counted hockey assists).
"Offensively,'' he said, "we felt like we had a good groove.''
I'll admit it. It's fun watching aging legends put up 60 points on 50 shots. It's better watching them play real team basketball. Dirk is a team player—and he's still getting buckets.
Donut 9: Standings Snapshot
The Mavs' win moves them to 26-36 on the season. That puts them a half game behind Portland for ninth, and two games behind Denver for eighth. That deficit  is actually smaller than the deficit  between the Warriors (first) and the Spurs (second).
On January 1, the people over at Five-Thirty-Eight gave the Mavs a 5 percent chance to make the playoffs (ahead of only one team—the sad, sad Brooklyn Nets).
By the start of action on Sunday, the Mavs had improved their odds to 9 percent -- and that likely got a tiny boost after a double-digit win over the Thunder.
How much has changed? Listen to Rick talk about the competitive nature of this game:
"There's a lot of little things going on in a game like this,'' he said. "It's so competitive, both teams are playing for a lot. These guys are playing for playoff positioning, just like we are.''
Yeah. The Mavs. They're just like the Thunder.
Kinda.
More Mavs-OKC Quoteboard, by the way, is here.
Donut 10: Great Shooting, Better Defense
The Mavs shot 48.8 percent from the floor (their season average is 44.2 percent), and scored 104 points vs. a probable playoff team.
That's not bad. Especially since Dirk left a lot of points on the court (courtesy of tired legs, not bad execution), and the Mavs did a full substitution with a few minutes to go.
But, my favorite part of their game vs. the Thunder—that 89 points on the other side of the ledger. The Thunder average 106.1 points per game. The Mavs give up 99.7 points per game. 
Not this time. The Mavs bettered the Thunder, and they bettered themselves—and that's how you (as much as I hate to type this) sneak into the playoffs. (We're left with a bunch of Dirkie candidates. You vote here!)
Donut 11: No Man's Land
Russ had a tough night from behind the arc—there's no question about that. But, compared to his teammates, he was practically other worldly.
Russel was 2 for 10. The rest of his teammates were 0-12.
If you ever wonder why Russel Westbrook takes so many shots—that stat line may offer some insight.
Steven Adams and Enis Kanter did what a lot of big men do—they shot a high percentage when they had a chance to get inside shots. 
The rest of his teammates were 8 of 25 from the floor. Even on a terrible night, Westbrook's 8 of 24 was still better. Especially when you tally up his 11 points at the free throw line (his teammates, including Adams and Kanter, were a combined 10 of 17 from the line).
So yeah. Things were rough for Westbrook tonight—but it's not a great mystery why he feels the pressure to take everything on his shoulders.
Donut 12: "Winning Team"
The Mavericks started this season 4-17—but those weren't the Mavericks we watched beat Memphis and OKC.
These Mavericks (give or take) are 15-9 over their last 24 games.
They've got 22 wins and 19 losses since their terrible start. That's a 53.7-percent win pace. But, given that it's been exactly 41 games since that  4-17 start, it's not hard to do the math: The Mavs would be on a 44-win pace if they hadn't started off so poorly.
That pace would still only be good enough to get them into the eighth seed—so I'm not sure how much comfort/excitement we can take from that. But, as a basketball fan—divorced from my desire to see a lottery pick—I have to admit I'd love to see Seth play Steph. I'd love to see the Mavs get a shot at revenge against the franchise that once ruined their 67-win season. Oh, and I'd love to see Dirk in the playoffs.
Let's rationalize this together.