Dallas Mavericks starting point guard Yogi Ferrell would, but for a series of twists of fate, be living in Russia right now.
Instead, he's living the dream.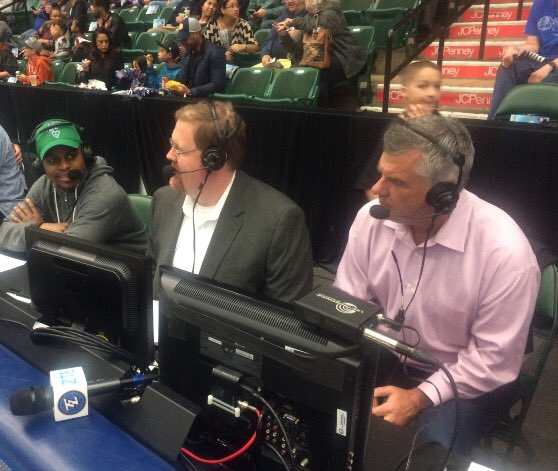 "It was pretty close to happening,'' Yogi tells me of going overseas. "As close at day before (Jan. 28), I got all call from my agent saying Russia wanted to buy me out (of his Nets D-League contract) to go there. But then the next day, I get the 10-day contract from Dallas. So you never know what's going to happen. You've got to be ready for every opportunity.''
Those opportunities have continued to roll in for the undrafted rookie from Indiana University. Mavs backcourt injuries were the first break, and when they included a hamstring problem for a previous 10-day guy, D-League standout Pierre Jackson from Baylor, Yogi got his first shot. Then Deron Williams battled more injuries that provided Ferrell a first-team opportunity.
By the time Dallas got to the trade deadline, Deron was gone (waived to go to Cleveland) and Yogi had himself a two-year contract (the largely-unknown details of which are here.)
"It's been a crazy past month, I'll tell you that,'' said Ferrell, who topped it all off by being named the Western Conference Rookie of the Month for February. "Just to look back at it ... crazy.''
Ferrell nearly had other shots. Dallas liked him in the 2017 NBA Draft, but like the rest of the league, not quite enough to draft him. The Nets found him to be a legit prospect and he got his cup of coffee there, but nothing more -- except respect from guys like Brooklyn point guard Jeremy Lin, who once took a similar path to NBA employment.
"He's much better than what the draft board indicated, and I knew that,'' said Lin, who played against Ferrell in Friday's Mavs win over Brooklyn. "I think our whole team kind of understood that just playing with him and against him in training camp. So we're definitely happy for him. He's just a competitor, so you have to match his energy and go out there and compete against him as well.''
Ferrell, who is averaging 13 points and five assists in Dallas, credits the teaching with the Nets, at both levels, for part of his growth. He's clearly a loyalty guy; as pictured above, he took a quick trip to Frisco recently when the Long Island Nets visited.
"It's good to see my old guys, the bonding with them, and they were happy to see me,'' he said that night. "I'm here to support them like they support me.''
Now he gets support from the Mavs, from top to bottom. Owner Mark Cuban jokes that Yogi was signed only because they're both Hoosiers. Yes, it's a joke. Cuban actually had virtually nothing to do with the Ferrell pickup. GM Donnie Nelson -- who along with assistant Michael Finley and Mavs analytics guy James Brocato actually made the decision here -- praises Yogi as "The Patron Saint of the D-League.''
He's more than that now, though. He's the guy who helps steer a Mavs ship that might just be playoff-bound. That means finding Dirk Nowitzki, helping fellow newcomer Nerlens Noel, and ignoring "tank talk.''
Yogi on Dirk: "I've been watching him as I've grown up. I saw the run they made (to the title) in 2011. Dirk's been in the NBA since I was, like, 3 years old. Sixth-leading scorer of all-time. A legend. It's something special to get out there and play with him.''
Yogi on the youthful exuberance he and Noel bring: "It's the edge, I like to go out there and compete. Nerlens is a big who is also a young guy who brings energy. We like to play that way.''
Yogi on tanking, which the 28-37 Mavs (in 10th in the West, 2.5 games back of 8th) have no intention of doing as they play at Toronto tonight (GameThread and DB.com Boards discussion here on the 6:30 tip): "I do get that (fans') logic. But for me, I hate to lose. I'm not going to try tanking, not into all that. I want to go out there and win games.