There is a rising superstar in the NBA right now. You probably haven't seen him play very much, mostly due to the fact that his team is terrible, and he plays "out West.'' But he is for real, and he is here to stay. His name is Devin Booker, and he single-handedly ended the Mavericks' four-game win streak with a brilliant fourth-quarter performance in the 100-98 Suns win. 
Booker had done this kind of thing before to the Mavs back in Mexico City, when he scored 29 fourth-quarter points on his way to 39 on the night. Though he came up short back in January against Dallas, the game must have given him confidence in what he could do against this Mavs defense. 
Booker was able to make it count here, going 12-of-20 from the floor and scoring 36 points, 25 of which came in the second half. But the key moment came on the final possession of the game, when he hit a turnaround jumper from 19 feet away to push the Suns ahead. He was unstoppable in the final five minutes of the game, even with Wes Matthews smothering him on the perimeter.
"That's on me,'' coach Rick Carlisle said of the Booker explosion. "Clearly we should have gone and double-teamed the guy the whole fourth quarter. That's my fault, I'm taking full responsibility for this whole thing, and next year when we play these guys again we'll have to consider double-teaming him earlier in the game."
But as well as Booker played, that is not where the Mavs lost this game. It was lost in the team shooting department. 
Outside of Dirk Nowitzki, who had 23 points and 11 boards on 10-of-14 shooting -- an effort Carlisle suggested was "sad'' to waste -- the Mavs struggled to find the offensive consistency that they had become accustomed to over the last month. 
Yes, Harrison Barnes scored 23 points as well, but he did it shooting 31-percent from the field, and with the help pf 14 free-throw attempts. Matthews likewise struggled with just seven points, while Seth Curry added just three as the two combined to shoot just 2-14 for the game. 
Apparently, Dallas had become too reliant on the Curry/Barnes two-man game to carry them offensively, so when the pair struggled, the Mavs were unable to make the necessary adjustments to hold off Booker's onslaught. 
The Mavs also had some disagreements with the officiating in the late-going. But we like Barnes' summation of all that:
"You should never have to blame the official because there's so many things we could have done before that to have that not even be an issue. That's on us and how we started. If we're going to try to make this playoff run, we can't have the same issues plaguing us game to game."
Losing a home game to a 22-44 team is bad enough, but when you are trying to make a late-season playoff push, you absolutely have to win these kinds of games. To make things worse, Denver, who the Mavs are chasing for that final spot, came away with another win on Saturday, making the hill just a little bit steeper for Dallas to climb. 
Now, with a tough four-game East Coast road trip on the horizon, the Mavs will have to find a way to do something that they haven't been able to do consistently all season long— win on the road. That trip will being in the Great White North against the Toronto Raptors (38-28), who currently sit fourth in the Eastern Conference. It will be the first meeting this season between the two teams, with the Raptors winning both games last season. It will be a matter of licking some Booker-caused wounds, too.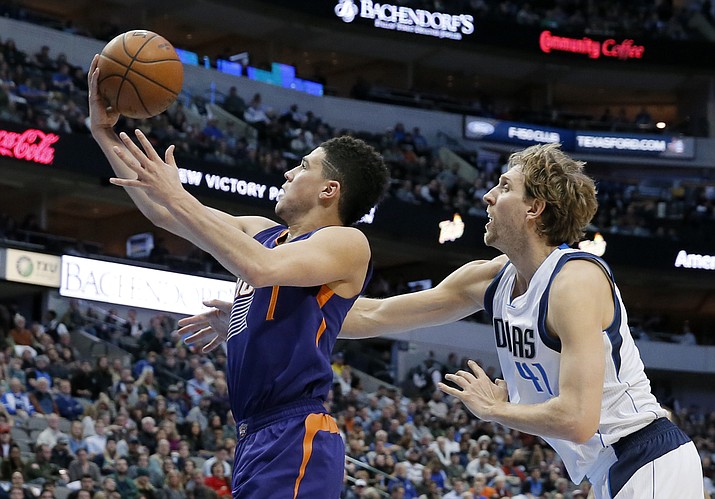 "A dominant performance throughout the whole game, especially down the stretch,'' is how unstable coach Earl Watson described Booker's work. "Wesley Matthews is one of the best on-ball defenders in our league. We recognize that and respect that. Devin just played at another level. What more can you say? He's 20 years old with two game-winners this year. He basically told us the play he wanted, which was from the top of the key to take the last shot. He was confident that it would go in. The kid is going to be pretty special."