After notching a big win against the Washington Wizards on Wednesday night, the Mavs seemed to have momentum heading into Philadelphia to take on a 24-43 Sixers team. Philadelphia was a team that had lost eight of its last 10 games, while only getting those wins in tight matchups against the lowly Lakers and Knicks. To put it lightly, Philly had a first-class ticket on the struggle bus, and there was no reason to believe that would change heading into Friday. 
Obviously, something changed, as the Mavs suffered a devastating blowout loss that could prove to have serious implications in their playoff hunt, by a score of 116-74.
\
"This was by far the worst of the year in terms of energy, effort, togetherness, and we all own it," Mavs coach Rick Carlisle said. "There's not a lot to say. We got outplayed in every way possible. Philadelphia played their brand of basketball, which is a really great brand of basketball. It's hard, it's unselfish and relentless, and we just didn't show up."
"Great brand of basketball''? MFFL, this a 42-point loss to a team that has been the laughing stock of the NBA over the last four seasons. 
The Mavs struggled in every sense of the word here, shooting just 34.5 percent from the field as a unit, as well as 5-of-23 from beyond the arc, and 53 percent from the line. They were also crushed on the interior, with the Sixers dominating the boards 55-34 as well as outscoring Dallas 56-34 in the paint. 
The Mavs only finished with three scorers in double-figures in the game, with the leaders being Dirk Nowtizki (10), J.J. Barea (11), and Dwight Powell (14). Harrison Barnes also finished with a season-low four points on 2-of-7 shootings, while Wes Matthews and Seth Curry both continued to struggle, finishing with three points and seven points, respectively. 
Things weren't much better on the defensive end for Dallas, either, as they allowed Philadelphia to shoot 52.5 percent from the floor, as well as 41 percent from downtown. Robert Covington finished with 18 points, while Richaun Holmes added 17.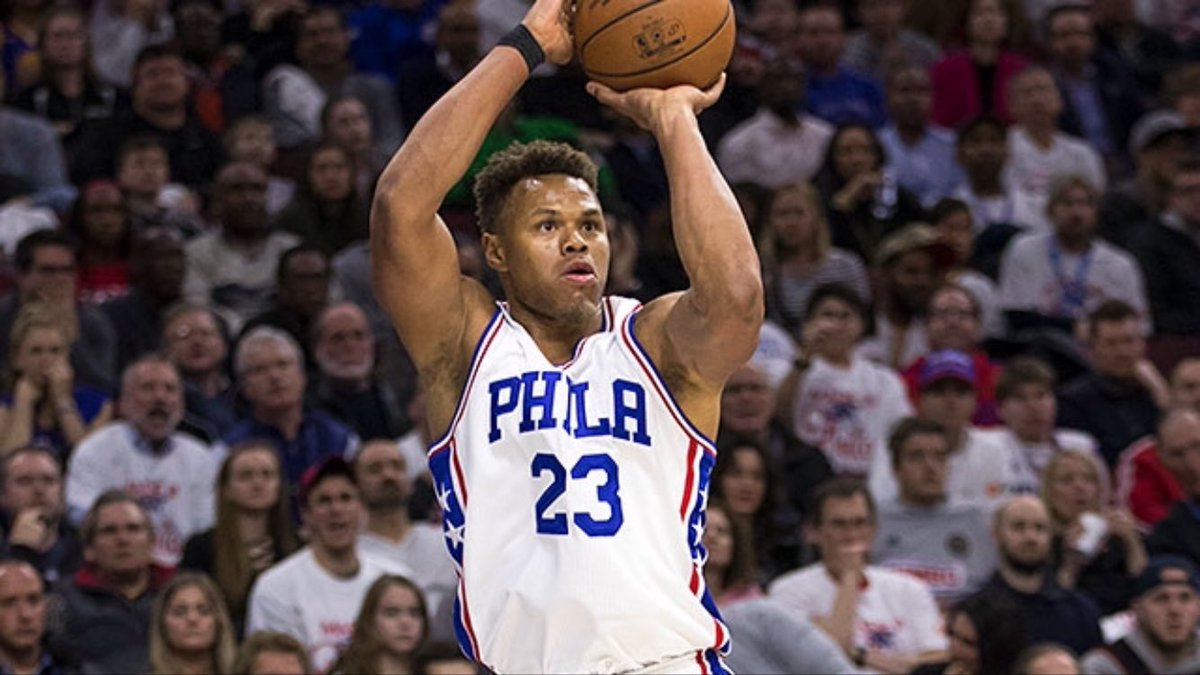 Former Mavericks swingman Justin Anderson actually finished the game as the Sixers leading scorer, coming away with 19 points on 7-of-11 shooting in 26 minutes. Simba sort of turned this into HIS "revenge game'' as Nerlens Noel, making his return to Philly following the deadline trade that sent Anderson to the Sixers, managed to finish with nine points, five rebounds and three assists off the bench.
"We just didn't have it on either end,'' Dirk said. "It's pretty embarrassing. We were just awful. Give them credit. … Then just hit us in every facet of the game."
Whether you think it right or wrong, Dallas set aside any high-lottery-pick aspirations after the All-Star Break and made a commitment to a late-season playoff push. For a while, it looked as though they were in serious contention for that spot. Only a week ago, they had just won their fourth straight game at home, and pulled within a game-and-a-half of the Denver Nuggets for the eight spot with more winnable games on the horizon.
Now, they are in an extremely precarious position, having lost three of their last four, and toughies with the Warriors, Clippers, Raptors, Thunder, Pelicans and Grizzlies remaining on the schedule this month. Subsequently, the chances at acquiring franchise-changing talents like Lonzo Ball, Markelle Fultz or Dennis Smith Jr., have all but gone up in smoke. … though certainly this is a deep draft and there is talent to be had. (And Dallas needs that talent.)
With only 14 games remaining of the schedule, 10 of which come against playoff contending teams, the 29-39 Mavericks' margin for error has closed. It is now up to the Mavs' bosses to figure out how to best approach the remaining games, as well as the upcoming offseason. Experience tells us that they will not reduce themselves to any sort of tank-like mentality, but however they decide to proceed, this game must stick as a painful reminder of just how much they need to change in order to return to the high level of play that they have become accustomed to over the last 16 years.