DONUT 1: TY'S TRADE
At first glance, the big Tyson Chandler story of the week is the news that he declined to accept a trade from the Phoenix Suns to a "contender'' because he opted to remain a part of the Suns building process.
It's a curious decision for a number of reasons, as we discuss here on DBcom Boards. ... where we think we have ideas on what probably really happened.
But in any event, there is more important and more instructive part of the story here.
DONUT 2: TY'S TALE
Last time I checked, Chandler hasn't played since Feb. 15. He's missed a bit of time for personal reasons and he's battled aches and pains. But mostly he sits and watches and advises as the Suns -- like the Dallas Mavericks a non-contender -- finish out the string of what appears to be a non-playoff season.
There are similarities between Dallas and Phoenix. But there is one major difference: The Suns, seemingly led by TY, have fully committed to their youth movement.
So he sits.
The TY tale, as written in the Arizona Republic:
Like any player, Chandler wants to play, but he understands the plan. Plus, he's experienced it from both ends. Fifteen years ago, he was the teenage rookie in Chicago. With the Bulls out of the postseason race, veteran Charles Oakley told management it made no sense for him to play the rest of the season. Get the young players out there.
"It's kind of eerie,'' Chandler said. "It reminds me of life's cycle. He was like, 'Look, these young players are the future of this team. Tyson needs to get these minutes. He needs starting experience and to understand how to close out games and understand what it takes to win.' So he sat out and let me play, and I always respected him for that."
Chandler admits: He didn't know how to play.
"I did some of the craziest things down the stretch,'' he said. "I didn't understand possessions and time and all that. A year later, I understood, but only because I got that time."
Hmmm.
DONUT 3: WHERE DALLAS SITS
The Mavs are at the Nets tonight (and here's the DBcom Boards GameThread) and they are 29-39 and ... the playoff outlook is not good. It feels like they've been at that "Organic Tanking'' crossroads all year long. But today? Anyone who thought we were jumping the gun to think such things in, say, January, cannot think it's premature anymore.
It is, at the very least, a consideration. Fourteen more games of pain. Just 14.
And then?
DONUT 4: BUILD ON THE FLY
Owner Mark Cuban puffs out his chest regarding his Mavs' ability to have, as he puts it, "build on the fly.''
"It's been incredible the way it's worked out," Cuban said. "We couldn't have scripted it any better. We basically have – we've built on the fly."
It's certainly valid to say that Dallas has "gotten younger on the fly,'' as gone are 32-year-olds Deron Williams and Andrew Bogut, replaced by Yogi Ferrell, 23, and Nerlens Noel, 22, to supplement the hopefully-budding stardom of Harrison Barnes.
DONUT 5: TAP THE BRAKES
But when Cuban uses the word "built/build,'' he knows that were talking about a couple of bricks, not an entire wall. Dallas -- which has admittedly done some things that the analytics guys will tell us make the Mavs "look like a 50-win team'' -- isn't even close to being a true contender. (At the same time, they are surely something above being "an underrated shit team.'' We suppose.)
And you don't have to look back very far into the 39 losses to find an Exhibit A. There the egg sits, freshly produced on Friday in Philly, a 116-74 loss that was remarkably lopsided in part due to the fact that it was Noel's homecoming.
Wouldn't that have been a great opportunity to play inspired basketball, to make a statement, to put a punctuation mark on having "won the trade'' while also trying to keep pace in the playoff race?
But instead ...
"It's pretty embarrassing,'' Dirk conceded. "We were awful.''
There is much work to be done.
DONUT 6: 'DRUDGERY'? WHAT 'DRUDGERY'?
One of the local papers suggested that Dallas' young talent base is so strong and deep that the Mavs will avoid "that annual drudgery during the off-season when the Mavs flip their roster and bring in a ton of players.''
Er ... false.
DONUT 7: THE ROSTER REALITIES
Here's a quote from Cuban that might lead people down a primrose path.
"Traditionally we've rolled over the roster a lot," Cuban said. "We always had seven or eight new guys. I don't see that happening this year. So I think continuity with our existing guys and getting lineups comfortable with each other ... that's the way we're going."
Sounds great. And no, the Mavs won't have "eight new guys.'' But by our count, they are likely to have five new guys. And that doesn't mean "drudgery'' for the front office, the scouting department and the coaching staff.
That means "opportunity.''
DONUT 8: KEEPING THE BAND TOGETHER
Can Dallas conduct a youth movement AND "build on the fly'' AND progress toward "true contention,'' all at the same time?
Absolutely. But don't misunderstand the "how.''
The possibility there doesn't lie with the present roster's youth. Barnes is a young foundation piece ... but he's the ONLY young foundation piece. You are hopeful that Seth Curry (26) is that, but DBcom continues to hint that signing Seth to a long-term and affordable deal will be a challenge. And when we calculate Dallas' roster age by noting that 10 of the guys on this 15-man roster are 27 or younger and do so by including Jarrod Uthoff (he's only 23!) and Dorian Finney-Smith (he's only 23!) and Nico Brussino (he's only 24!) and AJ Hammons (he's only 24!) ... hey, those guys are all rookies!
"Now that we're young,'' Cuban said, "there's a lot of benefits to keeping those young guys together."
Cool. But that's not the sort of "youth movement'' were talking about here. Jarrod Uthoff (who along with friend-of-DBcom Manny Harris is about to get a second 10-day) does not count as part of a "movement.'' And Cuban, thankfully, knows it.
DONUT 9: MAVS MANAGEMENT GETS IT
DBcom, led by David Lord, has illustrated a number of times that with Barnes (a foundational player) and Noel (seemingly a foundational player who Dallas intends to retain this summer as a right-to-match restricted free agent), the Mavs have made huge progress toward being young and good.
"When I'm healthy I do great things,'' said Noel, and that would be nice.
Cuban prefers to toss Seth (certainly a rotational player but maybe a foundational one)  in there, too, as part of the huge youth-movement progress.
"We're really planning on keeping them together," Cuban said. "Because we're young and we've got great really strong young talent with Seth and HB, etcetera, there's a lot of value to having them play together for a long time."
But as D-Lord has written, this summer can offer the opportunity to add two more such players, two more youngsters who offer the promise of budding stardom -- as employing transcendent star-level talent is the only realistic way of truly competing with the Steph Curry team and the LeBron James team and the Pop team.
The easy part of the equation is landing that budding star via a lotto pick in the draft. (Not that it's "easy'' to be right on a player, or "easy'' for him to become the next Steph/LeBron; rather, that it's easy for us to calculate. Read all about it here.)
A bit more complicated are the cap calculations that can provide Dallas with enough room to acquire via free agency a "young max.'' We can do some carving and get the Mavs to around $21 mil of room.
But more encouraging than our ability guesstimate at the direction here is Cuban addressing the issue and echoing D-Lord's Big Calculator:
"We've got a lot of young guys and they're going to get better as a unit, and physically they'll get better as well," Cuban said. "We'll get somebody in the draft and maybe a free agent.
Bingo.
DONUT 10: LANDMARKS AND MILESTONES
So give us those landmarks and those milestones. Hey, Justin Anderson isn't a Mav anymore but he still marveled from afar when Dirk Nowitzki went to 30K.
"When I watched it, for him to do it the way he did it was pretty awesome,'' Simba said. "I'm more excited for when he becomes fifth all-time in scoring so I can stop calling him (the nickname of) 'Sixth.'"
Is that sort of thing fun enough to satisfy the MFFL? Exciting enough to motivate the roster members? Notable enough to keep the Mavs on the front page?
"If our young guys can keep on playing hard and keep on improving and making progress, we'll keep on making progress," Cuban said. "It feels good." 
Is that enough?
DONUT 11: ONE STEP BACK
See, it would also feel good, in the end, to take one step back if it meant two steps forward. ... while enduring only 14 more games of pain.
We've often noted how difficult it would be for coach Rick Carlisle to look his guys in the eye and tell them we, the Mavs, are about to lose on purpose. Or "allow a loss.'' Or "be open to the possibility of a loss.'' Or however one wishes to frame it.
Seriously, tonight at Brooklyn ... Dallas is going to let itself lose to that motley bunch?
As we write this, the Suns are 22-47. They are "worse'' than 29-39 Dallas, kinda. But they are presently slated to own, with the help of the ping-pong balls, the No. 3 overall pick in the 2017 NBA Draft. Dallas is presently slated to own the No. 11 pick. (Play the Lottery Simulator here; we clicked it six times, with the Mavs coming up at No. 11 every time. And then we got sick of it.)
We've always had our concerns about introducing the "cancer'' of losing into a franchise's culture. But ask yourself this: Is that was Tyson Chandler is doing? Adding "cancer''? Or is he a powerful enough voice, a strong enough leader, to help guide the young Suns, step by careful step, through that minefield?
When Dirk called the loss at Philly "embarrassing,'' he truly meant it, in every sense of the word. It hurts his pride, his intellect, his heart, his soul. It would hurt again to lose tonight at Brooklyn, the NBA's poorest team (and maybe its most poorly-run team, too, as the Nets are 13-55 but won't have a lotto win to show for it as they've given this pick to Boston).
But Phoenix played the Nets back in November. And Phoenix lost.
And Phoenix plays the Nets again this Thursday. And Phoenix might lose again.
And Phoenix plays Dallas on April 9, in the closing moments of the season. And we bet you that Tyson Chandler will be there, teaching his young teammates the lessons that must be learned in order to get good ... while also helping them endure what the Suns quietly hope will be another loss.
April 9. Dallas at Phoenix. With little at stake except a) ping-pong balls and b) pride.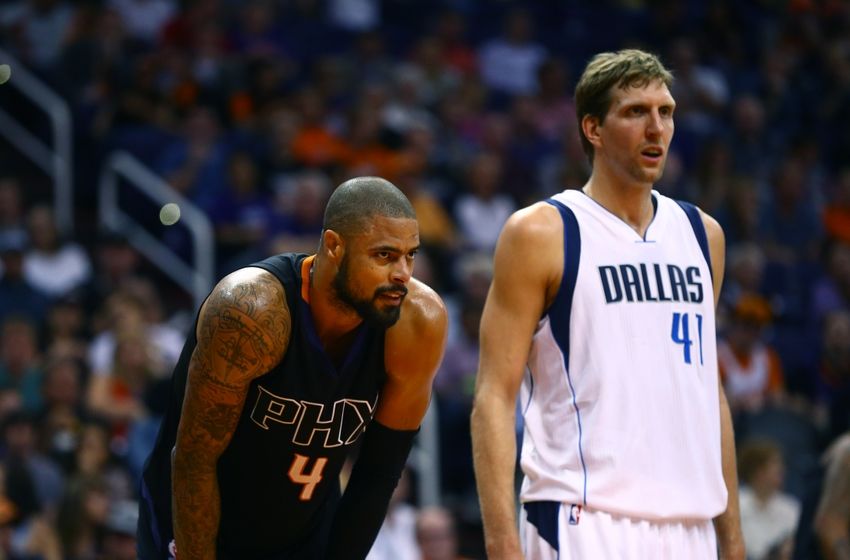 Which is the better prize?
DONUT 12: THE FINAL WORD
"For me, I sit down and evaluate where I'm at in my career, where I want to go, what I want to accomplish,'' Tyson Chandler said. "In my heart I felt like I was needed for the young players. In life, it becomes about the bigger picture and not just you as the individual. That's what I felt in my heart."
Hmmm.