DONUT 1: FROM THE OUTHOUSE ...
On Sunday, the Dallas Mavericks visited The NBA Outhouse. They beat the Brooklyn Nets. As Fish put it in this piece right here: Hurray, I guess.
But as I wrote on Monday afternoon, and as I believe it deserves repeating: In the last week the Mavs lost to a couple of teams that won't make the playoffs, and then managed a tiny victory over a third. If the 30-39 record isn't evidence enough, that week should be: This really isn't a "playoff team'' -- or, certainly isn't one in the way MFFL have come to envision them.
DONUT 2:  TIME TO TANK?
I've been asking this question for longer than most people. Somewhere around the Mavs 15th loss of the season, well before the second half of the schedule started.
So, I understand if my repetition of this refrain sounds familiar.
Still, can someone please point me toward a scenario in which the Mavs can catch the teams ahead of them, when they can't consistently beat teams like Phoenix or Philly?
I said it before: Yes, the Mavs might be able to climb in the standings, and they might be able to catch one or two of the teams ahead of them—but it would be impossible to catch everyone ahead of them in such a short time.
Time is shorter than ever. With matchups against Golden State (tonight, which we'll get to below), the Clippers, Toronto and OKC, they couldn't afford to falter (read as: get embarrassed) vs. the likes of Philly. They couldn't afford to get Bookered last Saturday. 
Now, they're looking for wins against tough opponents just to make up for losses vs. suspect competition. That's hard enough to find when the season is young and full of hope. It's much harder to find in March, with 13 games to go.
Then again—it's gonna be pretty hard to lose their way back into the bottom 4 or 5 teams as well—so if you've ever wanted a snapshot of the treadmill of mediocrity—the Mavs are putting together a performance piece instead.
DONUT 3: LOTTO STANDINGS
Not much has changed in the pit of the lotto chase since the last time I talked about it—but while the Mavs haven't managed to get any closer to the 8th seed, they have moved a little farther away from the top pick. Entering Monday's play ....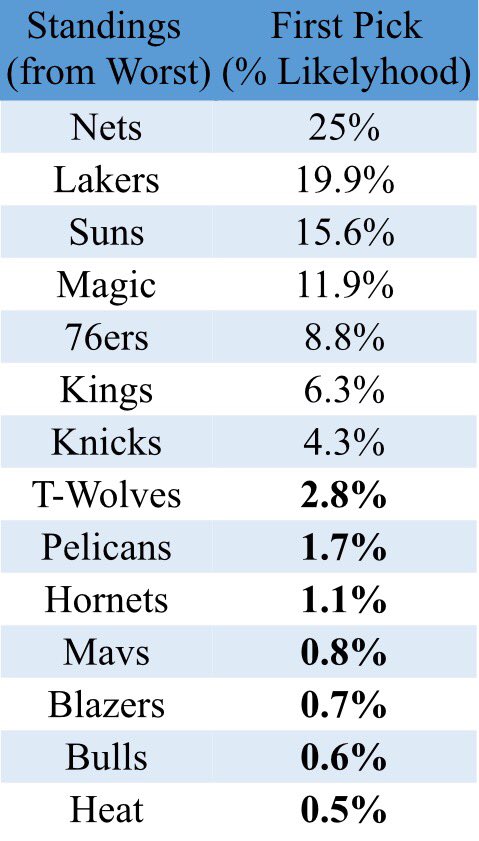 The Mavs have win just enough to go from a 1.1% chance at the 1st pick, down to a 0.8% chance at the first pick. Meanwhile, they've fallen a full 3 games behind Denver for the 8th seed in the West, 2 games behind Portland for the 9th seed, and both of those teams have improved their win pace.
Denver, for what that's worth, has even managed to improve their point differential to a net-positive of 0.4 points per game.
The Mavs have a lot of work to do in the last 13 games, and I'm not sure tight wins over the Nets are the moments that ought to be acting as milestones.
DONUT 4: NOEL NO-SHOW
I think Nerlens Noel is the real deal. I've seen enough athleticism and enough drive to believe that he's going to be a great player, and a terrific asset.
But, if the Mavs were hoping that he'd be the final piece to put them over the hump in the West this year—they got a pretty tough reminder vs. the Nets that he's not quite ready for that level yet.
Maybe he's still nursing scrapes here and there, or maybe he's just learning how to manage a heavier work load in a new situation. The reality is this: vs. the worst team in the NBA, Noel managed zero points, 4 rebounds and 4 fouls in 21 minutes of play. 
That doesn't mean it's time to give up on Noel—but it is another clue that it may be time to give up on the playoffs.
DONUT 5: DIRK'S MORE THAN MILESTONES
The buzz about Dirk in recent days? His chase for 30,000 points, and his personalized potato.
But, here's the encouraging thing for Mavs fans (and Dirk fans) going in to the 2017-2018 season: The guy can still play ball.
He wasn't out there increasing his usage and playing 40 minutes to squeak out points. The guy is turning in 23-point and 9-rebound outings on a fairly consistent basis, and he's doing it while playing under 30 minutes most nights.
He's not just good for his age—he's good enough to start at his position for most teams right now.
Yeah, I know a season line of 14.4 points and 6.6 rebounds isn't sexy when you're talking about one of the legends of the game—but that, along with his 17.67 PER—makes him an above average option from the 4 (Dirk is 11th in points per game, and 18th in rebounds per game among all power forwards).
We can talk about him being in the twilight of his career—but there are nearly 100 power forwards (out of the 108 who have played this season) who aren't performing at the same level as Dirk Nowitzki is right now.
So, as I was saying: the dude is far more than a uniform number chasing a milestone. He's still one of the top 10-or-so power forwards in the NBA.
DONUT 6: THE REAL DEAL LITE
There are moments when it's ok to admit that a guy might be the real deal, but not THE real deal—if you know what I mean.
Yogi Ferrell is a real basketball player. He deserves to be in the NBA, going "Beyond The Dream,'' as we note in Fish's 1-on-1 with him. No question.
But, sometimes, it's OK to find out that his best work might come off the bench as a sixth man—or as the leader of a team's second unit.
There are a lot of next-level point guards in the upcoming NBA Draft. Yogi could have a fantastic career backing one of those guys up for the next 4-8 years.
Then again—maybe Yogi can, in the next 13 games, convince the Mavericks that point guard isn't even an issue going into the draft.
.
Right now—I'm leaning toward the scenario where Yogi is a solid point guard who comes off the bench—but if the Mavs maintain their 0.8% chance at the 1st seed, there may not be a world in which the Mavs have access to a top-tier point guard in the draft anyway.
DONUT 7: TANKING DONUTS
If you want to check out another set of Tank-Themed donuts, Fish has you covered.
A key question raised: how much turnover can fans expect this off-season. Will it be as many as the 8-9 guys that we've seen this year? Will it be as few as 5 players? What kind of player(s) will the Mavs pick up in the draft? Are those guys going to be starters? Or will they fall so far down the draft board that they pick up another 5-year-plan sort of guy?
How many more Seth Curry/Harrison Barnes steals can they find in free agency? If the answer is two more—these guys might be ready to contend next year. If the answer is zero—they might look back in two years and realize they overplayed every hand they had, and went chasing a bunch of five-year-plans at a time when their legendary star only had two years left.
For the Mavs to have any chance to put together a solid final season for Dirk, they need to have low turnover, and high return on their investments in the draft and free agency.
I'm not cynical about that—but I am nervous.
DONUT 8: THE "ROOKIE" WALL
I know that Seth Curry and Nerlens Noel aren't rookies—but I don't think it's out of bounds to suggest they're experiencing a taste of that rookie wall.
The rookie wall is built when a player hits more minutes, more touches, more fought-through-screens than he's ever dealt with before. Yes, it often happens to rookies—but it can also happen to young guys who start to see more court time later in their careers as well.
Bench guys, especially young ones who rarely see the court, are taught to bring 100% of their energy to every second of their appearances, because they may not see action again for weeks (ask the Justin Anderson, or Salah Mejri).
When a player like that starts to earn "real" minutes—the way Seth has this year—he has to learn how to control his energy output.
Unless you're Russel Westbrook, you can't go at 100 percent of your battery power for a full season. You have to throttle down a little.
Right now, Seth, Noel, Yogi and even Barnes—they're all playing more minutes than they've ever been asked to play—it would be unfair to watch them run themselves into the ground without tipping our caps to them.
Yeah, some of their numbers are trailing off from their best moments this year—but we all drag a little when we work harder than we've ever worked. Cut these guys some slack, and get them some help in the off season.
DONUT 9: ABOUT THAT WIN
Back to The Outhouse:
The Mavs shot 53.9 percent from the floor. They were 40 percent from beyond the arc, and they made 19 out of 25 free throw attempts.
Their offense isn't going to look that good very often—certainly not this season.
Of no little concern heading into the final stretch of the season: The Mavs beat the Nets by  only 7 points.
If you're facing the worst team in the NBA, and you shoot 54 percent from the floor, you're supposed to win by more than 7 points.
A little credit to the home team for not rolling over in the second half—but there has been very little evidence in the last week that the Mavs can hang in a playoff series.
It took a limping John Wall to get them back into that mid-week win vs. Washington—and it's hard to count on 13 opponents in a row rolling all their ankles (Jeremy Lin's sprained ankle aside).
DONUT 10:  MILESTONES WORTH WATCHING
Career Rebounds:
Dirk is 175 rebounds away from 11,000 for his career. At his season pace, that's still 27 games away (so look for him to reach that milestone early next year—hopefully for a contending Mavericks squad). For Dirk to reach that milestone before the end of this season, he'd need to grab something close to 14 rebounds per game—which just doesn't seem likely.
Blocks in a Career:
Ok, so maybe we're being a little silly, but Dirk is 54th in NBA history with 1209 blocks. He averages about 0.9 blocks per game. So, it's not without possibility that he passes Harvey Catchings (53rd with 1226 blocks) if he spends a reasonable amount of time at the 5 over the last 13 games.
Don't pretend you wouldn't love to see the big man notch another 60 blocks over the next 15 months, and sneak into the top 50.
More likely: 
Free Throws made in a career:
Dirk has 7,078 free throws made in his NBA career (putting him at 7th all time). The real curiosity is how the man hasn't taken more. He's shot a career 87.9% from the stripe, good enough for 3rd all time behind Kevin Durant and Reggie Miller, but still gets mugged without calls on a nightly basis.
Dirk needs to make 6.3 free throws per game (82 total) to pass Jerry West.
3,500 Assists:
Dirk is only 21 assists away from hitting 3,500 assists. It's a nice round number—but it would still only be good for around 152nd all time.
Still, the man knows how to pass the basketball, and I could see him hitting this milestone before the end of the season. 
Donut 11: Same Old Story
One thing to keep in mind, when getting excited about the young talent on this roster: The Mavs beat Brooklyn because Dirk Nowitzki and J.J. Barea combined for 43 points on 17 of 29 shooting.
Barnes put in his 19 points, Matthews had a nice bounce back game of 15 points, and Devin Harris added 11 on 4 of 6 shooting in only 17 minutes.
Barnes is the closest thing you've got to a "young guy" in that list of contributors.
So, while there is a youth movement in Dallas, it's worth noting that Ferrell, Curry, Noel, Powell, and Finney-Smith combined for 23 points on 7 of 17 shooting (while Dirk did it on 9 of 17 shooting all by himself).
Without the old guys, these young guys wouldn't have much to brag about right now. The young guys couldn't contribute enough against a weak Phoenix team to capitalize on a vintage Dirk performance. Over the next 13 games, there won't be 13 straight vintage Dirk performances. Even if there are, they won't come against the worst teams in the league.
There is a lot to be proud of if you're a Dallas Maverick who started 4-17 this year.
There's a lot to be hopeful for if you're a fan who's stayed on the bandwagon for all the dips and climbs of this season.
But, every ounce of pragmatism still points toward a team that isn't sniffing the playoffs—and a team that can't make the playoffs in this weakened field—well they sure as hell need a little more help in the off season.
The 17th pick in the first round—well that's not what I'd call ideal.
DONUT 12: THE PENTHOUSE
Five of the Mavs' next seven opponents have a winning record. If Milwaukee has a decent week, that number moves to six out of seven.
If the Mavs come away from this stretch of games closer to the playoffs, then maybe they're for real. There's no greater test of whether or not they could hang in a playoff series than to face off against six playoff-bound teams.
But, if the Mavs can't hang with these guys—they need to start shutting down players like Dirk, J.J. Barea, Devin Harris and maybe even Noel. Now, that doesn't mean a game like tonight will be void of fun. The Warriors are at the AAC for an 7:30 tip, and the entire 75-Member Staff will be in the house, too. Catch up with me on Twitter at @TheMadSpin and with Fish at @FishSports ... and of course follow all the action with the gang here on DBcom Boards! 
They need to showcase a few guys who might be worth trading to move up in the draft. They need to watch that lotto number improve, and they need to keep Dirk away from the off-season operating table.