It would be difficult to imagine a more inopportune time for these Dallas Mavericks to have had to face the defending champions than right now. This team desperately wanted to make a move into the backend of the Western Conference playoff race but had started to hit the proverbial wall when it mattered most. ... and then comes a "wall'' that is not proverbial, not figurative, not metaphoric:
The Golden State Warriors really are that impenetrable, that unclimbable.
"They're very good,'' said Dirk Nowitzki after a 112-87 home loss on Tuesday at the AAC that all but seals the Mavs playoff fate, and sets in motion a lot of questions as the regular season winds to a close. "If you make one little mistake on defense, they're going to make you pay. ...  They probably make you pay more than any team I've ever seen in my career on little mistakes.''
And of course, Dallas didn't just make little mistakes here. The Mavs made big ones, too.
What went wrong?
"I haven't looked at the film to tell you exactly what went wrong but it probably involved turnovers, transition defense and not finding shooters,'' said Mavs coach Rick Carlisle, with words that can be translated as "pretty much everything.'' "With these guys, if you have any slippage, they really take advantage and make you look bad.  They are the best, probably that I've ever seen, of hit and runs, going 6-0, 8-0, 10-0 just like that with three point shots, great ball movement and defense.''
And there is your theme: "They Make You Pay.'' (Get more Mavs-Warriors QUOTEBOARD here.)
As is the case for the vast majority of NBA teams this season, the offensive talent of the Warriors is absolutely overwhelming. And when they are shooting north of 55 percent from the field and better than 40 percent from downtown, all while out-rebounding, out-assisting, and outscoring you in the paint ... forget about it. 
For the Warriors, it was a case of Klay Thompson going for 23, and Steph Curry hitting on 17 points in front of an AAC crowd that looked rather "bandwagon'y'' and included a bunch of Dallas Cowboys luminaries. (Fish reports that Tony Romo couldn't make the game not due to any conspiratorial reasons but rather as he is out of town.)
https://twitter.com/fishsports/status/844392069724549120
Really, for the top-rung Warriors, it was just another day at the office. ... but impressive still.
Klay got his points on 9-of-15 shooting. Steph added nine assists and five rebounds in 30 minutes while resting late. Ian Clark was the only other Warrior to finish the game with more than 10 points, scoring 18 points on 50-percent shooting. 
The rest of the Golden State team just sort of went to work, with eight of the nine other players who saw action scoring at least four points. As a whole, the Warriors bench combined for 49 points and 22 rebounds. 
They simply came in, did the work, and got out with an easy win to move to 57-14. (And did so without KD and Iggy.)
"Our bench was great,'' said Warriors coach Steve Kerr, who oversaw his team's win the night before in OKC. "A lot of guys came in and gave us important minutes. Everybody contributed. It just a really good back-to-back set of wins on the road at a time when we need them. We're heading into the playoffs, and we want to go in on a good note and keep winning games and get the best possible seed."
For the Mavs, it wasn't so easy, as they struggled yet again on both ends of the floor. As a team, Dallas shot just under 36 percent from the floor, and hit 32.4 percent of their three-point attempts.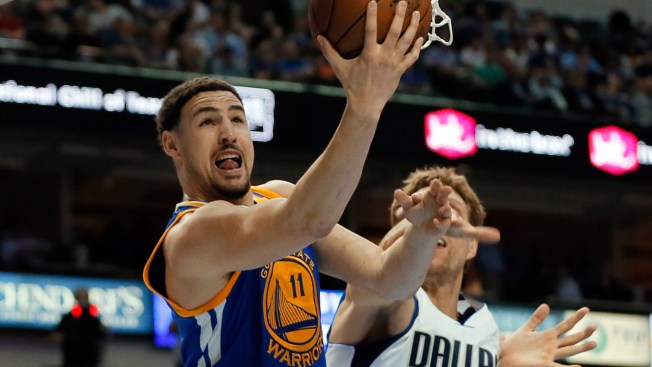 The Big German did what he could, scoring 16 points and adding nine boards, but also finished with a plus/minus of -20 in the game. It was also just the fourth time this season that Harrison Barnes failed to finish a game in double-digits, ending the game with just five points on 2-of-10 shooting against his former team. 
Nerlens Noel meanwhile, was easily the most impactful Mav to see action. In just 17 minutes, Noel had 14 points, seven boards and a block. He also ended the game with a plus/minus of just -2, showing just how positively his high-energy approach affected the Mavs as a unit. 
It seems inevitable that we will have to have a conversation about Noel becoming a permanent fixture in the starting lineup next season, and which of the current starting five will have to take a back seat to him, that is something that we say needs to become a front-burner issue ... now. 
For some fans, the loss may actually come as a relief. For others, it's the culmination of a season's worth of frustration. Either way, it does bring us to one seemingly inevitable conclusion—the Mavs (30-40) will get their lottery pick, albeit one that's a little bit lower than the one many of MFFLs wanted to see. 
But that lottery standing, which is broken down by our Steven Kilpatrick here, does has a chance to become a bit more substantial in the next couple of weeks, with nine of the Mavs' final 12 opponents currently sitting in playoff spots. That final gauntlet will continue on Thursday night, when the Los Angeles Clippers (43-29) come to the AAC for the third of four matchups the season between the two teams. 
"We are disappointed and I know we can play better,'' said Carlisle, with an unrelenting approach that was evidenced when he opted to Hack-a-Mc (Adoo) late in this blowout and may speak to his anti-tanking position in the final dozen games. "This is a tough stretch and we will have to circle the wagons and get ready for Thursday."
Reality is about to set in here, as it did for Seth Curry (10 points) early on in the matchup with his MVP-winning brother.
https://twitter.com/TamaraJolee/status/844327727381577728
"It was a lot of fun,'' Seth said wryly, "until the game started and they were beating up on us.''