The first thing the NBA has always needed to agree on is that the issue of resting stars during the 82-game regular season is, indeed, an issue.
Now that LeBron James is speaking, I think we're there.
"I don't understand why it's become a problem now, because I sit out a couple games?" says Cleveland's LeBron James. "Listen, Pop (San Antonio coach Gregg Popovich) been doing this for 10 years, 12 years, 15 years and everybody was like, 'You know what? That's the smartest thing Pop has ever done.' … But as soon as I'm involved it's just a whole different situation."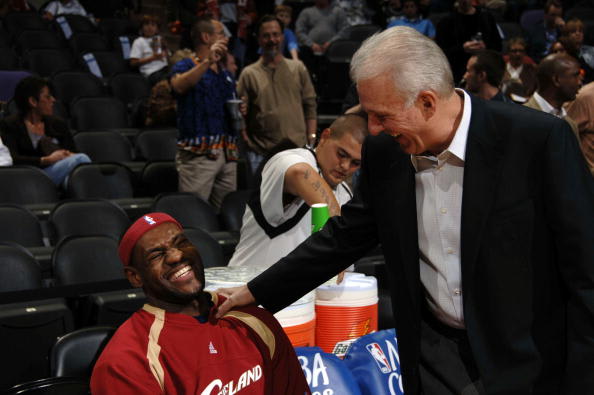 Welcome aboard, LeBron, though truthfully, this is bigger than you. Pop did indeed create the concept, but it's now a league-wide concern that involves every franchise, fans of every franchise, and the $24 billion the networks spend to televise the NBA.
It would be nice to separate the business from the basketball. But Dallas Mavericks coach Rick Carlisle, who happens to be the president of the NBA Coaches Association, speaks for his side when he talks of doing what is best for the team.
"It's not that simple," Carlisle says of bowing to business concerns. "But I understand the outcry. It's a completely legitimate concern, especially considering the investment that our television partners have made in the sport, and we all understand that."
There are no easy answers here. Warriors coach Steve Kerr says he would volunteer to cut his own salary if the NBA shortened the schedule.
"I wouldn't be opposed to it, even at the expense to my own salary, but it's something that everyone would have to agree to," Kerr said. "I think even just going down to 75 games, I think that would make a dramatic difference in schedule. Now I don't see that happening because there is money at stake for everybody. …''
Precisely.
At the same time, Pistons coach Stan Van Gundy isn't sure it's a real problem at all. From Van Gundy:
"I don't know if it's become too much. … It is a little bit amazing to me that we tout all the time how much better a job we do taking care of our players. So, years ago, it was commercial travel -- get up at 4:30 in the morning, get to the airport. Play a couple of back-to-back-to-backs during the year. There were no nutrition experts. There were no sleep experts. And those guys played 82 games, 40-plus minutes a night, every single night. Now we have all of these things that we take care of people better, and yet they can do less. So I don't know. We supposedly condition people better, they take better care of their bodies, we make their travel easier, but they can't do as much. I don't know. To me, something is missing. But that's just me. I'm probably not smart enough to figure out why that is."
But Carlisle counters:
When you coach in this league for a while, you get a real feel for players and their levels of energy, their levels of wear and tear, both physically and emotionally. There are just times when you know a night of rest strategically spaced within a span of games is going to make a big difference in the long run.
"People need to understand that, in the present structure of the schedule, there are just times when it really is the right thing to do.''
A great deal of look-at-me emotion clouds a concern that commissioner Adam Silver says will be a front-burner discussion topic in the next owners meeting on April 6. We've got media members essentially accusing LeBron of being lazy (and this is where his comparison of the Spurs' philosophy to the Cavs' approach holds water). We've got fans showboating their concerns regarding "What do I tell my son?'' when a star sits. We've even got ridiculous debates about whether owners should be involved in the process.
"The owners be what? The owners be in the decision of resting players?" James says. "There's owners that are not even around the teams. There's owners that are just owning the team because they just own the team. It's whatever. What does that make any sense of?"
I find some of the questions easy to answer.
*The NBA is not going to shorten the season from 82 games.
*The networks and their money drive the sport. If they believe that they purchased with their $24 billion the right to make certain the right to dictate that LeBron and Steph Curry play in a nationally-televised game … then they believe it. And given that ESPN is reporting on Silver threatening "significant penalties'' after a recent Saturday night sit-out, that toothpaste is out of the tube.
And yeah, when $24 billion is involved, the owners are going to be "involved.''
*Kerr says, "I do feel bad for the fans.''
As do I. Yet …
I think most fans are more reasonable than the networks. Your game ticket — expensive as it is — has never guaranteed you anything more than access to the stadium, the ballpark, the gym. A century ago, you showed up at Yankee Stadium hoping to see Babe Ruth, only to learn that he was scratched (due to hangover). At any time in the history of football, the "guy you paid to see'' might exit due to injury. Parents would be wise to explain to their kids, who on a given night got to see Steph warmup before sitting, that this is part of the sport, that the experience is "the thing,'' that there is a great value in the communal experience of a sporting event …
Oh, and that the guys who are resting are doing so because they are plotting a path to the championship … and sorry, kid, that matters more than your brief disappointment.
When Carlisle talks of "educating our media and our fans,'' that's what he is gently suggesting.
Says Pop, almost as if he's instructing that parent and that kid: "You want to see this guy in this one game? Or do you want to see him for three more years in his career? And do you want to see him in the playoffs because he didn't get hurt because maybe he got rest and he was playing so much?''
*There are absolutely ways to re-jigger the NBA schedule to make the travel more geographically-friendly and to lessen back-to-backs.
"We're already working on that by extending the season next year by seven to 10 days,'' Kerr said. "I think that's going to be very helpful, and I think the broadcast partners and the league can pay closer attention to the schedule when it comes out next year as they put that together. These are all things that we all have to work on."
A year ago, before LeBron's involvement made this a hot-button issue, Mavs owner Mark Cuban answered the question about his team having rested four starters in a win over the Pelicans thusly:
 "I've said many, many, many, many, many times, it's our job to create a great experience. But you can't control when guys are going to get hurt, when they'll play, whether they'll play well, whether they'll get in foul trouble. … We've got 14 other guys on the team, and so they've got to do their job, and you never know. That's when the breakout star happens."
That might be an especially rosy outlook. But it's accurate even if and when the NBA addresses this issue, because there will always be a player who for whatever reason misses a game -- Dirk Nowitzki, in his late 30's, picking his spots, for instance … in which case the fans and the media would be wise to embrace not just a singular star but rather, "a great experience.''