You knew it was coming. The talent, the performance and the contractual plans dictated it be so.
Coach Rick Carlisle was impressed with Nerlens Noel's production in the Dallas Mavericks' 112-87 loss to the Golden State Warriors on Tuesday, as in 17 minutes, the newly-acquired center produced 14 points and seven rebounds and shot 5-of-7 from the field.
"He did a lot of good things,'' Carlisle said in a low-key manner.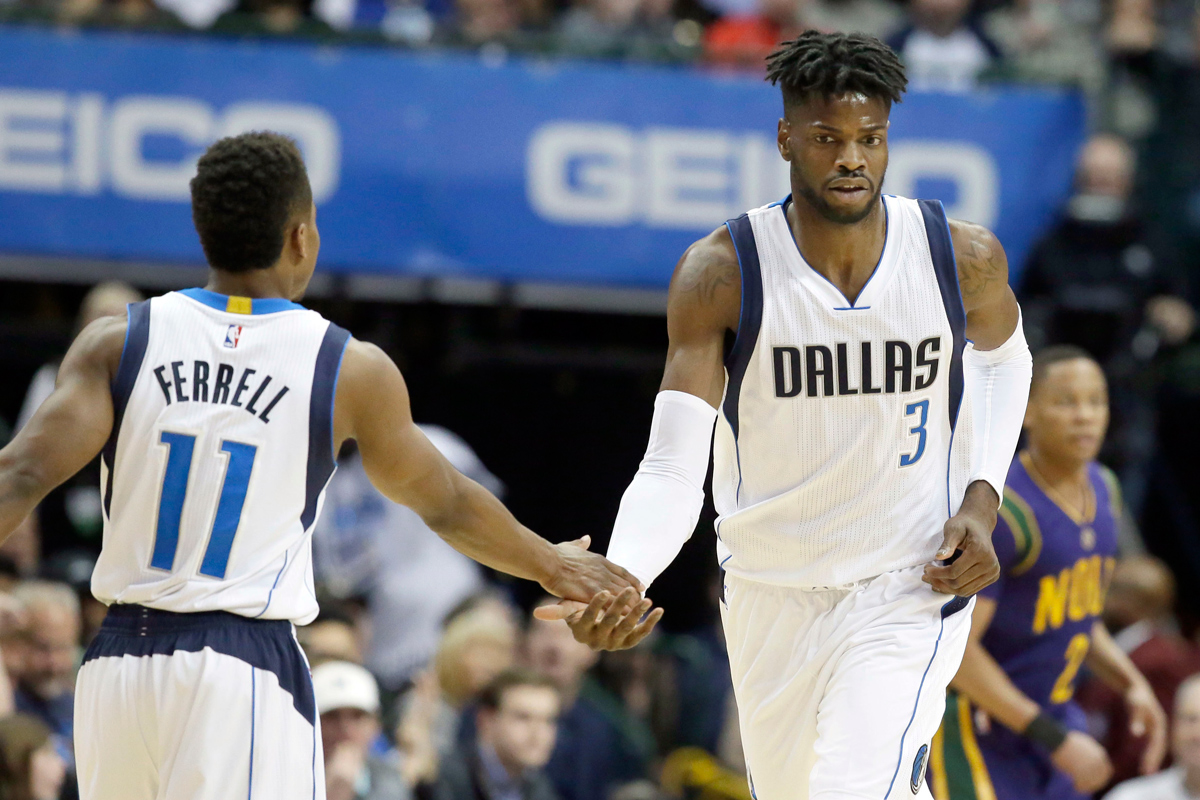 And then came Thursday's visit from the Clippers, and an "excuse'' to insert Noel into the spot he -- and the organization -- deserves he be in: Starting center.
The "excuse''? Carlisle noted that the Clippers' lineup, featuring DeAndre Jordan and Blake Griffin, invited Dallas to go big. But the truth is, the Mavs need no special justification here. They traded (Justin Anderson, Andrew Bogut and two second-round picks) for a starting center who can be a foundational piece for the franchise, who they knew was going to be a Sixers restricted free agent they would've targeted this summer, who now will get something in the neighborhood of young-max-level money to stay in Dallas.
There are reasons to spoon-feed Noel in some areas. But not letting him start?
That's simply wasting time.
https://twitter.com/bobbykaralla/status/845306712848523264
"It's a lineup that we need to look at,'' Carlisle said after the win over the Clippers (see the game story here). "The numbers on them were good; they were a pretty significant plus in the game, so that's a good sign. We got to look at (Seth) Curry at point with a really conventional team out there. ... This is the time to look at that stuff. We are trying to win games, which is pretty obvious, and to do it in a meaningful setting is something that's important."
Dallas is indeed "trying to win games,'' so those of us who believe Organic Tanking would be better for the franchise -- which enters the weekend at 31-40, three games out of the West's No. 8 hole with 11 games to play -- are losing the debate. Fine.  But Rick is undeniably correct in opting to use these final games as test tubes, too.
Seth at a point guard? I'm dubious, but Rick wants to know.
"We're going to give this a look,'' he said. "I don't know how many games it's going to be. It may be the rest of the year, it may not. It may be a couple – we'll see. There's a certain aptitude and understanding of the game that goes with being a point guard. He's demonstrated those abilities on a lot of occasions, but until we put the ball in his hands and really take a look at it, we're not going to know for sure. Now is the time to do it."
Harrison Barnes at the 3? It's the best way for him and Dirk Nowitzki to play together at their best positions.
"We got a look at Noel with Dirk and Barnes,'' Rick said. "We got to see how things would shake out with Barnes at 3.''
But Noel as the starting 5? That isn't worthy of an "experiment''; it's simply the way this thing must work.
"I definitely feel like I'm in a better position here," said Noel, comparing the center logjam in Philly to the needy situation here. "I'm trying to maximize it. It's definitely a good position to fulfill my potential. I'm going to continue to show Coach I can be in the game more and make a difference. I think that will take care of itself in due time."
Part of what needs to be "taken care of'' is a July 1 contract, which might require something north of a $20-million-a-year commitment over four seasons. Mavs boss Donnie Nelson won't talk specific numbers with me, but like owner Mark Cuban assures that retaining Noel at the going rate is the plan.
"We have a future with Nerlens,'' Donnie told me. "I mean it when I call him a 'Tyson Chandler Starter Kit.' It is the high compliment it is meant to be. He's a 7-footer in his early 20's who is going to get bigger and stronger and smarter. We're excited about this.''
Carlisle stresses one of those points specifically: the opportunity for the slender Noel to bulk up a bit.
"There's a lot of upside," Carlisle said. "When you think from the standpoint of his physical makeup, he can get stronger certainly.
"He is stronger than you would think looking at him. He has wiry strength, on weight-lifting tests and things like that, his legs are strong even though he's a slender guy. I think he can put on a little more weight as time goes on."
Noel, with two starts under his belt in his 11 games as a Mav, has averaged 9 points, 6 rebounds and a block in 23 minutes per. Against the Clippers he was good for 33 minutes (and eight points, 12 rebounds, three blocks and two steals).
Dallas is being careful to not ask too much of him when it comes to stressing out his sometimes balky knee, and is also being careful to not overload him with info.
"One danger with young players is giving them so many options out on the floor that it confuses both them and their teammates,'' Carlisle said, using the phrase "a small menu'' to describe what is essentially Noel's playbook. "We want to keep this simple for him and the guys playing with him, but overall I'm very pleased with the trade. I like him very much as a kid and he's done many good things."
Carlisle is very open and very specific about where Noel needs "some refining,'' some improvement. Decisive rolls to the basket. Not hesitating on his mid-range shooting. Consistency.
"I think the skill set is there, but it's got to be definable stuff where his teammates know where to get him the ball and he knows where his shots are and where they aren't," Carlisle said. "A full training camp certainly will help all of this.''
Ah, training camp. A summer complete with a new contract, an obvious commitment from both parties, and then an integration into a system, and a culture, long-keyed by Nowitzki with Barnes taking that baton (and, if you ask me, maybe he should be taking Noel to his next DFW civics-lesson dinner.)
Barnes, by the way, likes the idea of Nerlens as a starter because it pushes him to play the 3, where in this season he's grown greatly toward All-Star-level as a two-way weapon.
"Noel gives us that big presence that we need,'' Barnes said, "blocking shots, getting rebounds and finishing in the paint."
So the feeding of Nerlens Noel is a process -- unlike "The Process'' in Philly, but a process nevertheless.  "I know the foundation of the whole system,'' Noel said. And soon to be built on that foundation is a role as a starter that is going to happen then ... and therefore might as well happen now.