DONUT 1: Mavs 109, Bucks 105
The Dallas Mavericks on Sunday afternoon in Wisconsin won their 32nd game of the season with a really fast start, and a really fast finish.
There were some bits in the middle (including a 10-point deficit in the third quarter) when Team Draft Pick seemed to be in full control—but someone forgot to remind J.J. Barea, Yogi Ferrell, Dirk Nowitzki and Harrison Barnes that there's a better draft pick up for grabs.
Even without one of their top 3-point shooters (Seth Curry, shoulder) the Mavs found a way to come back from a double-digit deficit to beat a solid Milwaukee squad (much to my dismay).
DONUT 2: Officially Eliminated
Even before the early tip, the Mavs knew which direction they needed to go. 
Down.
Portland won again the night before, so the Mavs were officially eliminated from the playoff hunt, and they had no reason to play to win.
Somebody, I guess, forgot to pass that along. Oh, wait, no—it's just that coach Rick Carlisle passed along another message:
"I pulled three guys the other night for blown defensive assignments and Barea and I almost got in a fistfight over one of the things," Carlisle said. "I'm not going to take my foot off the gas. The guys that are playing are going to be responsible for playing the right way."
Well. Rick. Uhh—that's both inspiring…and disappointing to hear.
DONUT 3: Threes!
The Mavs team record for 3-pointers (806), no surprise, came last year. The NBA is a changing place, and an increase in 3-pointers is among the most obvious changes over the last few years.
Coming into the game vs. the Bucks, the Mavs were at 796 made threes for 2016-2017. Only 10 away from tying, and 11 away from breaking their very young team record.
Even without Seth Curry in the lineup, and to the great detriment of their draft position, the Mavs knocked down 14 of their 36 threes to overtake the team record with six games left to pad the stat.
810 and counting, by the way.
DONUT 4: Sitting Time
Seth sat out the game with a sore shoulder. I would normally call this an Organic Tanking situation, but every replay I've seen of the game against Memphis suggests that he really is in a lot of pain. 
Does that mean that a playoff-hopeful Mavs squad wouldn't have seen if he could go? At the point I don't know, and the answer is moot.
But, we can definitely see that the Mavs, while clearly willing to scrap and win, are ready to shut down players to be cautious (and organic) about the way they finish this season and move into the next.
The next precaution came when Dirk didn't return to the game to finish the second half.
There may be more and more "just in case" DNP-CDs, along with Rick's 34-minutes-limits, as the last six games tick down.
DONUT 5: Deer vs. Headlights
Don't be fooled by the 40-37 record the Bucks carried out of this game. This is a team that once sat at 26-33. Despite that start, these Bucks came into the game with an 82.4 win percentage over the last 17 games (14-3),  and looked almost nothing like that sub-.500 team that started the final quarter of the season. 
The Mavs, on the other hand, despite their own recovery, were headed in a decidedly different direction (having lost four in a row, and five of their last six games). 
It looked like the perfect recipe for Team Tank—until the Mavs shot over 60 percent in the first quarter, and 52.1 percent for the contest.
Eight of the 11 Mavs players shot 50 percent or better from the floor. As a team, they shot nearly 39 percent from 3-point range. It was a close game, because both teams shot well—but it is a little suggestion than the Mavs can win any game, vs any team, if the great looks they get start falling through the hoop.
Let's save the rest of that lesson for training camp, please?
DONUT 6: Dirk Turnaround
Dirk was 3-of-17 vs. Memphis on Friday night. He had a double-double, but a supremely inefficient one.
Totally different story vs. the Bucks here. Dirk was 7-of-11 for 17 points (with five boards, a block and an assist). 
He missed a lot of the fourth quarter with a sore Achilles (didn't help Organic Tanking, but it did make sense), but he was on pace for an efficient 20-plus-point night before tweaking his injury.
I know Dirk had a double-double vs. the Grizzlies, and he didn't vs. the Bucks—but his game against the Bucks was unquestionably better basketball.
DONUT 7: Dirk Milestone Update
Dirk played in his 1,390th career game vs the Bucks on Sunday. He was previously tied with Reggie Miller for ninth place all-time in NBA history (which he now holds all by himself). 
Weirdly enough, No. 8 on that list with 1,391 games: former Mavs champ and Bucks coach Jason Kidd.
Not sure when Dirk will move into eighth, though, since the Mavs will probably play his Achilles injury with a "better safe than sorry" attitude.
From Dirk:
"I don't know what happened. Just in the first half I started feeling my Achilles again. And into the third wasn't bad, but honestly at this point it makes no sense to make it worse."
"At this point," to me, being the point of no return in the playoff chase.
DONUT 8: Harrison, How Could You?
Last time Harrison Barnes faced the Bucks (back on November 6), he had a career day.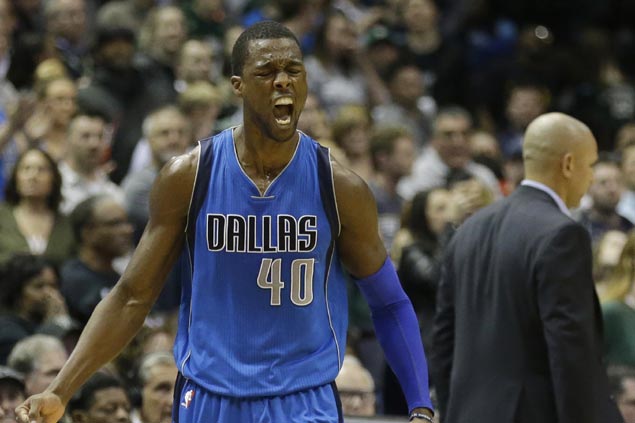 He was 13-of-26 for 34 points, he had eight rebounds, two assists and two steals—and the Mavs won 86-75 in overtime.
Barnes, as it turns out, just loves scoring points against Milwaukee. Sixty games later, and it was more of the same.
Here, Barnes didn't have the rebounds he had last time, but as a shooter, his day was even more efficient.
He scored 31 points on only 13 shots, and he aggressively dragged himself to the line over and over again during the winning stretch in the fourth (where he made 10-of-10 attempts).
Why would Barnes play so well, despite the draft pick dangling in the wind?
"At this point," said Barnes, "we're playing for the competition and playing with pride. We're trying to build for next season."
I respect that. Our argument that the better draft pick will also help them build for next season is dying. So ... I respect what HB is saying.
HB, by the way, is probably the leading candidate for The Dirkie here ... but it's a democracy. So YOU vote!
DONUT 9: Cavs Picked the Wrong Playmaker
Deron Williams didn't command a lot of trade offers this year, and the reasons fall between three possibilities: 1) He worked with Dallas to veto the undesireable. 2) A lot of teams knew that he'd be released, so they weren't willing to give up any pieces for him. And 3) A lot of teams knew that Williams just wasn't playing great basketball.
If the Cavs were really looking for a playmaker, they probably should've asked around about J.J. Barea.
The man has a championship ring, he's tough, he knows how to create shots for himself and for his teammates. He's a master of the pick-and-roll, and he's a sneaky and obnoxious defender.
Vs. the Bucks J.J. connected on seven of his 11 shots (and three of four 3's). He also picked up two rebounds and six assists. Those numbers sound good—but they get even better when you cram them all into 23 minutes of action.
His ability to connect with Nerlens Noel on athletic oops—it's a thing of beauty—and a reminder that every team asking about playmakers, who didn't ask about J.J.—they're just not watching the game of basketball intently enough.
DONUT 10: Cubes is (Sometimes) Part of the Problem

I'm a big fan of the Mavs owner, and I love watching him stick it to Donald Trump on a daily basis. Still, he's also the same owner who had to hear a legend tell him he was sometimes a distraction—so let's acknowledge that his style doesn't always make the Mavs better; sometimes it drags them backward. A short list (that doesn't include dismantling a championship team in order to chase ghosts).

*Mark Cuban let Tyson Chandler go (twice) and one of those times TY went on to win Defensive Player of the Year.

*Mark Cuban let Steve Nash go, and he went on to win multiple MVP awards.

*There's a chance that Russell Westbrook is going to win the NBA MVP award this year, despite Mark Cuban's stance that he's not even a superstar.
*Donnie Nelson wanted to draft the Greek Freak a few years ago, and Mark vetoed the trade to save salary cap space for Dwight Howard.
That last misstep is the one that is on constant display in this year's NBA. Donnie Nelson, aka "the guy who found Dirk," wanted to draft Giannis Antetokounmpo, but was told "nope" by ownership.
Giannis is now averaging 23.1 points, 5.3 assists and 8.6 rebounds per game.
Versus the Mavs on Sunday, he added 31 points, nine assists, 15 boards, two blocks and four steals.
I imagine he's not on his way to being a superstar either? 
Mark is a fantastic owner—but he doesn't always do fantastic things—which is easier to be OK with when he doesn't override his player personnel people in the act of selecting a super-star "Freak" athlete.
Cuban, to his credit, is a work-in-progress (aren't we all?) and I sense that this year, as much as ever, lessons are being learned. Among those: Cuban has bigger ears when it comes to the advice of lieutenants Donnie, Carlisle and Michael Finley.
Progress!
DONUT 11: Up Next, the Kings
This is not a drill, olks. A couple of nights ago, the Kings had 29 wins and they beat the Timberwolves. The Timberwolves and Kings then both had 30 wins, while your Mavs sat at 31.
Suddenly, the Mavs were only one game ahead of the 7th and 8th picks in the draft.
I'm not a monster. I love watching the Mavs win. I love watching the kind of offensive efficiency I saw vs. Milwaukee. But, I'm also not an idiot without any numbers in front of me.
Had the Mavs lost, they would've been at 31 wins, going into a game vs. the Kings. That would mean that a thrown game to the Kings would've moved the Mavs into that 8th or 7th spot (depending on how Minnesota plays against Portland tonight).
It's not like I'm suggesting the Mavs could've stunk their way to Orlando's draft pick—but they were within easy striking distance of the 7th pick—and the improved math that comes with it.
This is a deep draft that gets a little deeper if Bell's stock moves up as much as I expect it to. This year's top 7 might be as good as I've seen it (on paper) in a long time.
I don't know if this team is bad enough to lose to the Kings on Tuesday if they show up to play. But, if they want to improve their draft stock over the last six games, they're going to have to stop proving to everyone that they're the best non-playoff team of 2017.
DONUT 12: The Final Word on Team Tank
This one comes directly from Rick Carlisle: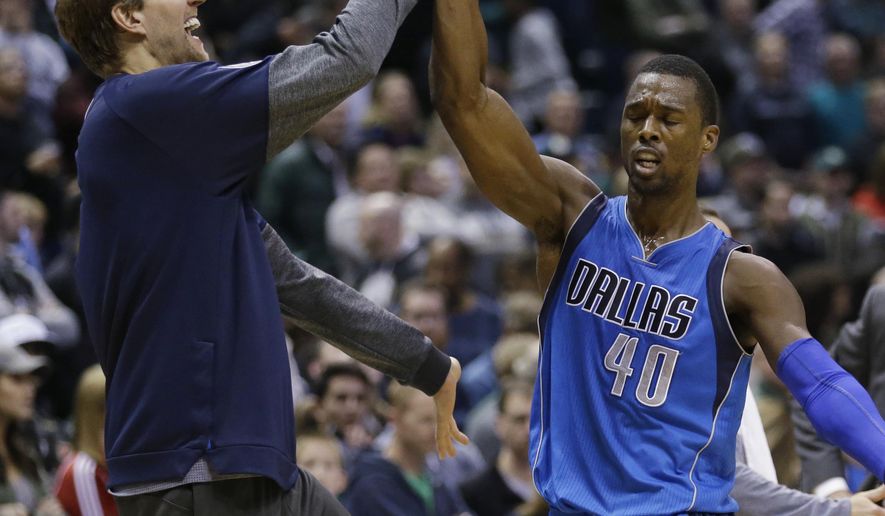 "We've got a high-character group. I mean, just look at our entire season. With our start at 2-13, it was really difficult, and guys have continued to play hard and play together the entire time. Just because we're officially out of the playoffs ... we were pretty much out of it a while ago. We're going to keep playing. That's the kind of guys we have."