In early November, when Dallas Cowboys head coach Jason Garrett spearheaded the decision to allow rookie Dak Prescott to keep the job that a recovered-from-injury Tony Romo believed was his, the move was privately taken as a betrayal by the 36-year-old quarterback who'd held the position for a decade.
In mid-November, when Romo made his now-famous concession speech to Prescott, clearing the way for his heir to take over at QB, a decision that would eventually lead to Romo's departure from the Cowboys and retirement from the NFL, the presentation was delivered without the full endorsement of Garrett.
In mid-January, when the Cowboys were to assemble under Garrett for a final team meeting, an evaluate session and a goodbye, the get-together did not feature Romo, whose fractured relationship with long-time friend Garrett was by that time so fractured that he didn't stay at The Star in Frisco for the full meeting.
Tonight, at the AAC, in the midst of a Dallas Mavericks game that is otherwise meaningless in NBA terms now all about sentiment, silliness and salesmanship, exists an opportunity to melt the iciness that now pervades the Garrett-Romo relationship.
"I talked to Jason Garrett about it three nights ago at a dinner he and I were at and he couldn't have been more pleased, and he's going to be at the game,'' Mavs coach Rick Carlisle told 103.3 ESPN Radio in regard to tonight's "Romo As Mavs For A Day'' celebration. "I understand there's going to be a lot of Cowboys players at the game, too."
Over the years, Garrett and Romo have not only worked side by side for the Cowboys, but have also socialized together in the offseason. Among their hangouts? Mavs games.
That didn't happen this season, the fraying of the friendship starting to occur when Garrett chose Prescott to continue as the QB even though their had been a "promise'' of sorts that Romo would be given the job back once he recovered from the  L1 compression fracture in his back sustained in late August.
"Promises'' are fleeting, of course, when the new guy surprisingly leads the team to an 8-1 record by the time the old guy is healthy, and when the march would continue to a 13-3 record and a playoff berth.
That didn't make accepting reality any easier for Romo, who sources say even asked that there be a "competition'' for the job. The request to start was denied by Garrett. The request to compete was denied by Garrett. The announcement from Romo that he was in a "dark place'' was issued without the endorsement of Garrett.
Where once Romo was in charge of echoing the coach's familiar platitudes and chestnuts ("It's a process''), now Romo was swallowing his ego and serving as the scout team QB during the rest of the football season … and then avoiding Garrett during this entire offseason.
Garrett acknowledged at the NFL Scouting Combine in early March that the two hadn't really spoken since the end of the season; this is stunning considering that in past years the two men have taken "road trips'' together to social and sporting events. Romo joined the "Ben & Skin Show'' last week on 105.3 The Fan to discuss his move from the NFL to CBS and spoke glowingly about the unmatched support he'd received from Cowboys owner Jerry Jones … while avoiding any discussion about Garrett's support — or lack thereof.
Tonight's Nuggets-at-Mavs game will be unremarkable in many ways. Oh, it's "Fan Appreciation Night'' and that was always going to draw an audience, even for a 32-48 Dallas team that has finally embraced the draft lottery-related benefits of tanking. But it will be remarkable because the game will serve as a tribute to Romo from a group of Mavs folks with whom he's grown close.
"He's not going to be signing a contract — that's not really feasible for some different reasons," said Carlisle, and in fact, Romo's "membership'' on this roster is so unofficial that DallasBasketball.com reported on Monday that he'll be issued jersey No. 9 — even as Mavs rookie Nico Brussino is already wearing his own No. 9. "But he is going to be with us for a day, he's going to participate in (Tuesday morning's) shootaround, I'm going to put him on the scout team — the Denver scout team — to do our walk-through stuff. … He's going to be assigned a shooting time before the game with all our other guys, he's going to suit up and be in the warmups, and he will be introduced and we will have a tribute to him."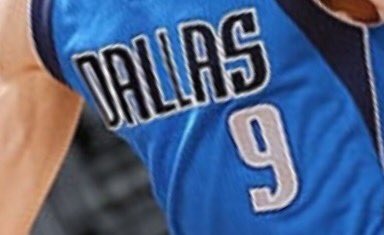 To be clear — and somehow, a number of news outlets, in their overwrought "hot takes'' about what a "clown show'' this threatens to be, are failing to make this clear — Romo will not actually play, and never was actually going to play. 
That's the case even though as Carlisle said, "He's a guy that's been a great athlete in so many different sports. He's a scratch golfer, he was a first-team All-State (Wisconsin) guy in basketball in high school ... and I'm sure he was … probably great in everything he did."
Mavs higher-ups, including Mark Cuban and Dirk Nowitzki, may have birthed this idea a few weeks ago, when at a private party to celebrate Dirk's 30,000-points milestone, Romo issued a moving speech about how special it is to be an athlete like Nowitzki, in Dallas, playing for one team only.
"The way his career has been here, he's been so good and so great and played hurt and he's just been such a rock-solid example of what a Dallas athlete should be," said Carlisle, and the Mavericks are working so diligently to cover all their bases here that they've even though to make sure Romo is included in a season-ending team photo.
Amid the silliness and the salesmanship, that would be a nice sentimental moment for the Mavericks to embrace, yes.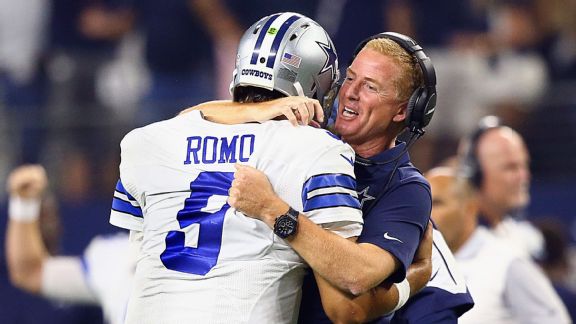 A nice sentimental thing for Garrett and Romo to embrace tonight?
Each other.