Consider the last 12 months of NBA life for Seth Curry.
In the final weeks of the season last year with Sacramento, the Kings played "experimental tank'' and allowed Curry to start and play. He responded  in the last 11 games with15.2 points per game, 46.8-percent shooting from the floor, and 48.4-percent shooting from 3-point range.
Then came the opening of free agency, on July 1, 2016. The Kings shifted gears, signing Garrett Temple and as we reported that weekend, ended up deciding ...
https://twitter.com/fishsports/status/749731210012663808
... that Curry was therefore expendable.
Once available, the Dallas Mavericks scouting department acted quickly, convincing ownership that the sharp-shooting Seth, brother of superstar Steph Curry, was made of some of the same stuff and worthy of a "flier,'' a two-year $5.9 mil contract.
The Mavs entered camp envisioning a nice little role for him on a Dallas team focused on getting younger, yes, but also counting on a veteran backcourt of Deron Williams and Wesley Matthews, backed up by Devin Harris and JJ Barea -- none of whom are "young'' by NBA standards.
A Mavs source told DB.com at camp that Curry had a great chance to be a latter-day version of Charlie Villanueva, who'd been on Dallas' roster previously and who was a specialist, a three-point shooter used only on occasion.
Then Deron, Devin and JJB, along with Dirk Nowitzki, dealt with injuries as the year began.
And Seth Curry's role changed again. And he responded again.
Curry finished his first season with Dallas averaging 12.8 points per game and 2.7 assists. He was a part-time starter as a combo guard. He did things as a shooter that truly did echo the work of Steph. He is considered to be somewhere between a "rotation player'' (for certain) and a "foundation player'' (which would be nice.)
"It's a top-notch, first-class organization," Curry said of the Mavs on Thursday's Exit Interview Day. "Obviously I got another year on my deal but I feel very comfortable here and hopefully I'll be here for a long time."
Ah, that "another year.'' As our David Lord explains here, Seth's talent and Seth's contract make him a tough re-sign in the summer of 2018 -- so much so that, given Dallas' cap constraints, D-Lord wonders if trading Curry before next summer is the best way to use him as an asset. In the meantime, Curry wants to get better (at age 26, there is still room for growth) and he wants to get healthy.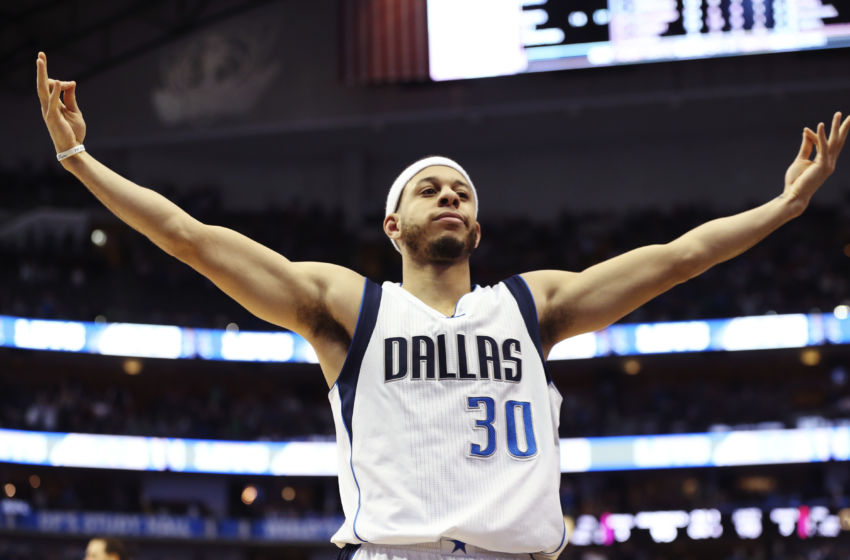 "I'm taking it day by day,'' Curry said in regard to the sore left shoulder that caused him to miss Dallas' last seven games of the season. "I'm going to go hard throughout the summer and the next month to see how it feels when it's getting banged on and things like that. But I'm not too worried about it. ... I feel good.''
And considering where Seth Curry's come from, the Mavs feel good, too.