DONUT 1: HOW DIRK'S LOYALTY WORKS
Somebody in the media fired a fastball at Dirk Nowitzki -- high and tight -- at Thursday's Exit Interviews, asking him, basically, why he remains loyal to a Dallas Mavericks team that is not presently a contender.
Dirk's answer to the fastball? He hit it out of the park.
"If you are going (to be) with a team like I have for so long, if that's what it takes, that is what it takes,'' he said. I made that decision last summer when I decided to sign on. I knew it was a possibility. At the end of the day, I can't imagine myself in a different uniform. That is why I made that decision. 
"Whatever comes; if we are rebuilding, then I am the face of that. If we are championship(-level), then I'm here for that. I just identified myself with the organization so long, with the fan base, with the city, that no matter what the team or the franchise is going through, I'm right there to push it through.''
DONUT 2: BARNES ON THE STATE OF THE FRANCHISE
This is a bottom-line business, so being 33-49 truly does define these Mavs. Yet Harrison Barnes' review of his new team echoes the views of the aforementioned Dirk, who has been here for three decades.
"We have a great organization,'' HB said. "We definitely had a lot of guys in and out, but I think that group we had at the end of the year really fought like heck. I'm proud of our young guys for stepping in. They were being put in a tough situation with a lot of minutes, and I thought we had them do a lot of responsibilities. I think we have something to build off for next season."
Observers can be skeptical about all of this, and again, "33-49'' resonates firmly and harshly more than pleasant words from Dirk Nowitzki and Harrison Barnes. But their words are their truth ... and if they believe that the Mavs are an organization worth sticking with though thick and thin, and a "great'' organization in ways that extend beyond W/L records ... that itself represents a foundational building block.
DONUT 3: DIRK FOR A 21st?
Somehow, the national story that emerged from Mavs Exit Interviews Day was that Dirk Nowitzki is playing in 2017-18.
Errr, no.
The story is that Dirk's considering tacking another year onto the upcoming one, as we explain here.
DONUT 4: DIRK AND DOLLARS
Furthermore — and stop me if you've heard me before on this subject, or if you've heard people from Bristol for the last 10 months telling me I'm wrong — but we continue to believe that this season will not reward Dirk with "the second year portion of his $50-mil deal.''  David Lord's breakdown of Mavs contracts and potential moves covers Dirk's Dollars and more here.
DONUT 5: IS NOEL WORTH THE MAX?
One way for Dallas to squeeze more bang out of its buck this offseason is to pull off the unexpected … and to persuade Nerlens Noel to go through the free-agency process by returning to Dallas for something less than the max.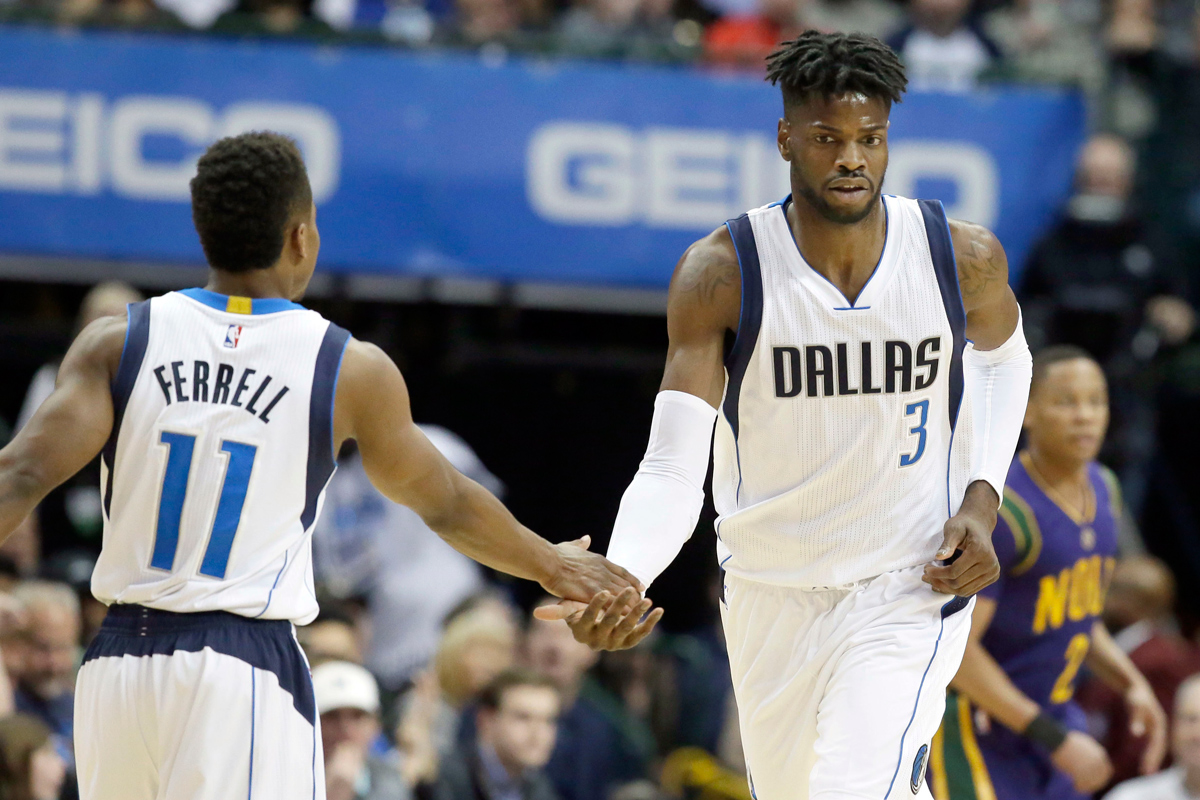 "We (he and Mavs officials) always get good vibes when we're around each other,'' Noel said the other day, and that is lovely. But we'd like it if the "vibes'' were so positive that the young center agreed to return at a bit of a discount, so as to leave some money on the table for other moves.
One reason for this? The argument as to whether Nerlens Noel — promising as he is — is truly a "max'' player … versus the notion that NBA teams simply have to pay market value if they truly want to compete. Dallas' pat answer, from the trade-deadline-day they acquired him, was that the plan is for him to be a keeper, knowing full-well that it would take a large financial commitment to make it so.
Next question: How large is "large''?
DONUT 6: THE NUMBERS GAME
It's NBA Playoffs Time, which means it's time for the contrarians and the trolls to unfairly criticize LeBron James for what they think he cannot do. (When in fact, outside of being an excellent free-thrower, there is nothing he cannot do.)
But before he finishes strong -- he's bidding right now for a seventh-straight NBA Finals appearance -- he must start strong. So he does. In LeBron's last 18 Game 1's in the playoffs his teams' total record is. ... 18-0.
DONUT 7: WHY DEVIN PLAYED
Devin Harris experienced a bounce-back season in at least one sense: He overcame injury in a way that isn't lingering now.
Nevertheless, we couldn't quite figure out why in the world he participated in such a lengthy way in Game 82 at Memphis, helping the Mavericks win a game we wish they wouldn't have won.
But now we've got an answer. Stay tuned for a juicy Premium Mavs story coming up.
DONUT 8: RICK ON THE NBA DRAFT
Mavs coach Rick Carlisle allowed for the tiniest hint in his Exit Day remarks about the upcoming NBA Draft when he not only said, "It's a great draft,'' but added that he's "already looked at the top 15 prospects.''
I wonder if, as we begin to formulate opinions about where the "tiers'' exist that separate the "greats'' from the "goods,'' if Rick is subtly suggesting that this class goes deeper than "five guys'' or "nine guys'' and maybe extends all the way to "15 guys'' who have already merited his attention.
I can tell you this: At this early stage, the 6-5 Euro point guard Frank Ntlikina has plenty of fans in the Dallas scouting department who believe he's worthy of No. 9 ... and worthy of putting faith in regarding his huge upside. (Here's our Mavs-centric scouting report on Ntilikina.)
DONUT 9: ONE MORE NAME
And here's another fun name that the Mavs know a great deal about: Isaiah Hartenstein. He's a German-American who plays in the Lithuanian Basketball League. He's 7-2, 250, just 18 years old and ...
"And he's kind of a head case,'' one source told me.
An NBA scout told me that Hartenstein can be a fan's guide for whether a media mock draft is worth its salt.
"If they don't have Hartenstein on their list,'' he says, "they aren't credible.''
Isaiah Hartenstein at 9? I assume not. Isaiah Hartenstein - who a you can see above, dunks a lot and does so ferociously -- as part of a longer-than-most-know list that merits the eyeballs of Rick Carlisle?
"There's great opportunity there,'' Rick said, speaking generally. "I don't know which player, obviously, at this point we're going to draft, but we're going to get a good player. I'm really excited about it.''
DONUT 12: THE FINAL WORD
"It's been a tough year injury-wise,'' said Dirk. "I think we still could be playing if we were healthy all season."
Maybe so. But I said this at the beginning of the year, even as Dallas was clearly moving toward a younger roster, and I'll say it again after watching a season in which Dirk, Deron, Bogut, Devin, Wes and JJ all battled aches and pains: 
When you rely on guys in their 30s to play the big minutes, and they cannot endure that load, it's not a "tough''/unlucky break; it's Mother Nature telling you to quit relying on guys in their 30s to play the big minutes.