DONUT 1: CENTRAL FLAW
A few years ago, on the set of the FOX Sports Southwest Mavs pregame show, Bob Ortegel was teaching me a lesson about building a title team. The subject was Dwight Howard, and my Mavs-related lust for him.
"The problem,'' Coach O said, disagreeing with my wishes, "is that Dwight will never lead a team to a title.''
Why not?
"Because his coach has to take him off the floor at the end of close games,'' Ortegel said, "due to the fact that he won't make his free throws.''
Fast-forward to these playoffs, and yet another Clippers collapse. No, this one wasn't Dwight's fault; rather, it was DeAndre who proved Bob's point, as Jordan served as the LA center … and shot 6-of-15 from the line in a Game 7 loss to Utah.
I still think I'd rather have a Howard or a Jordan on my roster instead of having to play against them. But Bob's point is well-made enough that I sure want Nerlens Noel - a 62-percent free-thrower in his NBA career, a 69-percent guy this year, and a 72-percenter in his brief time in Dallas — to continue on that path of improvement.
DONUT 2: WOJ BOMB?
We have in this space bemoaned ESPN's dismissal of the invaluable Marc Stein. Here, Deadspin explores whether Stein is a victim of Adrian Wojnarowski "finally winning his war against ESPN.''
DONUT 3: HOLD MY BEER
Yes, LeBron James is this smooth in handling his drinks …
https://twitter.com/MrMichaelLee/status/859208083733663744
And he's also handling all the legends.
An observation from the Twitterverse:
LeBron now has more career postseason points than Kareem, more assists than Jason Kidd, more rebounds than Olajuwon, and more steals than Stockton.
DONUT 4: NIGHTLIFE
The Warriors were apparently rooting for the Los Angeles Clippers to make it out of their opening-round series against the Jazz because, well, "Utah Is A Bad City.'' More specifically, it's about Salt Lake City being a little shy in the nightlife department.
"The problem with Utah is that you're just sitting there and your mind is, like, dead, because in L.A., you still got energy for the game," Warriors reserve Andre Iguodala told ESPN.
"There's no nightlife in Utah," said fellow backup swingman Matt Barnes. "Obviously, as players, you want to be able to have a little bit of a nightlife, but the main focus is winning games."
The Jazz' response:  T-shirts that say "#Nightlife" on them, with $1 out of every purchased shirt donated to "5 for the Fight,'' an effort to fund cancer research.
DONUT 5: IT
Yeah, the Mavs were disinterested in little Isaiah Thomas when he was bouncing around the NBA before finding a home — and postseason stardom in Boston.
"Stardom''? Is that too strong?
Consider where his recent 53-point effort in a Game 1 win over the Wiz ranks in Celtics playoff scoring history:
54 - John Havlicek, 1973
53 - Isaiah Thomas, 2017
51 - Sam Jones, 1967
51 - Ray Allen, 2009
That's "stardom'' enough.
DONUT 6: SPEAKING OF 50
The Rockets, in their Game 1 win drubbing of the Spurs, took 50 treys. In a playoff game? The previous NBA record was 46, by Golden State in Game 4 of the 2015 Western Conference Finals.
You kinda knew Pop and Leonard would will San Antonio to a Game 2 win, as they did on Wednesday. But Houston's weaponry, and its approach … is undeniably notable.
DONUT 7: IT'S TIME!
Tickets for Dirk Nowitzki's annual Heroes celebrity baseball game are now officially on sale!  Get 'em here!
DONUT 8: HERO OF THE LITERAL SORT
The story of former NBA standout Brandon Roy getting shot — because he was shielding children from gunfire.
DONUT 9: CUBAN BUYING TWITTER?
Well, no.
The Twittersphere and Wall Street buzzed earlier this week with "news'' that billionaire Mark Cuban is "buying Twitter.''
https://twitter.com/CNBCnow/status/859425540922540035
No, no. It turns out Cuban is buying Twitter shares as an "AI play.'' Not buying Twitter. Just buying stock.
DONUT 10: PLAYER SEASON IN REVIEW
Our player season in review of Salah Mejri - "His Blissful Ignorance'' — is here.
Our player season in review of Dorian Finney-Smith — "The Chip On His Shoulder'' — is here.
DONUT 11: COACH MAC SCOOP
DallasBasketball.com broke the story on Wednesday of Texas Legends coach Bob MacKinnon re-upping with the Mavs' D-League affiliate for two more seasons. It's a significant story in part because of how well Coach Mac's teaching style meshes with that of Mavs boss Rick Carlisle. This is a pages-in-a-letter fit, and important because the growth of youngsters in Frisco leads to their growth downtown.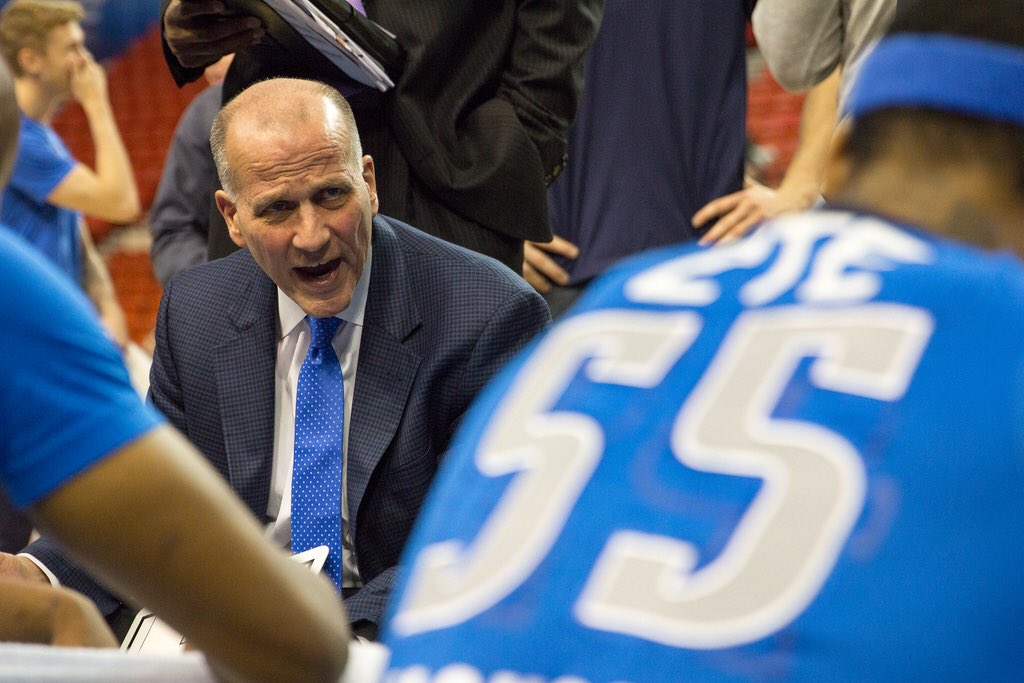 "It is an honor to be asked to once again be the head coach of the Texas Legends,'' MacKinnon tells me. "To be wanted back by the best organization in the "G-League" (newly sponsored next year by Gatorade) is humbling and I am anxious to get going so we can further entrench our franchise in the Frisco Community and build a team that our great fans can be proud of!''
DONUT 12: THE FINAL WORD
Ah, the optimism of youth!
https://twitter.com/jcoopjr27/status/858475347293212672