DONUT 1: A HARD TRUTH
A hard truth I'm trying to help Dallas Mavericks fans see as we dream about Gordon Hayward or Kyle Lowry or whomever: Dallas' plan to sign Nerlens Noel figures to leave maybe $18 million in cap room to assemble the rest of the team. That $18 million is HALF what they would need to sign another max free agent.
Yes, there are all sorts of moves, dumps, trades, machinations that we can create that expand that cap room. But that's the starting point. Assuming you want Noel — and the Mavs do — you are greatly limited from there. (I would suggest that the re-signing of restricted free agent Noel might be your "Big Fish'' of the summer. And that that's OK. And that it's demonstrative of what a long rebuild you might be in for, step-by-step.)
Now, we love what Dirk Nowitzki says every year about his front office, that "Cubes and Donnie are always crazy and creative when it comes to doing deals,'' and that sort of thing. There is some truth there.
But the harder truth is that there are severe limits there this time around.
Sorry.
DONUT 2: PORZINGAS AND ESPN
My headline, I think, says it all:
Did Mavs Inquire About A Knicks Porzingas Trade? And What Is ESPN's Role In This Tale?
Please click and read! ... And continue to understand how these "quick fixes'' being envisioned by the most optimistic (or ill-informed) Mavs observers simply don't include other teams giving away 21-year-old stars.
DONUT 3: LOWRY GOING WEST?
Scary thought: Kyle Lowry — who seems to be suggesting that he might use free agency not only to leave the Raptors, but also to leave the LeBron-dominated East — jumps to the hated Spurs.
Except … Here's our David Lord on how that doesn't fit:
Other than in the most rosy, unrealistic, what-if world, it's totally out of the question, assuming Gasol accepts his player option to return (which is very reasonable, and necessary from a Spurs angle, too).
Even if you assume a Parker "retirement" (in which they would stretch-waive Parker and reduce his cap hit), they don't have the money. Their cap problem is that they already have four really good players on reasonable deals, and the combo of Aldridge, Kawhi, Gasol, and Green plus an empty roster puts them at $81 mil already, and no depth at all. Mills, Simmons, Bertans, Lee, Murray, Dedmon, etc (i.e., their bench) eats up even more.
Could they find takers for those modestly-priced bench contributors like Mills, Simmons, Bertans, Lee, Murray, Dedmon, etc? Probably so. But they end up with a huge loss of talent, no bench, and only about $19 mil, which is still only about half of Lowry's max. (Or, in another ludicrous Spurs fantasy, Chris Paul's max.) And why would those top players give away $70 million or so to come to a Spurs team that's been gutted of talent, when the only reason they would leave where they are would be to go to a team with even better prospects than they left?
Comforting, in a way, to know that the Spurs are as limited here as the Mavs. (Again, for Dallas to sign Noel, many, many cogs have to turn to allow the Mavs to also afford a Lowry-level guy. We write about the next Dallas blueprint and "The 4 Moving Cogs'' here.
The discomfort comes with the mention of Kawhi Leonard, the person who essentially separates the Spurs roster from the Mavs roster. And even with his ankle injury last night, the Spurs have a 3-2 series lead over the Rockets. San Antonio continues to trudge forward now, with roster concerns for another day.
DONUT 4: WHAT'S BEST WITH SETH?
Meanwhile, DB.com continues to try to help MFFL understand the rock and a hard place Dallas is in with Seth Curry.
Most of your money for free agency will be going to Noel. If you rid yourself of Dwight Powell's $9 mil via trade, you can conceivably create room for a max contract addition.
However, in signing a max-type guy this summer, there will be a shortage of Summer-of-2018 cap room to sign Seth to the pricy deal he will have likely earned.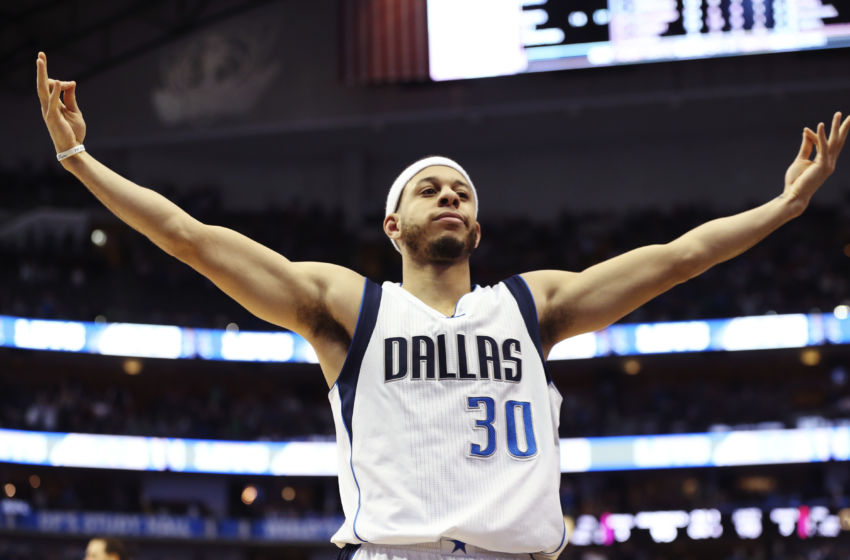 That's why we keep bringing up the idea of the Mavs trading Seth Curry now, in advance of not being able to juggle the financial balls in a way that keeps him beyond this year.
DONUT 5: TARGETING JRUE
Now, I would like to find a way to sign Jrue Holliday from the Pelicans. (No, I haven't figured out the "how,'' just the "desire'' part.) And I know the Mavs agree.
Problem: Why is he leaving Boogie and The Brow?
From New Orleans coach Alvin Gentry: "I think we're light years ahead of where we were. We've got arguably two of the best 10 players in the NBA. Then you add Jrue to the mix, and hopefully that's going to be somebody we can keep on our team, you've got guys that are a year older playing (together)."
Sounds like a plan.
Which kicks me back to the idea of trying to trade for and salvage Eric Bledsoe of the Suns, as we note here. Oh, and we handle some Mavs front-office thoughts on Ricky Rubio, too.
DONUT 6: DRAFT-NIGHT CHANGES?
When might the market value of Bledsoe shrink? When might the Mavericks' opinion of Rubio rise?
How about on NBA Draft Night?
Our full Mavs Premium story on that subject is coming up this week.
DONUT 7: KNICKS-BASHING
I take a break from my regularly-scheduled New York Knicks bashing to note that one of the most dysfunctional franchises in sports just suffered through a 31-win season …
… Or two wins fewer than the Dallas Mavericks, who I so desperately wish would've gone ahead and lost two more in there somewhere.
DONUT 8: PLAYER-BY-PLAYER REVIEWS
Catch up on our season reviews of Finney-Smith, Mejri and Brussino here.
DONUT 8: THE SUMMER OF 2019
DallasBasketball.com has the smartest readers in the NBA. Our man DanSchwartzgan proves this once again on Mavs DB.com Boards when he suggests that maybe this "long rebuild'' that I refer to above should be about free agency in 2018, and not this summer:
"What if we've got this all wrong? Most of us, if we aren't fretting about which FA we will chase in 2017, are worried about how we will sign Curry in 2018.  What exactly is going to attract a FA to Dallas (besides over-payment?)
"What if the plan is (or, Fish adds, "should be'') to ignore free agency in '17 and '18 and start to prepare for the vastly better class of 2019?  That summer the UFA's include Wall, Thompson, Butler, Whiteside, Kawhi, Irving, Middleton and Jokic while the RFA's include KP, Towns, Booker, Turner, WCS and Lyles.  Others, like Willy Hernangomez may evolve by then.  If teams spend $25 or $30 million or more on the likes of Holiday, Porter, Lowry and George Hill, then the available cap room is going to largely get eaten up over the next two summers.  
"Maybe the idea is to zig when everyone else is zagging.  In the land of the blind, the one eyed man is king.''
Man, this is a terribly un-romantic thing for anyone who wants to microwave this team back to the Finals, right away, no matter what, some way, somehow. 
But ... it's a logical view worth discussing, where the wisest Mavs fans do so: DB.com Boards.
DONUT 9: AN OPTIMISTIC NOTE
Let's address for a moment Dirk's "crazy and creative'' eval of his bosses.
History does indeed say that it's true.
Cuban chased "Pipedreams'' and "Big Fish'' while the team also went to two NBA Finals. They did so, over the years, by exploring the rules and "expanding'' on them. They ate salaries and pitched in cash to seal trades. They acquired usable pieces and then flipped them for more usable pieces -- "turning paperclips into houses.'' They've balanced "We Love Our Boys In Blue'' with a willingness to trade those "boys'' away. They invented ways to even trade "nothing'' for something ... allowing DB.com to conjure up clever ideas right along with them, and clever nicknames, too. (Right, "DAMP Chip''?)
And now, in the last year? The lure of Harrison Barnes. The freebie on Seth Curry. The discoveries of Yogi Ferrell and Dorian Finney-Smith. And the steal of a trade for Nerlens Noel ... all transactions that echo one of Mark Cuban's favorite words "opportunistic.''
Along with some failures, a 33-win season and the misreading of the CBA tea leaves, the Dallas track record of "crazy creativity'' is real. 
Now they just need to do it again. And again after that.
DONUT 10: SENTIMENTAL MAVS?
Some Mavs fans have asked if the team plans to retain guys like Devin Harris and JJ Barea for "sentimental'' reasons.
Our answer is "no.'' But the question remains a good one, especially as Mark Cuban continues to trumpet to use the importance of "culture.'' 
This club is going to employ a bunch of kids and this club is going to be rebuilding. There are necessary roles for a few vets who set the tone and who know the system … and who are capable players — "capable'' in the sense that they "play up to their contracts.''
Devin does that. JJB does that.
The bigger question: Does Wesley Matthews, God bless him, "play up to his $18 million contract''? 
And an adjoining question: How many "leaders of the culture'' does a culture need? Dirk and Barnes. AND Devin and JJB? AND Wes?
Aren't four "leaders of the culture'' enough?
DONUT 11: CHAD FORD'S MOCK
He projects to the Dallas Mavericks at the No. 9 slot Frank Ntilikina, the point guard from France. This is a name we've been on for quite some time … and so have the Mavs, as we write here. 
DONUT 12: THE FINAL WORD
A fine piece here on Rockets coach Mike D'Antoni and his wife, Laurel, appropriate here for two reasons. One, it illustrates the importance of the people running a team being on the same page; that is the case in Houston, and thankfully, for whatever challenges are ahead, that is the case in Dallas, too. Two, the story allows the coach to tell a tale on old pal Corey Brewer: 
There's nothing D'Antoni loves more than a good story, which is why ex-Rocket Corey Brewer will forever have a place in D'Antoni lore. Early this season, Brewer, who was traded to the Lakers in late February, took a pass on the baseline, drove, spun, shook two defenders with a 360 and missed a point-blank shot at the rim. "Coach, I did my thing," he told D'Antoni, "but then I got to the rim and just ran out of talent."
"Ran out of talent," D'Antoni repeats. "Best line in the history of basketball."