DONUT 1: WHAT ARE THE ODDS?
We've spent so much time focusing on the Dallas Mavericks finishing ninth in the Tuesday Night NBA Draft Lottery (justifiably, so, as there is an 81.3-percent chance of that happening) that we've neglected a little bit the possibility of moving up.
And we've ignored completely — because we want everything about Michael Finley's representation at the event to be jinx-free — the possibility of sliding down.
Here goes: 
Chance at the 1st slot - 1.7 percent; 2nd- 2 percent; 3rd, 2.4.1 percent.
Chance at 9 - 81.31 percent.
Now, what if …?
Chance to fall to 10th - 12.2 percent; 11th - .38 percent; 12th - .002 percent.
So … let's look up!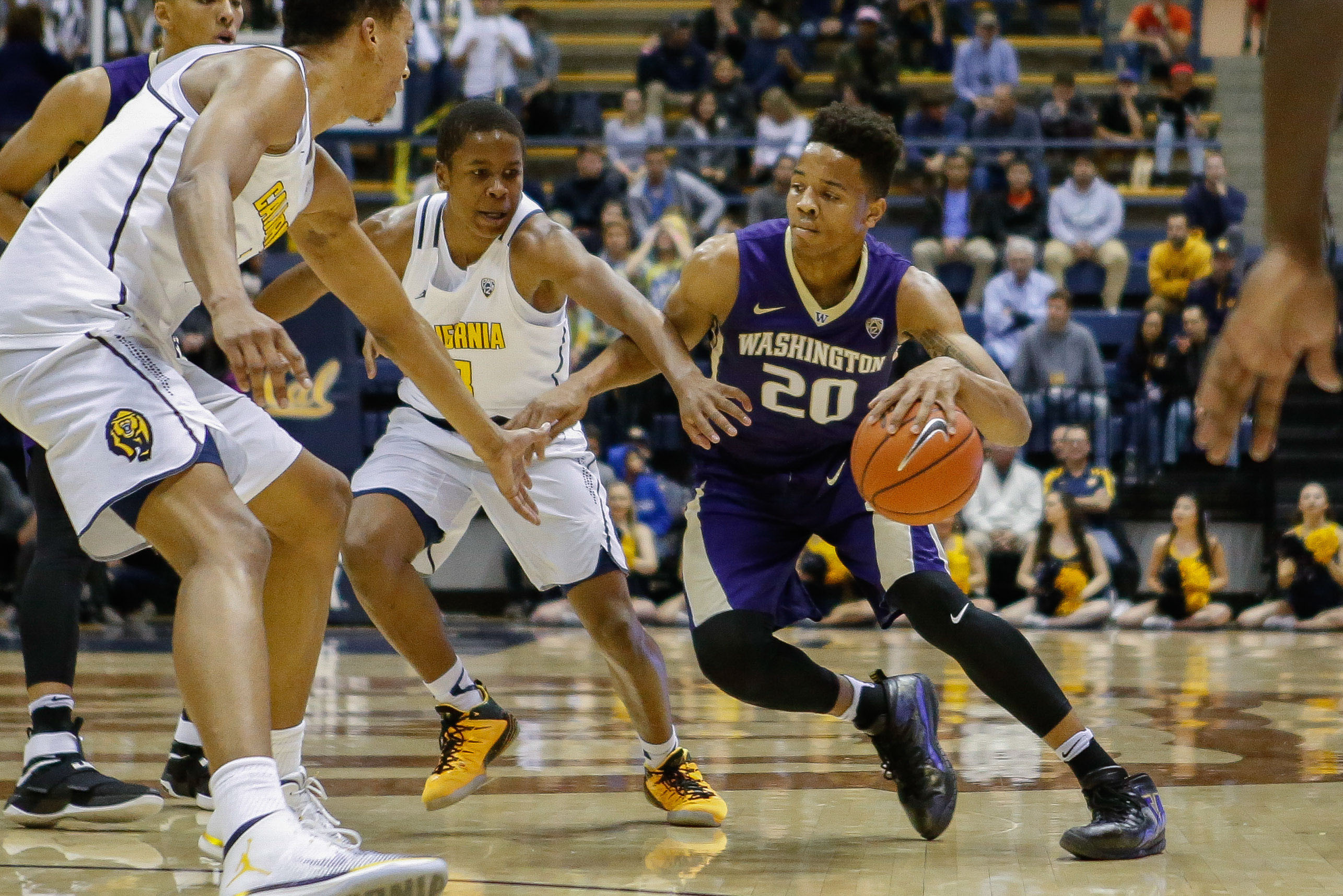 Oh, and if Dallas somehow winds up at No. 1? You can guesstimate, based on what I've been told, that if the NBA Draft was right now, Markelle Fultz would be their guy.
DONUT 2: CUBAN ON THE BALLS
Mavs Cuban: 'I'm Kind Of Liking Lonzo Ball's Dad'
Good headline, right? 
Mark Cuban is no stranger to controversy and entrepreneurship. So I suppose it should be no surprise when the Dallas Mavericks owner tells me of his admiration for the father of top NBA Draft prospect Lonzo Ball.
My exclusive story on Cuban on Ball is here.
DONUT 3: THE HARDEN THEY FALL
if you are truly shocked at the Spurs' ability to overcome gigantic obstacles and eliminate Houston in six games, you probably aren't a very keen observer of what San Antonio has done for the last couple of decades.
Meanwhile, if you are truly shocked at the way James Harden deals with adversity, you probably aren't a keen observer of the Rockets MVP candidates usual behavior.
After a Game 6 loss in which Harden was so invisible that he's actually being accused by the tin-foil-hat people of throwing the game on purpose, he retreated to a strip club, where he was enveloped in celebrities and ladies and chants of "MVP! MVP!''
This doesn't offend me. It's how Harden, and lots of guys, live. It's how Harden, and lots of guys, cope. The strip club to celebrate. The strip club to wind down.
That's not the story here: "Choke City'' is the story here. 
DONUT 5: SWEATER WEATHER 
Nowitzki actually created a bit of social-media buzz with this post:
https://twitter.com/swish41/status/862466338517905408
No, Dirk. No. Not then. Not now. Maybe someday, though, so let Jessica shove it in an attic or something for when it comes into fashion ... next century or whatever.
DONUT 6: KAREEM IS SORRY
Kareem Abdul-Jabbar has finally expressed regret over mindlessly calling Dirk Nowitzki as a "one-trick pony."
Abdul-Jabbar made the controversy comment about Nowitzki in February 2016. Last week, he was on ESPN's "The Jump.''
"I want to make a shout-out to Dirk," Abdul-Jabbar said. "Some of the statements I made about him were misconstrued to make it seem like I was trying to knock him and knock his career. ... Nothing could be farther from the truth.''
Well, actually, the "truth'' is that KAJ did indeed "knock'' Dirk. And nothing was misconstrued or twisted; it's all right here in print at DB.com and it's all there on tape.
But this time, Abdul-Jabbar noted, "(Dirk) helped the game evolve by stretching the court with his accurate 3-point shooting. Anybody that can lead the league multiple times as the leading scorer is awesome.
"And anything that I said that made anybody think differently, they got it wrong. And I wanted him to hear that from me."
Good. But again, no one in the media got this wrong. KAJ said exactly this a year-and-a-half ago of Dirk:
"He was like a one-trick pony. You want guys that can shoot like that on your team. I'm not saying that he lacked value, but he would have been considered at a higher level if he had done more on the court other than just shoot the ball."
Apology accepted ... if indeed this sort of twisted explanation can be considered an "apology.'' 
DONUT 7: MARKKED MAN?
DallasBasketball.com and The 75-Member Staff is keeping you way ahead of the game when it comes to what Dallas can do with existing contracts, what Dallas wants to do in free agency, and most immediately, what Dallas thinks of the 2017 Draft class.
Here, our examination of 7-foot forward Lauri Markkanen ... and the specific reason the Mavs see the light here.
DONUT 8: PLAYER-BY-PLAYER REVIEWS
Matt Galatzan continues to produce informative Mavs Player Reviews, all of them with a twist of sorts. Click here for the so-far rundown ... and know that when we get to Yogi and Wesley and even Liggins ... yeah, more twists that you can only get at DB.com.
DONUT 8: FOX ON THE RUN
If you are projecting Kentucky point guard De'Aaron Fox to Dallas, you are reading their mind's desire ... but not their projected board. 
Last time I checked on this, the Mavs figured the 6-foot-3, 170-pounder would go before the No. 9 slot. Now, maybe a few teams fall in love with other positions and bigger guys before Dallas picks ... and that would be fine with this scouting department.
That "pass-first point guard'' that Mark Cuban joked about? The one that turned out to be Tony Romo? This is a pass-first point guard ... and the guys I talk to don't think of this desire as a joke. Fox breaks you down on the dribble, he is a drive-and-dish guy, he knows how to orchestrate the spreading of the floor and he's unselfish. He works on D (unlike too many of his peers) and really, the only question is, Does "pass-first'' also mean "non-shooter''? Because you'd like to have every dimension covered.
All things considered, I'm told this is a great name for Dallas at 9.
Also, above, the video for "Fox On The Run,'' a song I still enjoy from my boyhood.
DONUT 9: YOUR ROCK AND HARD PLACE
If you are reading about how Dallas is going to snap its fingers and sign Kyle Lowry, you're reading someone who doesn't have a complete grasp of the cap complexities facing the Mavs. We address the "4 Moving Parts'' here and more of it ("Deep Dive'') here. 
DONUT 10: HAPPY MOTHER'S DAY, DONNIE!
Donnie Nelson's long-suffering wife Lotta is accustomed to this.
It's Mother's Day, and the Dallas Mavericks boss' gift to his sweetheart is …
"I'm leaving for Europe,'' Donnie tells me. Oh, and he told her, too.
It happens most every spring. Nelson, among the planet's most pre-eminent experts on international basketball (and, of course, basketball) leaves Sunday for a two-and-a-half-week tour of the fertile grounds of The Old County. He'll by joined by two staffers (one of them probably Tony Ronzone) and as the overseer of a Mavs team that figures to have the ninth-overall pick or better in this year's NBA Draft, he'll see almost countless prospects.
But I think I can pinpoint three names that I know he and his travel companions will get too know even better than they already do:
1) - Frank Ntlikina, PG, France. The NBA world has made the connection here between the 18-year-old prospect and the Mavs. The Mavs have deep roots here; Ntlikina was once a teammate of former Dallas almost-was Roddy Beaubois, and months ago they figured out that it was OK to pronounce his name like "Frank'' or "Frahnk'' (with a hard K to end, closer to the Dutch language that is common in his native Belgium than to French, which sounds like "Frahn-Kuh.'')
He's 6-5, 170, and need to become more assertive, as you might imagine of a teenager. There are teams above Dallas at No. 9 who like him plenty (the Knicks?) and there are those in Dallas who like him -- he's a priority on this trip, obviously -- but will preach that this is a long play, one that might help the 2017-18 Texas Legends more than it helps Dirk Nowitzki's Last Stand.
2) - Isaiah Hartenstein, PF, Germany. He's just 19, with the knock on him being that he's far too temperamental. But he's also 7-1 with the skills of a forward, on both ends of the floor, and even some ball-handling ability. Hartenstein is actually German-American, a native of Eugene, Oregon, where his father (a German basketball coach and former pro player, met his mother.

He's playing now in Lithuania and has a shot to be a top-20 pick in this draft.
3) - Rodions Kurucs, SF, Latvia. Kurucs is a Latvian small forward playing for Spanish team Barcelona B in the second division. He's been a pro since he was 16, and while at 6-9 (but just 205 pounds) he's drawn some comparisons to a someday-Toni Kukoc, this might be a draft-and-stash guy.
Kurucs, like Hartenstein, figures to go well after the No. 9 slot. And remember, Dallas doesn't presently have a second-round pick, having sacrificed it by stealing Nerlens Noel in trade from Philly.
One might therefore question why Donnie and the Mavs are spending the time and the money on players like them … and all the others overseas guys who might go in this draft. (Remember, these three names are ones we've identified as "key'' to Donnie's trip, but they're not the exclusive targets of it.) Nelson, as many Mavs fans know, works to prepare for whatever contingencies develop, and efforts to make a personal connection with the prospects. (His scouts do the same, and special assistant Michael Finley - the Mavs rep at Tuesday's Lottery drawing, I'm told, also has a knack for this.) The Mavs staff knew more about Dirk Nowitzki way back when and they knew more about Beaubois. They are similarly well-versed in the talent and the personality in guys like Giannis Antetokounmpo. I know. I don't need to remind you what happened there, except for the part about Nelson all but moving to Greece in the spring of 2013 in order to successfully create a bond with The Greek Freak.
So it's two-and-a-half weeks of this for Donnie. Less about "Lotta'' than the Lottery.
"This weekend (with my wife) will be last call,'' Donnie tells me with a wink. "But she understands.''
Happy Mother's Day.
DONUT 11: ZAZA'S HEADLINE
Old pal Zaza Pachulia continues to make friends and influence people ...
https://twitter.com/coopmavs/status/863421901330317312
... and probably influence the chemistry in a very winning way in the Warriors room.
DONUT 12: THE FINAL WORD
"I ain't going home (for the playoffs). Don't come to my city, wearing all black, talking about it's a funeral." - Washington's John Wall, on the Celtics wearing all black for a Game 6 that they lost. Game 7 is tonight at Boston.