?The Dallas Mavericks plan to sign Chinese swingman Ding Yanyuhang this summer, and there is not really a downside to this ... unless you have expectations of him as an actual player.
"He's not really what you'd call a prospect,' one NBA talent evaluator tells me.
In fact, Ding equals Singh - not in terms of actual basketball experience, of course ... but in terms of what they're signing is actually about? Absolutely the same.
Ding is a 6-7 small forward who scored 23 points per game this year in winning the 'Domestic MVP' in a Chinese league that I'm told is clearly inferior to the D-League. My impression is that any league in which Ding would average 23, the Texas Legends' best player, Manny Harris (who was a Mav for a moment), would scored 43. And, no, this really isn't about a "youth movement," either, as some have suggested; Ding turns 24 this summer but is fairly established as a sort of player who, when he goes up against Team USA in the Rio Olympics, scores four points while representing China. (Notably, Ding has been playing professional in China for a decade!)
There is a very serious talent-acquisition event about to unfold; the NBA Lottery is tonight and we've got full Mavs coverage here. But in the case of Ding? I believe the Mavs will arrange for him play in their Summer League with the idea that he lands in Frisco. I believe his agent (and maybe even his country) is angling for something more than that, a training camp roster spot and a legit opportunity to be one of the two "16-17" guys who under the terms of the new "Two-Way'' rule, will have a contract with the NBA team and the developmental affiliate.
Factor this in, as all involved make their decisions: I bet Ding will not get an "NBA contract.'' I bet he gets the "Two-Way,'' if anything, which I'm told will likely pay him about $75,000 ... but that in China, he is presently making $500,000.
Does Ding's talent merit even the "Two-Way'' spot? Not from what I've been told. In that regard, he is akin to Satnam Singh, the hard-working 7-4 basketball naïf and former second-rounder who is a member of the Mavericks and Legends family ... but not truly considered a prospect, either.
So what are Donnie Nelson's Mavericks doing here? Very little, compared to what Donnie Nelson's Legends are doing.
"This sort of thing is about building bridges, business bridges and basketball bridges," a source tells me.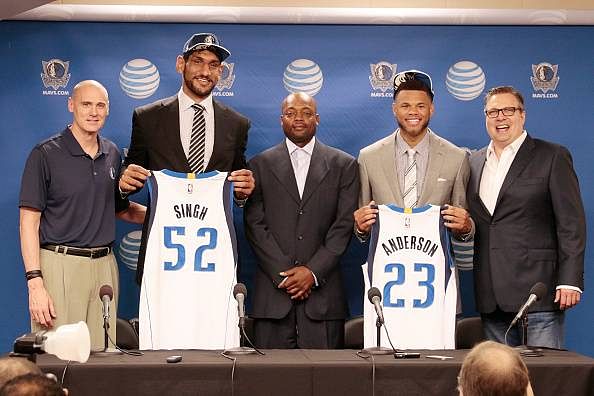 So Ding as a "solid NBA contributor"? Nah. That's an attempt to see him as a second coming of Wang Zhizhi, who played a handful of NBA seasons, starting with Dallas, the 7-1 player averaging about nine minutes per game in his career.
Ding as a way to tap into a Chinese pipeline of talent (if that actually exists) and a Chinese PR pipeline (for whatever value there exists )? Sure. And that's the second coming, of you will, of Satnam Singh, who had virtually no basketball experience when Dallas tapped him as a draftee, thus helping their relationship with his agent and his native land of India. Ding is way ahead of the game there, but I've got people telling me he's not worthy of being a D-League starter at small forward, that he would not have been a starter on last year's Legends squad.
So if it occurs as planned on July 1, I won't look at this as a Mavericks transaction ... and I'll barely even look at it as a Legends transaction.
It'll be a business transaction.