Moments before the start of Tuesday night' NBA Draft Lottery, Dallas Mavericks star Dirk Nowitzki bemoaned his franchise's traditional lack of good fortune by tweeting, "With our luck at the draft, our pick is probably gonna slip to (the) second round.''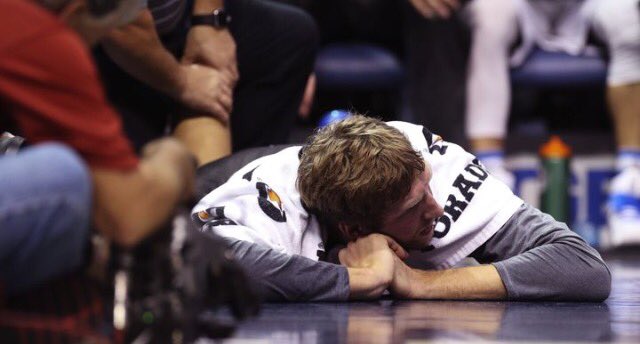 But actually the Mavs landed right where their 33-win season indicated they would, with the No. 9 overall pick in the June 22 NBA Draft — at which time Dirk and Dallas can go to work at correcting any misfortune by choosing the right right player. If the Mavs are unhappy with this, all they had to do is lose another game or two. A Game 82 loss at Memphis would've given them a half-a-ping-pong ball, sharing slot No. 8 with the Kings ... who actually won the right to move up -- but give their pick to Philly. So no, Dallas didn't get a win over Memphis that directly led to the loss of the No. 3 pick ... but Dallas lost that opportunity, the same way it lost other chances late in the year. Two more losses and the Mavs would've been in play for the No. 6 slot.
Mavs owner Mark Cuban's reaction to DallasBasketball.com?
https://twitter.com/fishsports/status/864807955258015745
Anyway, I'm told that Washington guard Markelle Fultz is the top name on the Mavs' board, but they have no shot at him; the Celtics, Lakers and Sixers won the top three slots and they'll get the best shots at the top prospects.
But as coach Rick Carlisle recently said, this draft is "13 or 14 (players) deep (in premium talent). It's a good year to be in the top-10. It's big.''
The Mavericks, represented by former standout and now-staffer Michael Finley at the lotto, knew what their odds here would be. They had a 1.7-percent chance of getting the No. 1 overall pick, a 2-percent chance of having the second choice and a 2.4-percent chance of getting the third pick. … and an 81-percent chance of being ninth. (What does No. 9 get you? Read all about the lead-up to this lottery, and The History of 9, here.)
Not that it's a terrible place to be picking in what most analysts agree is a deep draft.
Among players likely to go in the range of No. 9 are guards De'Aaron Fox, Dennis Smith, Frank Ntilikina and Malik Monk and front-court prospects Jonathan Isaac, Lauri Markkanen and Zach Collins.
https://twitter.com/fishsports/status/864642581887668224
The Mavs controlled what they could control on Lotto Night, but don't be bluffed into thinking they controlled what they could control before that. 
https://twitter.com/dpshow/status/864846861655584768
Nah, that's not exactly so. There were other games besides Game 82 to leave Dirk home, to let Barnes rest, to not showcase Devin.
But we march on.
NBA writer Dave McMenamin says that Jerry West once told him the NBA Lottery is a "celebration of losers." For Dallas, this "celebration'' is over without much celebrating. The next chance for the Mavs to party?
The NBA Draft.